About the Journal
A scientific academic peer-review  Journal published by College of Arts, University of Baghdad.
It is edited regularly within a specific time. Four issues per year in March, June, September and December.
Al-Adab journal is specified for publishing the researches and studies related to various Humanities fields.
Current Issue
No. 146 (2023)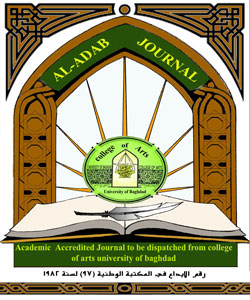 AL-ADAB Journal continues to issue No. (146) This issue contains researches and studies with topics related to multiple disciplines.
It is a pleasure for me, as I have the honor of writing the speech for issue (146) of AL-ADAB Journal, I extend my thanks to all those who preceded me to head the editors of this prestigious journal, and to thank the Editor, Assistant Professor Dr. Hossam Kanaan Waheed, who was a pioneer in everything that benefits the Journal and pushes it forward. And the Journal Unit official, Maha Kadhim Jawad, for doing her best to elevate the Journal to the highest levels.
I extend my great thanks and gratitude to the members of the editorial board, each with his name, title and specialization, who strive for AL-ADAB Journal to be a beacon for science and scholars.
Prof. Luma Faeq Jameel Al-Any (PHD) / Editor - in – Chief
View All Issues
Deposit number in the National Library: (97) for the year 1982
Iraq- Baghdad