The School's role in achieving psychological Security for Primary School Students from the point of view of Parents
Khaled Najem Mahmoud

Diyala University- College of education for human sciences.
Keywords:
School, Primary School, Parents
Abstract
The study aimed to identify school's role in achieving psychological security among primary school students from the point of view parents to achieve this research, the researcher chose two schools from the Baquba schools at the center, the school has a role in achieving psychological security from students from the parent's point of view, and accordingly some recommendations and suggestions were made.
Downloads
Download data is not yet available.
References
Abdel wahab, yousra (2010), Year Book of the center for research in childhood and maternity, Part2.
Abu Jadu, Salih Muhammad, (2007), psychology of social up brining, dar al-masara, Amman, Jordan.
Al-Kinani, Salah (1985), The extent to which the hierarchical, organization was achieved by Maslow, Journal of the college of Education, Mansoura-Egypt.
Asaad, Rizk Abdullah (1990), encyclopedia of psychology, alshuruq, Beirut-Lebanon.
Attia, Ahmed (1994) psychological needs are satisfaction for high school students, Ain shams university.
Bager, Sabah and others (1976), Indicative Problems, Dar al Salam, Baghdad.
Dosoki, Kamal (1990) repertoire of psychology, Al-Ahram journal, Egypt.
Erikson, Erik H. Childhood and Society, second edition, 1963.
Fatil, R and Reddy, A. N. Satty of felling of security insularity among professional and nonprofessional students of callary city.
Gabr, Mohamed (1996), Some Demographic Security, Journal of psychology, Tenth Edition, N39, Egyptian General authority.
Hassan, Abdal Basit Mohamed (1976), the origins of social reseach, Cairo.
Hassan, Mohamed (2004), the fundamental of education, the Arab Book, United Arab Emirates.
Hassein, Mohmoud Atta (1982), the concept of self and its relationship to the level of tammanina, journal of social sciences, Kuwait.
Ibrahim abdul Sattar (1987) Founded the psychology Dar almarikh, al Riyadh.
Izzy, Salah Hassan (2003) K the role of sociazation reducing criminal behavior, university of Mosul.
Khalil, Khalil Ahmed (1984), Basic concept of sociology, Beirut-Lebanon.
Mahdi, Abbas abs (1993), Basis of Education, Directorate, Dar of the book, Cairo.
Omar, Maan Khalil (2006), dictionary of meeting, Al shorouq, Amman-Jordan.
Saad, Ali, Levels of psychological security among university youth.
Watfa, Ali and others (2004) the school and its social function, Beirut- Lebanon.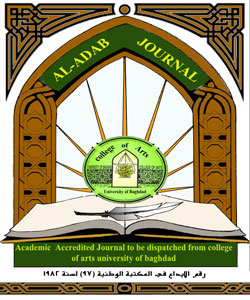 How to Cite
Najem Mahmoud, K. (2021). The School's role in achieving psychological Security for Primary School Students from the point of view of Parents. Al-Adab Journal, 1(136), 343-356. https://doi.org/10.31973/aj.v1i136.1090
Section
Educational and psychological sciences
Copyright (c) 2021 Khaled Najem Mahmoud
This work is licensed under a Creative Commons Attribution 4.0 International License.
Copyright and Licensing:
For all articles published in Al-Adab journal, copyright is retained by the authors. Articles are licensed under an open access Creative Commons CC BY 4.0 license, meaning that anyone may download and read the paper for free. In addition, the article may be reused and quoted provided that the original published version is cited. These conditions allow for maximum use and exposure of the work.
Reproducing Published Material from other Publishers: It is absolutely essential that authors obtain permission to reproduce any published material (figures, schemes, tables or any extract of a text) which does not fall into the public domain, or for which they do not hold the copyright. Permission should be requested by the authors from the copyrightholder (usually the Publisher, please refer to the imprint of the individual publications to identify the copyrightholder).
Permission is required for: Your own works published by other Publishers and for which you did not retain copyright.
Substantial extracts from anyones' works or a series of works.
Use of Tables, Graphs, Charts, Schemes and Artworks if they are unaltered or slightly modified.
Photographs for which you do not hold copyright.

Permission is not required for: Reconstruction of your own table with data already published elsewhere. Please notice that in this case you must cite the source of the data in the form of either "Data from..." or "Adapted from...".
Reasonably short quotes are considered fair use and therefore do not require permission.
Graphs, Charts, Schemes and Artworks that are completely redrawn by the authors and significantly changed beyond recognition do not require permission.
Obtaining Permission
In order to avoid unnecessary delays in the publication process, you should start obtaining permissions as early as possible. If in any doubt about the copyright, apply for permission. Al-Adab Journal cannot publish material from other publications without permission.
The copyright holder may give you instructions on the form of acknowledgement to be followed; otherwise follow the style: "Reproduced with permission from [author], [book/journal title]; published by [publisher], [year].' at the end of the caption of the Table, Figure or Scheme.