COVID-19 Lockdowns and Decline in Traffic Accidents
Compression between Abu Dhabi and Dubai Emirates
Keywords:
UAE , Traffic accidents , Injuries, Covid-19 pandemic , Home quarantine
Abstract
Despite the tireless efforts made by the concerned authorities in the UAE to reduce road accidents and reduce injuries, there are still alarming numbers of road accidents and the injuries they cause, leaving grave psychological, social, and economic effects. This study aimed to identify the impact of home quarantine during the Corona pandemic (Covid 19) on the number of injuries caused by traffic accidents in the Emirates of Abu Dhabi and Dubai. And also to identify the differences between the cities of Abu Dhabi and Dubai in the number of injuries caused by traffic accidents during the months of home quarantine in the year 2020 and the corresponding in the years 2015-2019. As well as the differences between the cities of Abu Dhabi and Dubai in the number of injuries caused by traffic accidents during the years (2015-2020). This study relied on the data issued by the Traffic and Patrols Directorate in the United Arab Emirates on accident injuries (simple - moderate severity - death) for the years 2015-2020 according to the months. This study showed a decrease in the number of injuries caused by road accidents during the period of home quarantine in the Emirates of Abu Dhabi and Dubai. The Emirate of Abu Dhabi witnessed a higher number than the Emirate of Dubai in injuries caused by traffic accidents during the home quarantine period to combat the Corona Covid-19 pandemic in 2020, and the Emirate of Abu Dhabi also witnessed an increase in the total number of injuries caused by traffic accidents during all the years since 2015 to 2020.
Downloads
Download data is not yet available.
References
دولة الامارات العربية المتحدة) 2020 ( وزارة الداخلية بدولة الامارات العربية المتحدة ( 2015 - 2020 )
Cohen, L., & Felson, M. (1979). Social change and crime rate trends: A routine activity approach. American Sociological Review, 44, 588–608.
Department of Transportation (2021) Reductions of fatalities in Great Britain https://www.gov.uk/government/organisations/department-for-transport.
European Transport Safety Council (ETSC) Lockdowns on Road Deaths in - April 2020. The Impact of COVID-19.
Emmanuel Kofi Adanu, DavidBrown, StevenJones, AllenParrish (2021) How did the COVID-19 pandemic affect road crashes and crash outcomes in Alabama, Accident Analysis & Prevention,Volume 163, Journal homepage: www.elsevier.com/locate/aap https://doi.org/ .
Hotle et al., S. Hotle, P. Murray-Tuite, K. Singh, (2020) perception and travel-related health protection behavior in the US: Insights for the aftermath of the COVID-19 outbreak, Transp. Res. Interdisc. Perspect.
Kim et al., 2017 C. Kim, S.H. Cheon, K. Choi, C.H. Joh, H.J. Lee, (2017) Exposure to fear: Changes in travel behavior during MERS outbreak in Seoul KSCE J. Civ. Eng., 21 (7), pp. 2888-2895.
Lawrence E. Cohen and Marcus Felson(1997) Social Change and Crime Rate Trends: A Routine Activity Approach, https://doi.org/10.2307/2094589
Saladié, Òscar,Edgar Bustamante, Gutiérrez, Aaron,)2020)COVID-19 lockdown and reduction of traffic accidents in Tarragona province, Spain, The National Academies of Sciences, https://bit.ly/TRBAM2022registration.
Sotiris Vandoros, (2020) COVID-19, lockdowns and motor vehicle collisions: empirical evidence from Greece, https://bmj.com/coronavirus/usage.
Wegman et al., F. Wegman, R. Allsop, C. Antoniou, R. Bergel- (2017)Hayat, R. Elvik, S. Lassarre, W. Wijnen How did the economic recession (2008–2010) influence traffic fatalities in OECD-countries? Accid. Anal. Prev., 102, pp. 51-59.
Yannis et al., G. Yannis, E. Papadimitriou, K. Folla(2017) Effect of GDP changes on road traffic fatalities, Saf. Sci., 63, pp. 42-49.
Yasin J. Yasin, Michal Grivna & Fikri M. Abu-Zidan (2021), Global impact of COVID-19 pandemic on road traffic collisions,World Journal of Emergency Surgery volume 16, Article number: https://wjes.biomedcentral.com/articles/10.1186/s13017-021-00395-8#article-info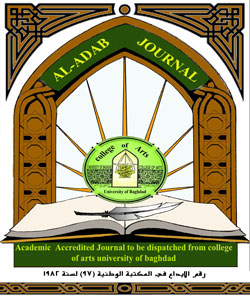 How to Cite
AlAmeri, J. S. A., & Alomosh, A. F. (2023). COVID-19 Lockdowns and Decline in Traffic Accidents: Compression between Abu Dhabi and Dubai Emirates. Al-Adab Journal, 1(144), 299–314. https://doi.org/10.31973/aj.v1i144.3676
License
Copyright (c) 2023 احمد فلاح العموش، جمال سالم عبدالله العامري
This work is licensed under a Creative Commons Attribution 4.0 International License.
Copyright and Licensing:
For all articles published in Al-Adab journal, copyright is retained by the authors. Articles are licensed under an open access Creative Commons CC BY 4.0 license, meaning that anyone may download and read the paper for free. In addition, the article may be reused and quoted provided that the original published version is cited. These conditions allow for maximum use and exposure of the work.
Reproducing Published Material from other Publishers: It is absolutely essential that authors obtain permission to reproduce any published material (figures, schemes, tables or any extract of a text) which does not fall into the public domain, or for which they do not hold the copyright. Permission should be requested by the authors from the copyrightholder (usually the Publisher, please refer to the imprint of the individual publications to identify the copyrightholder).
Permission is required for: Your own works published by other Publishers and for which you did not retain copyright.
Substantial extracts from anyones' works or a series of works.
Use of Tables, Graphs, Charts, Schemes and Artworks if they are unaltered or slightly modified.
Photographs for which you do not hold copyright.

Permission is not required for: Reconstruction of your own table with data already published elsewhere. Please notice that in this case you must cite the source of the data in the form of either "Data from..." or "Adapted from...".
Reasonably short quotes are considered fair use and therefore do not require permission.
Graphs, Charts, Schemes and Artworks that are completely redrawn by the authors and significantly changed beyond recognition do not require permission.
Obtaining Permission
In order to avoid unnecessary delays in the publication process, you should start obtaining permissions as early as possible. If in any doubt about the copyright, apply for permission. Al-Adab Journal cannot publish material from other publications without permission.
The copyright holder may give you instructions on the form of acknowledgement to be followed; otherwise follow the style: "Reproduced with permission from [author], [book/journal title]; published by [publisher], [year].' at the end of the caption of the Table, Figure or Scheme.