Efforts of the United Arab Emirates to preserve the cultural and architectural heritage based on international conventions and standards for preserving cultural heritage
The case study of Al-Jazirah Al-Hamra
Keywords:
cultural heritage, architectural heritage, heritage villages, Al Hamra Island, Ras Al Khaimah Emirate
Abstract
Ras al-Khaimah is one of the largest cities in the United Arab Emirates. The emirate is famous for its rich history and heritage, as it was one of the most important commercial centers in the Gulf in the past. It was famous for its fishing, extraction and trade in precious pearls. Al-Jazirah Al-Hamra was one of the most important historical villages of the Emirate, which had a prominent place in pearl hunting and trade. It contains many historical houses and Dhayah Castle dating back to the eighteenth century AD. Despite the efforts of the Emirate of Ras Al Khaimah to preserve and develop Al Jazeera Al Hamra, these efforts have not been studied and evaluated. Therefore, this research deals with an evaluation of national efforts and interventions in preserving one of the heritage monuments in the Emirate of Ras Al Khaimah, which is Al Jazeera Al Hamra, as one of the cultural and heritage monuments that are importantly linked to the cultural, political and economic history of the region and its prominent role in its presence within the history of the region and its impact extending beyond that as it was an extension for man in that not so distant era and his role in preserving man and history. An evaluation approach was used based on the standards of conservation and restoration of international conventions. After the evaluation process, the study concluded that the preservation and restoration process was largely successful in rehabilitating Al-Jazirah Al-Hamra and reusing some of its heritage places. The preservation process also contributed to conveying the idea of ​​the place and highlighting the cultural and national identity of the island.
Downloads
Download data is not yet available.
References
التجاني م. (2017). التراث الأثري بين أسس البحث العلمي وسبل الحفاظ عليه. مجلة المعارف للبحوث والدراسات التاريخية, 3(5), 152-163.
المحاري، سلمان . (2017). حــــفظ المباني التاريخية: مبان من مدينة المحرق. إمارة الشارقة، إيكروم الشارقة.
المواثيق الدولية.(2019).ترجمة إيكروم الشارقة. ايكوموس.
Awad, J., Arar, M., Jung, C., & Boudiaf, B. (2022). The Comparative Analysis for the New Approach to Three Tourism-Oriented Heritage Districts in the United Arab Emirates. Heritage, 5(3), 2464-2487.
Hawker, R. W. (2006, January). Tribe, house style, and the town layout of Jazirat al-Hamra, Ras al-Khaimah, UAE. In Proceedings of the Seminar for Arabian Studies (pp. 189-198). Archaeopress.
Kennet, D. (1995). The towers of Ras al-Khaimah. Tempus reparatum.
MacLean, M. (2018). Preserving and promoting Ras Al Khaimah's cultural heritage. Policy Paper, (23).
Thompson, S. (2011). Reclaiming Histories and the Virtual Museum: A Proposal to Preserve Al Jazeera Al Hamra. The International Journal for the Arts in Society, 6, 127-138.
Thompson, S. (2015). The Jazeera Al Hamra Digital Heritage Project: A Model for Digitally Preserving the Heritage of the Arabian Peninsula. The International Journal of the Inclusive Museum. 8. 43-56.
UNESCO. (2020). The pearl trading town of Jazirat Al-Hamra. Retrieved November 23, 2022, from https://whc.unesco.org/en/tentativelists/6464/
Rouhi, J. (2017). DEFINITION OF CULTURAL HERITAGE PROPERTIES AND THEIR VALUESBY THE PAST. Asian Journal of Science and Technology, 8(12), 7109-7114.
Günlü, E., Pırnar, I., & Yağcı, K. (2009). Preserving cultural heritage and possible impacts on regional development: Case of Izmir. International Journal of Emerging and Transition Economies, 2(2), 213-229.
Government of Ras Al Khaimah. Facts about Ras Al Khaimah. Retrieved Nov 13, 2020, from https://www.rak.ae/wps/portal/rak/about/ras-al-khaimah/facts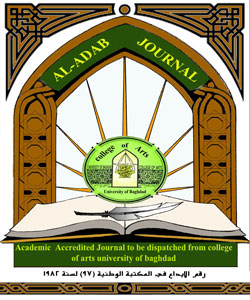 How to Cite
AL Shikh Warak, M., & Jamhawi, M. (2023). Efforts of the United Arab Emirates to preserve the cultural and architectural heritage based on international conventions and standards for preserving cultural heritage: The case study of Al-Jazirah Al-Hamra. Al-Adab Journal, 1(146), 289–310. https://doi.org/10.31973/aj.v1i146.3889
License
Copyright (c) 2023 Mahmoud Nezar ALShikh Warak, Dr. Monther Jamhawi
This work is licensed under a Creative Commons Attribution 4.0 International License.
Copyright and Licensing:
For all articles published in Al-Adab journal, copyright is retained by the authors. Articles are licensed under an open access Creative Commons CC BY 4.0 license, meaning that anyone may download and read the paper for free. In addition, the article may be reused and quoted provided that the original published version is cited. These conditions allow for maximum use and exposure of the work.
Reproducing Published Material from other Publishers: It is absolutely essential that authors obtain permission to reproduce any published material (figures, schemes, tables or any extract of a text) which does not fall into the public domain, or for which they do not hold the copyright. Permission should be requested by the authors from the copyrightholder (usually the Publisher, please refer to the imprint of the individual publications to identify the copyrightholder).
Permission is required for: Your own works published by other Publishers and for which you did not retain copyright.
Substantial extracts from anyones' works or a series of works.
Use of Tables, Graphs, Charts, Schemes and Artworks if they are unaltered or slightly modified.
Photographs for which you do not hold copyright.

Permission is not required for: Reconstruction of your own table with data already published elsewhere. Please notice that in this case you must cite the source of the data in the form of either "Data from..." or "Adapted from...".
Reasonably short quotes are considered fair use and therefore do not require permission.
Graphs, Charts, Schemes and Artworks that are completely redrawn by the authors and significantly changed beyond recognition do not require permission.
Obtaining Permission
In order to avoid unnecessary delays in the publication process, you should start obtaining permissions as early as possible. If in any doubt about the copyright, apply for permission. Al-Adab Journal cannot publish material from other publications without permission.
The copyright holder may give you instructions on the form of acknowledgement to be followed; otherwise follow the style: "Reproduced with permission from [author], [book/journal title]; published by [publisher], [year].' at the end of the caption of the Table, Figure or Scheme.