Synonymy as a Cohesive Device in Students' English Essay Writing
Yassir Shaeer Hameed

University of Anbar - College of Education

Ala'a Ismael Challob

University of Anbar - College of Education
Keywords:
Productive skill, essay writing, cohesive texts, lexical cohesive devices, EFL students
Abstract
English writing as a productive skill, is the most challenging skill for EFL students. Nowadays, writing cohesive texts is of great importance especially the essay writing. Consequently, this study is concerned with the use of synonymy as one of the lexical cohesive devices in EFL students' essay writing. This study aims at identifying the most frequently used synonyms in Iraqi university students' essay writing. It also aims at investigating the way in which the use of synonyms as a lexical device contributes in building-up a well-built cohesive essay. Twenty male and female/ third-year students in the English Department, College of Education for Humanities, University of Anbar-Iraq were purposively chosen to participate in writing twenty descriptive essays. A qualitative research design was used in data collection using writing task instrument. Thus, data were analyzed qualitatively using content qualitative analysis procedure. Findings revealed that the frequency of synonymy occurrence in the students' essays was more than that of near-synonymy type. It was also indicated that the students used different synonyms and near-synonyms in their essays to achieve the goal of logical cohesion though they have a little knowledge of this type, synonymy, of lexical cohesive devices. It was also revealed that they have problems in the selection of the appropriate synonyms in their writings due to the lack of sufficient vocabulary knowledge.
Downloads
Download data is not yet available.
References
Abdul Amir, Zuhair.(2013). The use of cohesive devices in descriptive writing by Omani student-teachers. Published article, Department of English and Translation;Faculty of English Studies: Sohar University: Sohar, 311, Oman.
Andrew, P.L.(2004).Discourse and context in language. Cambridge: Cambridge University Press.
Baker, M.(1992). In other words: A course on translation. London: Rutledge.
Basturkmen, H. (2002).Clause relations and macro patterns:Cohesion, coherence, and the writing of advanced ESOL students.English Teaching Forum, 40(1).
Catherine, D.(2007).A practical guide to research Mmethods:A user-friendly manual for mastering techniques and projects. Britain: British Library.3rded.
Cooper, D. E.(1973). Philosophy and the nature of language. London: Longman group Limited.
Cox, B. E., Shanahan, T. & Sulzby, E.(1990). Good and poor elementary readers' use of cohesion in writing. Reading Research Quarterly.
Creswell, J. W. (2005). Educational research. Pearson Education. 2nded.
Creswell, J. W. (2007).Qualitative inquiry and research design: choosing among five approaches. USA: Library of Congress. 2nded.
Creswell, J. W. (2012).Educational research: planning conducting and evaluating quantitative and qualitative research. USA: Library of Congress. 4thed.
Cruse, D. A.(1986). Lexical semantics. Cambridge:Cambridge University Press.1sted.
Cruse, D. A. (2006). A glossary of semantics and pragmatics. Finland: Edinburgh University Press.
David, W. & Peter, B.(2003).Using research instruments: A guide for researchers. Taylor and Francis Group, 2003: British Library.1st ed.
Ellis, R.(1994).The study of second language acquisition. Oxford: Oxford University Press.
Francis, G.(1994).Labeling discourse: an aspect of nominal-group cohesion. In M-Coulthard (Ed.). Advances in written texts analysis. New York. Routledge.
Ginzburg, R.S. et al. (1979). A course in modern English lexicology. Moscow. Vyssajaskola. 2nded.
Glynn, Dylan. R. J.(2012). Corpus methods in cognitive semantics. Amsterdam: John Benjamins.
Grabe, W. (1984).Written discourse analysis: Annual review of applied linguistics. No.(5).
Gramley, S & Kurt-Michael P.(1992). A survey of modern English. London: Longman.
Gries, T. & Otani, N.(2010). Behavioral profiles: A corpus-based perspective on synonymy and autonomy. ICAME journal.
Halliday, M. A. K. & Hasan, R.( 1976). Cohesion in English. London: Longman.
Halliday, M. A. K. (1987). Spoken and written modes of meaning. In R. Horowitz & S. J. Samuels (Eds),Comprehending oral and written language. San Diego: Academic Press.Inc.
Halliday, M. A. K. & Matthiessen, C.(2004). Introduction to functional grammar. London: Arnold. 3rded.
Heigham, J. & Robert, A. Croker.(2009). Qualitative research in applied linguistics: A practical introduction.UK Ltd. 1st ed.
Hellalet, Nadia.(2013).Reiteration relations in EFL Student writing: The case of Moroccan university students.MA thesis. Morocco: Moroccan University.
Hurford, J. & Heasley, B.(1983). Semantics: A course book. Cambridge: Cambridge University Press.
Indah, W. S. (2015). The use of cohesive device in writing cause and effect essay. Fuculty of cultural science- university of Muhammadiyah Gorontalo. Vol. 6 No. 1
Jackson, H.(1988). Words and their meaning. Longman.
Jassim, M. A., Muhammad, S. M., & Kemboja, I. (2016). Arabic language influence on the Iraqi EFL tertiary learners' use of grammatical cohesive devices in their argumentative essays. University Kebangasaan Malaysia. P. European Journal of Social Sciences Education and Research. Vol.3, Issue 1.
Jassim, Hatem.(2017). Measuring EFL learners` ability to use English cohesive devices in compositions. Published article in Al Iraqia University Journal No. 3/39).Al Iraqia University: College of Arts.
John,Benjamins, B. V.(2014). Discourse, politics and media in contemporary China. Library of Congress.
Kamal, Nevine.(2006). Lexical cohesive devices in Arab students' academic writing: implications for teaching vocabulary. MA thesis.Faculty of the American University of Sharjah College of Arts and Sciences. Sharjah, UAE.
Koda,K.(2005).Insights into second language reading. Cambridge: Cambridge University Press.2nded.
Kumar, R. (2011). Research methodology a step by step guide for beginners. SAGE: New Delhi.
Kvale, S.(1996). Interviews-anIntroduction to qualitative research interviewing.Thousand Oaks: Sage.
Laufer, B. (1997). The lexical plight in second language reading: In second language vocabulary acquisition: A rationale for pedagogy, J. Coady & T. Huckin ( Eds. ).Cambridge: Cambridge University Press.
Louise, Susan.( 1999).Lexical cohesion in students' academic writing.MA thesis.University of South Africa. Africa.
Markels, R. B.(1983).Cohesion paradigms in paragraphs. College English. 45(5).Retrieved from (http://www:jstor.org/discovery)
Martin, J. R.(2015).Cohesion and texture: The handbook discourse analysis.
Mathews, Z.(2007).Writing English language texts. London: Longman.
McCarthey, M.(1991).Discourse analysis for language teachers. Cambridge: Cambridge University Press. 1sted.
Moh'd, Abdulmalik.(2015).The use of cohesive devices by EFL learners of English at Saber Faculty of Education.Faculty of Languages, Aden University January 2015,Volume No.1 Issue No.1 published by Global journal of English and Translation studies.
Morse, J. M. (2000). Determining sample size. Qualitative health research.
Murphy, M. L. (2013).What we talk about when we talk about synonymy. International Journal of Lexicography 26 (3).
Newmark, P.(1981). Approaches to translation. Oxford: Pergamon.
Newmark, P. (1988). A textbook of translation. London: Prentice Hall International.
Nindya, M. A., & Widiati, U. (2020). Cohesive devices in argumentative essays by Indonesian EFL learners. Journal on English as a Foreign Language, 10(2), 337-358. https://doi.org/10.23971/jefl.v10i2.1949 DOI: https://doi.org/10.23971/jefl.v10i2.1949
Osisanwo, Wale. (2005). Introduction to discourse analysis and pragmatics. Lagos: Femulus Fetop Publishers.
Palmer, F. R.(1976). Semantics theory. Rowley Mass. Newbury House Publishers.
Palmer, F. R.(1981). Semantics. Cambridge: Cambridge University Press. 2nded.
Paltridge, B.(2012). Discourse analysis: An introduction.London:British Library. 2nded.
Richards, J. C. & Schmidt, R.(2002). Longman dictionary of language teaching & applied linguistics. Essex: Pearson Education Limited. 3rded.
Robert, K. Y.( 2011). Qualitative research from start to finish. USA: Library of Congress.
Stanojević, M. G.(2012). Cohesive devices in legal discourse. College of Applied Vocational Studies, Vranje, Serbia .
Strauss. A. L. & Corbin, J. M. (1990). Basics of qualitative research: Techniques and procedures for developing grounded theory (Vol. 15). Newbury Park, CA: Sage.
Tenri, Andi, & Muhammad B.(2019). Lexical and grammatical cohesions in the students' essay writing as the English productive skills.Published article. Faculty of Teachers Training and Education, Unismuh Makassar, South Sulawesi, Indonesia.Department of English, Faculty of Letters, UMI, Makassar, South Sulawesi, Indonesia.
Webster, M.(1968). Webster's new dictionary of synonyms. Massachusetts: G&C Merriam Company, Publishers.
Yule, G. (2006). The study of language. Cambridge:Cambridge University Press. 3rded.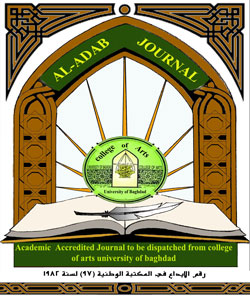 How to Cite
Hameed, Y., & Challob, A. (2022). Synonymy as a Cohesive Device in Students' English Essay Writing. Al-Adab Journal, 2(140), 91-110. https://doi.org/10.31973/aj.v2i140.3632
Section
English linguistics and literature
Copyright (c) 2022 Yassir Shaeer Hameed, Ala'a Ismael Challob
This work is licensed under a Creative Commons Attribution 4.0 International License.
Copyright and Licensing:
For all articles published in Al-Adab journal, copyright is retained by the authors. Articles are licensed under an open access Creative Commons CC BY 4.0 license, meaning that anyone may download and read the paper for free. In addition, the article may be reused and quoted provided that the original published version is cited. These conditions allow for maximum use and exposure of the work.
Reproducing Published Material from other Publishers: It is absolutely essential that authors obtain permission to reproduce any published material (figures, schemes, tables or any extract of a text) which does not fall into the public domain, or for which they do not hold the copyright. Permission should be requested by the authors from the copyrightholder (usually the Publisher, please refer to the imprint of the individual publications to identify the copyrightholder).
Permission is required for: Your own works published by other Publishers and for which you did not retain copyright.
Substantial extracts from anyones' works or a series of works.
Use of Tables, Graphs, Charts, Schemes and Artworks if they are unaltered or slightly modified.
Photographs for which you do not hold copyright.

Permission is not required for: Reconstruction of your own table with data already published elsewhere. Please notice that in this case you must cite the source of the data in the form of either "Data from..." or "Adapted from...".
Reasonably short quotes are considered fair use and therefore do not require permission.
Graphs, Charts, Schemes and Artworks that are completely redrawn by the authors and significantly changed beyond recognition do not require permission.
Obtaining Permission
In order to avoid unnecessary delays in the publication process, you should start obtaining permissions as early as possible. If in any doubt about the copyright, apply for permission. Al-Adab Journal cannot publish material from other publications without permission.
The copyright holder may give you instructions on the form of acknowledgement to be followed; otherwise follow the style: "Reproduced with permission from [author], [book/journal title]; published by [publisher], [year].' at the end of the caption of the Table, Figure or Scheme.