Programs and Fields of Youth Empowerment in Abu Dhabi
Qualitative study
Fatma Abdulla Alhammadi

University of Sharjah College of Arts, Humanities and Social Sciences Department of Sociology

Fakir Al-Gharaibeh

University of Sharjah College of Arts, Humanities and Social Sciences Department of Sociology
Keywords:
youth empowerment, social empowerment, economic empowerment
Abstract
This study aimed to analyze the content of youth empowerment programs in the Emirate of Abu Dhabi, by identifying the empowerment programs offered by government institutions in the Emirate of Abu Dhabi, and what are the areas of empowerment that these programs focus on in addition to the degree of availability of the dimensions of empowerment in each of the areas of (social and Economic and Participate in decision-making and respect other), as this study used the descriptive analytical approach, and the research sample was in (26) youth empowerment programs in the authorities responsible for those programs in the Emirate of Abu Dhabi.
The most important findings of the research were that youth empowerment programs in the Emirate of Abu Dhabi are provided by entities at the federal level, and some by local entities, and that youth empowerment areas is multiple and varied, with social empowerment at the rate of (47.2%), then economic empowerment at (31.6%), Then Participate in decision-making and respect other (21.2%) in addition to that the social empowerment focused on developing problem-solving skills and skills to face challenges while the economic empowerment focused on developing professional skills and investing the energies of young people and employing their talents while the participate in decision-making and respect other focused on equal opportunities available for young people in programs and gender equality.
Downloads
Download data is not yet available.
References
Abdel Wahid, Muhammad Arafat (2009). The role of civil society organizations in developing a culture of citizenship among young people, Journal of Studies in Social Work and Human Sciences, Volume 3, P27, Helwan University - Faculty of Social Work, Egypt.
Al-Abbar, Moza (2017). Human capital puts the UAE in the forefront. Press article, Al-Bayan newspaper: https://www.albayan.ae/opinions/articles/2017-09-17-1.3047931
Al-Berithin, Abdulaziz Abdullah (2014). Power Perspective: A New Contribution to Clinical Social Service, University of Sharjah Journal of Humanities and Social Sciences, Volume 11, P1, College of Arts, King Saud University, Riyadh.
Alex Wagaman, M (2016). Promoting Empowerment Among LGBTQ Youth. A Social Justice Youth Development Approach. Child Adolesc Soc Work J 33, 395–405. https://doi.org/10.1007/s10560-016-0435-7.
Al-Gharaibeh, Faker and Rabbi. (2018). The university's role in developing life skills among university youth, Arab Journal of Sociology, Issue 21, Center for Research and Social Studies, Cairo University.
AlHassan, Ihssan Muhammad (2004). The Use of Content Analysis Method in Social Research, Journal of Arts, University of Baghdad, p. 65.
Alhidus, Sabah . Economic and Social Empowerment of Youth: Tackling Poverty and Marginalization and Advancing the Sustainable Development Goals, Press article, UN Chronicle: https://www.un.org/ar/36194
Al-Issa, Juhayna Sultan (1979). The issue of modernization in light of contemporary trends in sociology. Journal of the College of Humanities and Social Sciences, Qatar University, Issue 1.
AlKhawalda, Saddam Hussein (2016). The role of civil society organizations in empowering Jordanian youth: King Abdullah II Fund for Development, MA thesis, Al-Bayt University, Jordan.
AlMasri, Rafiq (2008). Youth and Development in Palestinian Society - A field study of a sample of students from universities in the Gaza Strip, An-Najah University Journal for Research (Human Sciences), Vol. 22, No. 1.
AlNakhi, Amna. (2018). The role of the UAE government in empowering youth to assume the first leadership positions - the annual international conference of the College of Arts (Youth and Creating the Future). Ain Shams University - Faculty of Arts - Egypt.
AlSarhan, Mahmoud Qadam. (2004). Youth and National Pride, Oman, Supreme Council for Youth.
AlShafi'i, Amal Ahmad Farid. (2018). Societal Dimensions of Empowering Youth in Egyptian Society, Unpublished PhD Thesis, Faculty of Arts, Menoufia University.
AlShaibani, Mesbah (2017). The reality of youth empowerment in Arab development policies and their challenges. Arab Affairs Magazine, League of Arab States, No. 170, Faculty of Arts and Human Sciences - Sfax, Tunisia.
AlSukkari, Ahmed Shafiq (2000). Dictionary of Social Work and Social Services, University Knowledge House, Alexandria.
Annual Report 2019 - Abu Dhabi Statistics Center.
Collins, K. M. (2013). Youth empowerment programs: Using a program evaluation framework to identify developmental outcomes of youth empowerment. the Claremont Graduate University, ProQuest Dissertations Publishing.
Donley, W. Gibson, et. al (1995), Fundamental of Management, 9th Edition, N. Y., Hawarth Press.
Emirates Al-Youm newspaper, February 25, 2018: https://www.emaratalyoum.com/local-section/other/2018-02-25-1.1074829
Federal Competitiveness and Statistics Authority. (2018). The United Arab Emirates and the 2030 Agenda for Sustainable Development, Excellence in Implementation: Executive Summary - The National Voluntary Review, The National Committee for Sustainable Development Goals in the United Arab Emirates, the United Arab Emirates.
Future State Report 2030. (2018). The impact of major global trends on government formation, the World Government Summit, Ministry of Cabinet Affairs and the Future, the United Arab Emirates.
Ghanem, Bassam and Abu Sneina, Odeh (2013). The role of youth in the comprehensive development of society from the viewpoint of students of higher education institutions in the International Relief Agency in Jordan, Journal of Al-Quds Open University for Research and Studies, Issue (34).
Gharaibeh, Faisal. (2006). Arab youth and developments in the era, Arab youth and visions of the future, Beirut Center for Arab Unity Studies.
Hafez, Fatima. (2011). The concept of empowerment and its deliberative domains. Published on 8/11/2011, on the website www.onistam.net
Hegazy, Sanaa Muhammad. (2006). The relationship between the requirements of building organizational capabilities and achieving the quality of NGO projects, published research, the nineteenth scientific conference, Faculty of Social Work, Helwan University.
Hilfinger Messias, Deanne & Fore, Elizabeth & McLoughlin, Kerry & Parra-Medina, Deborah. (2005). Adult Roles in Community-Based Youth Empowerment Programs: Implications for Best Practices. Family & community health. 28. 320-37. 10.109700003727-200510000-00005.
Human Development Report. (2005). UNESCO Regional Office, Beirut, Lebanon.
Human Development Report. (2014). Moving forward: Building resilience to ward off risks, United Nations Development Office http://www.un.org/ar/esa/hdr/pdf/hdr14.pdf
Human Development Reports, United Nations, 2010-2017.
Ibn Manzur (1997). Lisan Al Arab, Volume Four, House of Revival of Arab Heritage, Beirut.
Ismail, Dalia Baha (2010). The role of youth NGOs in empowering youth: the Egyptian case. Al-Nahda Magazine, Faculty of Economics and Political Science, Cairo University, Volume 11, No. 1, Cairo.
Issa, Nevin. (2014). The Role of Visual Media in Empowering Youth to Community Participation - An analytical and evaluation study of some Syrian satellite channel programs. Unpublished PhD thesis, University of Damascus, Syria.
Kilani, Alaa (2018). Evaluating the youth empowerment and protection program in developing awareness of rural youth groups who are about to marry with knowledge about healthy family life: A study applied to the International Plan Program in selected villages in Assiut Governorate. Social Service Journal, No. 60, Assiut University, Egypt.
Latif, Huda and Zahri Mohamed (2018). Empowerment as a pivot for human development to meet contemporary challenges for youth in Arab societies, Journal of Business and Finance Economics, Issue (7), Egypt.
Maysaloun, Fard (2000). Youth in a Changing Society, Dar Al-Hoda for Publications, 1st Edition, Cairo.
Muhammad, Shaaban Hussein (2011). The role of youth NGOs in the economic empowerment of youth: A study applied to NGOs in the Sinai Peninsula. Journal of Education, Al-Azhar University, No. 145, C3, Cairo.
Najm, Munawar Adnan (2013). The role of development institutions in empowering Palestinian women - an analytical study of strategic plans and annual reports in light of empowerment standards and indicators. The Islamic University Journal for Educational and Psychological Studies, Vol. 21, No. 3, The Islamic University, Gaza.
Perkins, Douglas D; Zimmerman, Marc A (1995). Empowerment theory, research, and application.. American Journal of Community Psychology. 23, 5; Research Library Core, pg. 569.
Riad, Marwa Hamdy. (2015). Community dialogue and capacity building for Egyptian youth - a sociological study in light of the Arab Spring tensions, Ministry of Higher Education, Higher Institute of Social Service in Mansoura, Mansoura, Egypt.
Richard M. Lerner, Jacqueline V. Lerner, and Colleagues (2013). The Positive Development of Youth: Comprehensive Findings from the 4-h Study of Positive Youth Development.. Institute for Applied Research in Youth Development. Tufts University.
The Government Guide to 2071 Report (2018). Preparing for new horizons, the World Government Summit, the Ministry of Cabinet Affairs and the Future, the United Arab Emirates.
United Nations Development Program. (2016). Arab Human Development Report 2016, Youth and Human Development Prospects in a Changing Reality, Executive Summary, Regional Office for the Arab States.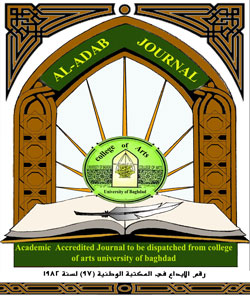 How to Cite
Alhammadi, F., & Al-Gharaibeh, F. (2020). Programs and Fields of Youth Empowerment in Abu Dhabi. Al-Adab Journal, 1(135), 641-676. https://doi.org/10.31973/aj.v1i135.919
Copyright (c) 2020 Fatma Abdulla Alhammadi, Fakir Al-Gharaibeh
This work is licensed under a Creative Commons Attribution 4.0 International License.
Copyright and Licensing:
For all articles published in Al-Adab journal, copyright is retained by the authors. Articles are licensed under an open access Creative Commons CC BY 4.0 license, meaning that anyone may download and read the paper for free. In addition, the article may be reused and quoted provided that the original published version is cited. These conditions allow for maximum use and exposure of the work.
Reproducing Published Material from other Publishers: It is absolutely essential that authors obtain permission to reproduce any published material (figures, schemes, tables or any extract of a text) which does not fall into the public domain, or for which they do not hold the copyright. Permission should be requested by the authors from the copyrightholder (usually the Publisher, please refer to the imprint of the individual publications to identify the copyrightholder).
Permission is required for: Your own works published by other Publishers and for which you did not retain copyright.
Substantial extracts from anyones' works or a series of works.
Use of Tables, Graphs, Charts, Schemes and Artworks if they are unaltered or slightly modified.
Photographs for which you do not hold copyright.

Permission is not required for: Reconstruction of your own table with data already published elsewhere. Please notice that in this case you must cite the source of the data in the form of either "Data from..." or "Adapted from...".
Reasonably short quotes are considered fair use and therefore do not require permission.
Graphs, Charts, Schemes and Artworks that are completely redrawn by the authors and significantly changed beyond recognition do not require permission.
Obtaining Permission
In order to avoid unnecessary delays in the publication process, you should start obtaining permissions as early as possible. If in any doubt about the copyright, apply for permission. Al-Adab Journal cannot publish material from other publications without permission.
The copyright holder may give you instructions on the form of acknowledgement to be followed; otherwise follow the style: "Reproduced with permission from [author], [book/journal title]; published by [publisher], [year].' at the end of the caption of the Table, Figure or Scheme.