Paradox in The Iraqi Leaves
a collection of poems by Ahmed Jar-Allah
Ekhlas Mahmoud Abdullah

College of Arts-Mosul University
Keywords:
Paradox, Verbal Paradox, Dramatic Paradox, Iraqi Leaves, Ahmed Jar-Allah
Abstract
This paper, which is entitled ( Paradox in The Iraqi Leaves : a collection of poems by Ahmed Jar-Allah )tackles the theme of paradox in this collection which was published in 2013 including narrative poems , very short stories and slogans. In this collection, the poet focuses on marginalized elements of life, and presents this sarcastically according to nowadays situation .It is a paradoxical vision of reality and what is common. It is an attempt to monitor the contradictions and cons of reality in a sarcastic way. As an attempt to put a critical view that can achieve the essence and content that the poet seeks to elaborate in his poetry, my work focused on tracking the impact of the paradox in his constructive and verbal poetic texts , whose function is to support the semantic structure and to depend on contradiction.
Downloads
Download data is not yet available.
References
Ibn Manzur, Abi al-Fadil Jamal-al-Din Muhammad Ibn Makram (1997). Lisan Al Arab. 6th edition. Beirut - Lebanon: Sader Publishing House.
Ataimish, Mohsen (986). Deir al-Malak: A Critical Study of the Artistic Phenomena in the Contemporary Iraqi Poetry. ed. 1. Baghdad, Iraq.
Al-Hussein, Ahmed Jassim (1997). The Very Short Story: A Critical Study. 1st ed. Damascus-Syria: The publications of Akrama House for Printing, Publishing and Distribution.
Al-Khafaji, Qais Hamza (2007). The Paradox in the Poetry of the Pioneers. 1st edition. Iraq: Al-Wataniya Library, Baghdad, Dar Al-Arqam Press, Hilla for Printing and Publishing.
Zaitouni, Latif (2002). The Dictionary of Novel's Criticism Terminology. 1st edition. Beirut-Lebanon: al-Lubnani Library. Sulaiman, Dr. Khaled (1999). Paradox and Literature:Studies in the Theory and Practice.1st edition, Amman-Jordan: Dar Al-Shoroq.
Abed, Dr. Muhammad (2006). The Qur'anic Paradox: A Study in the Structure of Significance. 1st edition. Cairo: Arts Library.
Abd Radi, Dr. Hassan (2013). The Paradox in the Poetry of Abu Ala AlMaari. 1st edition. Baghdad-Iraq: Publications of Baghdad Project, the Capital of Arabian Culture.
Abd el-Noor, Jaboor (1979). Literary Dictionary. 1st edition. Beirut-Lebanon: Dar el-elim Lil-Malayeen.
Ateeq, Abdulaziz (1974). Embellishment. 1st edition. Beirut - Lebanon: Arab Renaissance Publishing House.
Al-Qadhi, Muhammad, et al. (2010). A Dictionary of Narrations, 1st edition. Baghdad. Tunisia: Arabic Language Library, International Association of Independent Publishers, Baghdad: Muhammad Ali Publishing House, Tunisia.
Al-Qazwini, Al-Khatib (2007). Explanation in the Sciences of Rhetoric.Revised by: Dr. Abdul Majeed Al-Hindawi. 3rd edition. Cairo: Al-Mukhtar Foundation for Publishing and Distribution.
Medas, Ahmed (2009). Text Linguistics - Towards a Method for Analyzing Poetic Discourse. 2n edition. Irbid_Jordan: The Modern World of Books.
Al-Masdi, Abdul-Salam (1982). Style and stylistics.2nd edition. Tunisia: Arab Book House.
Matloob, Dr. Ahmed (1987). Glossary of Rhetorical Terms and Their Development. Baghdad-Iraq: Iraqi Scientific Academy Press.
Moftah, Muhammad (1982). The Semiology of Ancient Poetry.1st edition. Morocco: Dar el-thaqafa.
Al-Mohandes, Kamel, & Wahba, Majdy (1984). Dictionary of Arabic Terms in Language and Literature. 2nd edition. Beirut-Lebanon: Lebanon Library.
Mewick, D. C. (1977). The Paradox and Its Attributes: An Encyclopedia of the Critical Term. Translated by Dr. Abdul Wahid Lu'lu. 1st edition, Baghdad-Iraq: Dar Al-Mamoun for Translation and Publishing. Yassin, Ahmed Jarallah (2013). The Iraqi Leaves. 1st edition, Mosul_ Iraq: Ibn Al-Atheer House for Printing and Publishing.
Ibrahim, Nabila (1987). The Paradox. Fusool Magazine, Egypt (Issues 3/4).
Rababi'aa, Musa (1997). The Expected and the Unexpected: A Study in the Aesthetics of Receiving. Yarmook Research Journal. Jordan (Issue 2).
Sulaiman, Khaled (1991). Paradox Theory. Yarmook Research Journal, Literature and Linguistics Series. Jordan, (Issue 2).
Qasim, Seeza (1982). The Paradox in Contemporary Arab storytelling. Fosool Magazine, Egypt, (No. 2).
Al-Preesam, Dr. Qassim. The Irony in Adnan Al-Sayegh's poetry (A Screaming in the size of nation Collection as a model): www.adnanalsayegh.com Al-Bustani, Prof.Dr. Bushra (2011). Irony of War Poetry, Reading in the Wreath of Jawad Al-Hattab. Almothaqaf Journal (1919 Issue): www.Almothaqaf.com .
Jab-Allah, Osama Abdulaziz (2008). The Aesthetics of the Textual Paradox, A Primitive Reading in the Collection of (Badly Wounded) by Muhammad Sobhi. Arab Magazine: www.Dwainal-Arab .
Al-Zyood, Abdul-Basit. The Expected and the Unexpected in Mahmoud Darwish's Poetry.Umm Al-Qura Journal for Doctrine Sciences and Arabic Language and Literature, (Issue 37): www.darwishfoundation.org
Sa'adia, Naeama (2007). Poetics of the Paradox Between Creativity and Receptivity. Journal of the College of Arts, Humanities and Social Sciences, University of Muhammad Khaider Biskra, (Issue 1): www.univ-biskra.dz / enseignant / naimasaaddia / 01. pdif
Saleh, Dr. Bushra Moussa. The Paradox in Modern Iraqi Poetry. The Free Encyclopedia for Articles and Studies: repositorg.yu.edu.jo
Abdulrahman, Kamal (2010). Contradiction Structure. in (Late Telegrams Collection) by Ahmed Jarallah Yassin: www.alnaked-alirai.net .
Ali, Najat (2009). The Concept of Paradox in Western criticism. Nizwa Magazine, (Issue 57): www.nazwa.com/articalesphp .
Ali, Dr. Assim Sammada (2011). The linguistic Paradox in the Tradition of Arabic Discourse: A Study in the Semantic Structure. Al-Athar, (issue 10): www.univ-auargla.dzlpagesweb .
Ghoneim, Kamal (2006). Theory of Pictorial Paradox: www.alwarsha.com .
Yahya, Abdulkarim. Poetics of Critical Irony in (Late Telegrams). Al-Ittihad Newspaper: www.alitthad.com .
Ibn Saleh, Nawal (2012). Paradox Speech in Arabic Proverbs: Al-Midani's Comprehensive Collection of Proverbs as a Model. Biskra University, Faculty of Literature and Languages, Department of Literature and Arabic Language, Algeria: www.mohamedrabeea.com .
Al-Abbas, Arshad Youssif Abbas Saleh (2006). Paradox in Walid Al- Khassi's Stories. PhD Dissertation, College of Education, University of Mosul, Iraq.
Abdullah, Saleh Muhammad (2001). The Narrative Paradox: Arabic Novel as a Model. PhD Dissertation, College of Education, University of Mosul, Iraq.
Fariha, Yberir (2010). The Stylistic Paradox in Al-Hamadhani Maqams. MA Thesis, Qasdi Mirbah & Reqla University, The People's Republic of Algeria: www.almaktabah.net .
Yassin, Ahmad Jarallah (9/6/2019). A Dialogue in the Department of Arabic Language, University of Mosul, College of Arts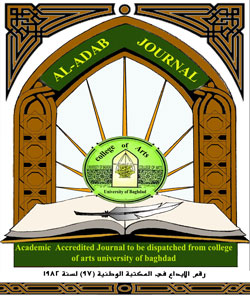 How to Cite
Abdullah, E. (2020). Paradox in The Iraqi Leaves. Al-Adab Journal, 1(135), 91-116. https://doi.org/10.31973/aj.v1i135.874
Section
Linguistics and Arabic literature
Copyright (c) 2020 Ekhlas Mahmoud Abdullah
This work is licensed under a Creative Commons Attribution 4.0 International License.
Copyright and Licensing:
For all articles published in Al-Adab journal, copyright is retained by the authors. Articles are licensed under an open access Creative Commons CC BY 4.0 license, meaning that anyone may download and read the paper for free. In addition, the article may be reused and quoted provided that the original published version is cited. These conditions allow for maximum use and exposure of the work.
Reproducing Published Material from other Publishers: It is absolutely essential that authors obtain permission to reproduce any published material (figures, schemes, tables or any extract of a text) which does not fall into the public domain, or for which they do not hold the copyright. Permission should be requested by the authors from the copyrightholder (usually the Publisher, please refer to the imprint of the individual publications to identify the copyrightholder).
Permission is required for: Your own works published by other Publishers and for which you did not retain copyright.
Substantial extracts from anyones' works or a series of works.
Use of Tables, Graphs, Charts, Schemes and Artworks if they are unaltered or slightly modified.
Photographs for which you do not hold copyright.

Permission is not required for: Reconstruction of your own table with data already published elsewhere. Please notice that in this case you must cite the source of the data in the form of either "Data from..." or "Adapted from...".
Reasonably short quotes are considered fair use and therefore do not require permission.
Graphs, Charts, Schemes and Artworks that are completely redrawn by the authors and significantly changed beyond recognition do not require permission.
Obtaining Permission
In order to avoid unnecessary delays in the publication process, you should start obtaining permissions as early as possible. If in any doubt about the copyright, apply for permission. Al-Adab Journal cannot publish material from other publications without permission.
The copyright holder may give you instructions on the form of acknowledgement to be followed; otherwise follow the style: "Reproduced with permission from [author], [book/journal title]; published by [publisher], [year].' at the end of the caption of the Table, Figure or Scheme.