Mythical Tendency in Simha Ben Tsion's works
Baydaa Abbas Ali

University of Baghdad- Collage of Languages
Keywords:
the tendency, the mythical, works, simha ben tsion
Abstract
    Simha Ben Tsion is a Jewish-Zionist writer who recognized as one of the founders of Tel Aviv city. He immigrated to Palestine in 1905 after years of moving between Odessa and many other cities. He has worked on establishing publishing houses for a long period. He has a great passion for writing stories and novels, which varied between autobiographical stories and children's stories, as well as he has worked in the field of myth. What has drawn the author's attention is "Eshkol / the departure of Jews from Egypt." It is one of the writer's works, which was considered as a starting point to take the reader in an atmosphere of heroism, self-denial, good, and bad. Hence, the current research revolves around giving an in-depth analysis of this band of stories. The writer attempted to take the reader back to 3000 years ago by introducing events encountered by the Jews during their departure out of Egypt. In which, he exposed the relationship between kings and prophets, on one hand, the people on theother hand. It is evident that the writer had exaggerated in describing the suffering and sacrifices of Jews by showing a wide range of events that full of love, sacrifice, and heroism. Obviously, the story is an effective means to influence audience sensation. We find this matter repeated in the same manner and idea in the story of Eshkol, in which events are similar to the first story.
Downloads
Download data is not yet available.
References
Gil, Moshe, (1947), Stories of S. Ben-Zion, Bialik Institute, Jerusalem.
Govrin, Nurit, (1978), S. Ben-Zion, CV and works, Am Oved, Tel Aviv.
Journal of languge and literature. Dany, Jelaad, 2004, the historical trend in the works of N. Zion.Volume 22. London.
Journal of jewish literature history. Hana, tamar, 2012, ben-Zion and his role in Hebrew literature. Volume 18. Indiana university press.
Kritz, Owen (1988), Stories of S. Ben-Zion, pori, Tel Aviv.
Michael, Born, (1998), S. Ben-Zion in the War of Legends, Am Oved, Tel Aviv.
Ribolov, Menachem, (1955), Forever to the World, The Hebrew Federation of America, New York.
S ,Ben. Zion, (1931), Ashkol. Am Oved, Tel Aviv.
S ,Ben. Zion, (1965), The Exodus of Israel from Egypt: Counting Heroes from Ancient Times Am Oved, Tel Aviv.
Shamir, Moshe, (1957), Ben-Zion - Livnei Zion, Davar, Tel Aviv.
Steinberg, Yaakov, (1928), Rshemot, Dvir, Tel Aviv.
Versa, Shmuel, (1992), The Incarnations of the Story "Silk", Ben-Gurion University, Negev.
Yael, Michael, (1948), writers from the revival period, Masada, Tel Aviv.
Yechiel, Shlomo, (1976), the protagonist in the stories of S. Ben-Zion, Masada, Tel Aviv.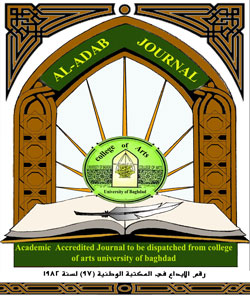 How to Cite
Ali, B. (2021). Mythical Tendency in Simha Ben Tsion's works. Al-Adab Journal, 1(138), 665-680. https://doi.org/10.31973/aj.v1i138.1218
Section
Eastern linguistics and literature
Copyright (c) 2021 Baydaa Abbas Ali
This work is licensed under a Creative Commons Attribution 4.0 International License.
Copyright and Licensing:
For all articles published in Al-Adab journal, copyright is retained by the authors. Articles are licensed under an open access Creative Commons CC BY 4.0 license, meaning that anyone may download and read the paper for free. In addition, the article may be reused and quoted provided that the original published version is cited. These conditions allow for maximum use and exposure of the work.
Reproducing Published Material from other Publishers: It is absolutely essential that authors obtain permission to reproduce any published material (figures, schemes, tables or any extract of a text) which does not fall into the public domain, or for which they do not hold the copyright. Permission should be requested by the authors from the copyrightholder (usually the Publisher, please refer to the imprint of the individual publications to identify the copyrightholder).
Permission is required for: Your own works published by other Publishers and for which you did not retain copyright.
Substantial extracts from anyones' works or a series of works.
Use of Tables, Graphs, Charts, Schemes and Artworks if they are unaltered or slightly modified.
Photographs for which you do not hold copyright.

Permission is not required for: Reconstruction of your own table with data already published elsewhere. Please notice that in this case you must cite the source of the data in the form of either "Data from..." or "Adapted from...".
Reasonably short quotes are considered fair use and therefore do not require permission.
Graphs, Charts, Schemes and Artworks that are completely redrawn by the authors and significantly changed beyond recognition do not require permission.
Obtaining Permission
In order to avoid unnecessary delays in the publication process, you should start obtaining permissions as early as possible. If in any doubt about the copyright, apply for permission. Al-Adab Journal cannot publish material from other publications without permission.
The copyright holder may give you instructions on the form of acknowledgement to be followed; otherwise follow the style: "Reproduced with permission from [author], [book/journal title]; published by [publisher], [year].' at the end of the caption of the Table, Figure or Scheme.