The philosophy of Arab Islamic education and its impact on education
Rafa AbdulLatif Hassan

Iraqi University / College of Education for Girls
Keywords:
philosophy, education
Abstract
Islam has a special method in education, which is a comprehensive treatment of the human soul with the innate nature created by God Almighty with infinite precision and not oblivious to anything. When an individual thinks about the means of education based on the Islamic approach, he marvels at the infinite precision with which a person treats, starting from treating his small parts and ending with it as a whole and as one unit, the individual is able to start and has taken his share of Islamic behavioral nutrition in refining and controlling its psychological aspects.
Downloads
Download data is not yet available.
References
Abdel Moneim Fahmy Saad, Educational Planning Strategy, p.208
Ahmad Ali Hajj Muhammad, In Philosophy of Education, pp
Al-Hilli, Ahmad Hakki and others, Principles of Education, University of Baghdad, 1985.
Ali Saleh Al-Tamimi - The State in Political Philosophy, P.58
Asmaa Hassan Fahmy: Principles of Islamic Education - Commission for Authorship, Translation and Publishing - Cairo 1947 pp. 50-51
Dr. Abdel Fattah Jalal: From the Educational Fundamentals in Islam, p. 79.
Dr. Abdel Halim Mahmoud: Philosophical Thinking in Islam - Third Edition - The Anglo-Egyptian Bookshop - Cairo - Year 1397 AH, 1968AD P.228.
Dr. Abdel Halim Mahmoud: Philosophical Thinking in Islam - Third Edition - The Anglo-Egyptian Bookshop - Cairo - Year 1397 AH, 1968AD P.228
Dr. Abdul-Rahman Al-Hashemi and Others - Contemporary Strategies in Teaching Islamic Education, p. 22
Dr. Ahmad Fouad Al-Ahwani: Education in Islam, p.9
Dr. Ahmed Hassan Obeid: Philosophy of the educational system and the structure of educational policy (a comparative study) - The Anglo-Egyptian - Cairo, 1976, p.8
Dr. Ali Khalil Mustafa Abu Al-Enein - Philosophy of Islamic Education in the Holy Quran, p. 31
Dr. Ali Khalil Mustafa Abu Al-Enein - Philosophy of Islamic Education in the Holy Quran, p. 31
Dr. Hussein Suleiman Qurah: Educational Foundations, p. 412.
Dr. Indonesia Khaled Hassoun, Aspects of raising children and their methods in the light of the Noble Qur'an and Sunnah, p. 16, 15, 14
Dr. Wajiha Thabet Al-Ani, Educational Values and Its Contemporary Classifications, Dar Al-Kitab Al-Thaqafi, p. 128
Dr. Yazid Al-Shurti, Educational Discrimination in the Arab World, p. 2
Encyclopedia of Human Rights in Islam - Dar Al-Kitab Al-Thaqabi, P.16
Faisal Khairallah Al Badayneh, Hisham Yaqoub Merizeeq, The Modern School, p. 147
Hikmat Freihat, Chapter of Speech on the Rights of the Child and Women in Islam, p. 81
Mahmoud Al-Masry, Happy Islamic Marriage, p. 462
Muhammad Abdul-Mohsen Al-Tuwayji, Family and Socialization in the Saudi Arab Society, p. 206
Muhammed Sulaiman Jaradat, Al Moujjaz fi Fundamentals of Islamic Education, pg
Muhammed Sulaiman Jaradat, The Brief on the Fundamentals of Islamic Education, P.141
Munir Al-Morsi Sarhan: In the Sociology of Education - The Anglo Egyptian Library - First Edition - 1973 p. 39
Pillars of monotheism in Islam - lines, by Tariq Kiwan, last update 7:58 .. February 13, 2020 https://sotor.com
Prof. Dr. Khaled Kabir Allal: Muslim philosophers contradict the nature of the Noble Qur'an, p. 142
Saddam Ratib Darawsheh, Principles of Social Behavior for Muslim Society and Contemporary Society, p. 12
Saeed bin Ali bin Wahaf Al-Qahtani, Types and fields of patience. P.11
Salama Matar Hussain Al Mazawda, The Islamic Root of Education, pg. 195
Tawfiq Al-Tawil: Foundations of Philosophy - The Egyptian Renaissance Library - Cairo - 1952, p. 26
The Holy Quran
The importance of continuous education in catching up with scientific development https://shafaaq.com
Uddeh Al-Sabreen by Ibn Al-Qayyim, P.87
Values in the field of education - ASJP- CERIST https://www.asjp.cerist.dz
Zuhair Amidi, Code of Ethics based on the Inspiration of the Qur'an and Sunnah, p.202.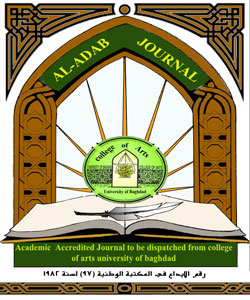 How to Cite
Hassan, R. (2021). The philosophy of Arab Islamic education and its impact on education. Al-Adab Journal, 1(136), 357-372. https://doi.org/10.31973/aj.v1i136.1040
Section
Educational and psychological sciences
Copyright (c) 2021 Rafa AbdulLatif Hassan
This work is licensed under a Creative Commons Attribution 4.0 International License.
Copyright and Licensing:
For all articles published in Al-Adab journal, copyright is retained by the authors. Articles are licensed under an open access Creative Commons CC BY 4.0 license, meaning that anyone may download and read the paper for free. In addition, the article may be reused and quoted provided that the original published version is cited. These conditions allow for maximum use and exposure of the work.
Reproducing Published Material from other Publishers: It is absolutely essential that authors obtain permission to reproduce any published material (figures, schemes, tables or any extract of a text) which does not fall into the public domain, or for which they do not hold the copyright. Permission should be requested by the authors from the copyrightholder (usually the Publisher, please refer to the imprint of the individual publications to identify the copyrightholder).
Permission is required for: Your own works published by other Publishers and for which you did not retain copyright.
Substantial extracts from anyones' works or a series of works.
Use of Tables, Graphs, Charts, Schemes and Artworks if they are unaltered or slightly modified.
Photographs for which you do not hold copyright.

Permission is not required for: Reconstruction of your own table with data already published elsewhere. Please notice that in this case you must cite the source of the data in the form of either "Data from..." or "Adapted from...".
Reasonably short quotes are considered fair use and therefore do not require permission.
Graphs, Charts, Schemes and Artworks that are completely redrawn by the authors and significantly changed beyond recognition do not require permission.
Obtaining Permission
In order to avoid unnecessary delays in the publication process, you should start obtaining permissions as early as possible. If in any doubt about the copyright, apply for permission. Al-Adab Journal cannot publish material from other publications without permission.
The copyright holder may give you instructions on the form of acknowledgement to be followed; otherwise follow the style: "Reproduced with permission from [author], [book/journal title]; published by [publisher], [year].' at the end of the caption of the Table, Figure or Scheme.