A new Literary Theory in Kurdish and Arabic Literature Based on Sheikh Nouri Sheikh Saleh and Nazek Almalaeka's Ideas
Yadollah Pashabadi

Assistant Professor in Kurdish language and literature-University of Kurdistan and Faculty member of Kurdistan Studies Institute
Keywords:
modern Kurdish literature, modern Arabic literature, Sheikh Nouri Sheikh Saleh, Nazek Almalaeka, poetic technique, modernism
Abstract
Sheikh Nouri Sheikh Saleh and Nazek Almalaeka, two prominent pioneer figures of Kurdish and Arabic literary renovation who have turned out as authorities, are originally from Iraqi Kurdish and Arabic backgrounds. Thanks to their works and activities, a novel literary theory came into being which led to emergence of a renaissance. Some of major concerns and questions posed by these two in their theory are measure, rhyme, poetic language, poem and society, and so on. This study, aside from the above-mentioned issues, adopts a descriptive-analytic method to deal with the role and status of these two experts in modern Kurdish and Arabic literature, their state of being pioneer, and the principles of their literary theory. Based on some of the findings of this study, there are some common and contrastive points of these two modernist authority in terms of their thoughts, attitudes, and viewpoints and certainly they have proposed some points in some specific regards.
Downloads
Download data is not yet available.
References
Abbas, Ehsan, (1998), Trends in contemporary Arabic poetry, Alkuyat: Alam al-Marife'.
Abdollah, Edris, (2017), Textology in Kurdish literature, Hawler,kurdish Akadimya.
Al-Ashmawi, Mohamadzaki, (2000), Famous Arabic contemporary Literature & their Orientation", Al-Eskandariya: Darolme'rifa al-jami'iyyah.
Al-basir, Kamil Hasan, (1980), "Shekh Nouri in Circles of literary and critical study", Baghdad: scientific Kurdish group.
Al-Jahez, Abo Osman Amr bin Bahr, (1965), Al-Haywan, edited by Abdolsalam Haroon, 2'' vol, 2'' pab, Mesr: Maktaba al-jahez.
Al-Jayoosi, Salma Al-Khazra, (2007), The Orientations in Arabic modern poeme, translated by Abdolwahed Lo'lo'a, 2'' pub, Bayrout: the center of araboc unit studies.
Al-Mala'eka, Nazek, (1967), Issues of contemporary poetry, Bayrout: Manshoorat Maktaba alnahza-Matba'at dar altazamon.
Al-Mala'eka, Nazek, (1997), Al-Diwan, 2 v0l, Bayrout: Dar al-Awda.
Al-Qirawani, Abuali ebin Rashiq, (1981), Al_omde fi Mahasen al-she'r & Adabeh & naqdehe, Researched by Mohamad Mohyadin Abdolhamid, Bayroot: Dar al-jyl. 5' edotion.
Al-saegh, Yousef, (1978), The modern poeme in Iraq From Genesis to 1958, Demashq: Arab Writers Union.
Ebrahim, maghrebi, (1390), "Reflections on critical thinking when the Nazik angels", journal of studies on Arabic launguag and literature, n 5, dpring 1390.
Esmail jaf, sroud vali, (2014), "Shekh Nouri Shekh Saleh's role in increasing of the Kurdish critical", journal of Al-Ostad, n 209, pp 743-752.
Goran, Abdollah, (2001),His collection, by Mohammad Malakarim, Slemani: ?, 2' edotion.
Goran, Aji, (1981), "Shex Nouri Shex Saleh & A few new critical ideas", Journal af Bayan, nom 71.
Himdad, Hosein, (2010), A Gate on modern kurdish criticism, 2'' pub, Hawler: Mukeryani.
Kakay fallah, Hama Hamaamin Qader, (1980), The kurdish New poem, vol 1, Baghdad: Hesam, 2' edition.
Khaznedar, Maref, (2006), A history of Kurdish literature. 6'' vol, 1'' pub, Hawler: Aras.
Moafi, Osman, (2000), About Literature theory, Issues of poetry and prose in modern Arab criticism, 2' vol, Mesr: Dar al-Ma'rife al-Jame'iyah.
Omar Mostafa, Aso, (2009), The aesthetic values of poetry in the eyes of Piramerd & Shehk Nouri & Goran, Hawler: Mukryani, 1' edotion.
Rahmati turkashwand, Maryam & Ashraf Mane' Farhood, (1398), "The levels of linguistic performance in the poems of Nazik al-Malaika", Journal of Research in the Arabic Language, Isfahan University, nom 20, Spring and summer 1398, Pp 85-104.
Rajayi, Najme, (1378), Getting to know Contemporary Arabic Literary Criticism, Mashad: Ferdowsi University Press, First Edition.
Rajayi,Najme, (1378).
Sajadi, Ala'adin, (1395), History of Kurdish Literature, Sinah: Kurdistan press, 2' edition.
Saleh, Rafiq & Sedeq Saleh, (2002), Jiyan journal nom 1-82, Slemani: Sardam.
Shafi'I Kadkani, Mohamadreza, (1378), Contemporary Arabic poetry, Tehran: Sohkan, 2' editon.
Shamsabadi, Hosein & Mahdi Momtahen, (1391), "Nazik al-Malaika & Her poetic creations", Journal of Eza'at Naqdiya, 2' year, nom 5, spring 91/2012, Pp 61-75.
Shehk Saleh, Shehk Nouri, (2008), Diwan, Corrected by Azad Abd-alwahed, vol 2, Hawler: Aras, 2' edition.
-----, (1926), "Kurdish Literature", Jiyan, year 1, nom 20, 2020/ /June10/, P1.
-----, (1926), "Kurdish Literature", Jiyan, year 1, nom 24, 2020/ / July/15.
-----, (1926), "Kurdish Literature", Jiyan, year 1, nom 27, 2020/ / August 5/.
-----, (1926), "Kurdish Literature", Jiyan, year 1, nom 37, 2020/ / October.5/
-----, (1926), "Kurdish Literature", Jiyan, year 1, nom 46, 2020/ / December 16, P1.
Taqane, Ahmad, (2001), Tofiq Fikrat and kurd modern poets. 1'' pub, Hawler: aras.
Valid Jeradat, Raed, (2013), "The structure of the technical image in the modern poetic text: Nazek Al-Mala'eka for example, journal of Damascus university, vol 29, nom 1-2, Pp 551-583.
Wellek, René & Warren Austin, (1373), Theory of literature, translated by Ziya' Movahhed & Parviz Mohajer, 1' edotion, Tehran: Entesherat e Elmy & Farhengi.
Zayniwand, touraj, (2014), "A new perspective on the causes of the emergence of new poetry in Iraq", Journal of Eza'at Naqdiya, 4' year, nom 16, first canon 2014, Pp 33-29.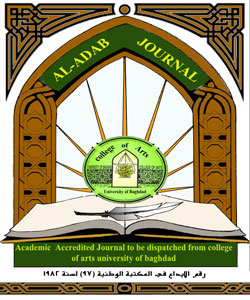 How to Cite
Pashabadi, Y. (2021). A new Literary Theory in Kurdish and Arabic Literature Based on Sheikh Nouri Sheikh Saleh and Nazek Almalaeka's Ideas. Al-Adab Journal, 1(136), 19-48. https://doi.org/10.31973/aj.v1i136.995
Section
Linguistics and Arabic literature
Copyright (c) 2021 Ysdollah Pashabadi
This work is licensed under a Creative Commons Attribution 4.0 International License.
Copyright and Licensing:
For all articles published in Al-Adab journal, copyright is retained by the authors. Articles are licensed under an open access Creative Commons CC BY 4.0 license, meaning that anyone may download and read the paper for free. In addition, the article may be reused and quoted provided that the original published version is cited. These conditions allow for maximum use and exposure of the work.
Reproducing Published Material from other Publishers: It is absolutely essential that authors obtain permission to reproduce any published material (figures, schemes, tables or any extract of a text) which does not fall into the public domain, or for which they do not hold the copyright. Permission should be requested by the authors from the copyrightholder (usually the Publisher, please refer to the imprint of the individual publications to identify the copyrightholder).
Permission is required for: Your own works published by other Publishers and for which you did not retain copyright.
Substantial extracts from anyones' works or a series of works.
Use of Tables, Graphs, Charts, Schemes and Artworks if they are unaltered or slightly modified.
Photographs for which you do not hold copyright.

Permission is not required for: Reconstruction of your own table with data already published elsewhere. Please notice that in this case you must cite the source of the data in the form of either "Data from..." or "Adapted from...".
Reasonably short quotes are considered fair use and therefore do not require permission.
Graphs, Charts, Schemes and Artworks that are completely redrawn by the authors and significantly changed beyond recognition do not require permission.
Obtaining Permission
In order to avoid unnecessary delays in the publication process, you should start obtaining permissions as early as possible. If in any doubt about the copyright, apply for permission. Al-Adab Journal cannot publish material from other publications without permission.
The copyright holder may give you instructions on the form of acknowledgement to be followed; otherwise follow the style: "Reproduced with permission from [author], [book/journal title]; published by [publisher], [year].' at the end of the caption of the Table, Figure or Scheme.