Geographical Evaluation for Irrigation Projects and its Effects on Agricultural Facts
Hydrological study
Aram Dawood Abbas

College of Humanities Sci. Education - Syid Sadiq, University of Sulaimani
Keywords:
Halabja Governorate, Irrigation Projects, Water Drainage, Agricultural Investment
Abstract
The irrigation projects in Halabja city are one of the vital agricultural projects. That contains three huge projects with its (45) branches in three areas (townships). (%90) of these depends upon fountain and springs to irrigate a land area about (26340) Acres, design capacity estimated by (230039153 m3/year), and about (73706512 m3/year) as it is.
This study will focus on the specifications of designed water discharge and the reality, Also the specification of geographical locations of the projects while the agricultural investments for the projects seizes on the overall water amounts of the project. Accreditation has been done on the systemic and regional curriculum, which focuses on studying natural geographical factors and the humanitarian ones in determining the efficiency of the irrigation projects and how it is affected within the geographical location and creating a relationship between discharge amounts, agricultural lands, and orchards that could be irrigated. And to investigate advantages and disadvantages of the natural and humanitarian factors and how it is affects the projects in order to create future plans for the crisis to facilitate expanding the land areas.
The study found many results which are descending the yearly water discharge average to the project in order to invest (%32) of the project efficiency, and that's because of the land surfaces and terrains, the absence of future plans to irrigate bigger areas. The misuse of the irrigation water of the project by the farmers spatially and temporally. Also, there is a misuse in water drainage that estimated as (12284m3/year) for each acre and that is more than ten times the estimated water for each acre in case you plant any agricultural crop.
Downloads
Download data is not yet available.
References
Abdullah, Hawraman Kamal Mirza, (2007), Urban expansion of Halabja city and its environmental impacts, Master thesis, discussed and summarized at Salahuddin University, College of Arts, p. 15.
Al-Ani, Abdullah Najm, (1986), Improving Access to Modern Irrigation Methods, Ministry of Agriculture and the Arab Organization for Agricultural Development, Baghdad, p. 65.
Al-Dulaimi, Khalaf Hussein Ali, (2017), Rivers, An Applied Geo-Hydrometric Study, First Edition, Dar Safa for Publishing and Distribution, Amman, p. 146.
Al-Dulaimi, Muhammad Dulf Ahmad, Musa, Fawaz Ahmad, (2009), Euphrates River Valley (in Syria and Iraq), Nature and Population, Dar Al-Furqan Language, pp. 179-180.
Al-Ghata, Baqir Ahmed Kashif, (1982), Hydrology and its Applications, Dar Al-Kutub for Printing and Publishing, University of Mosul, Mosul, pp. 345-346.
Al-Hakim, Saeed Hussein Ali, (1981), Hydrology of the Tigris River in Iraq, Ph.D. thesis, discussed and approved at the College of Arts, University of Baghdad, 1981, pp. 12 and 24.
Al-Hamada, Monem Majeed, (2011), Climate Water Balance in Northern Iraq, Journal of Basra Research, College of Humanities, Volume 36, No. 2, p. 317.
Al-Jawhari, Ismail bin Muhad, (1974), Irrigation of Drainage, Al-Sahah in Language and Science, prepared by Nadim Maraachli, Osama Maraachli, Dar of Arab Civilization, Beirut, p. 523.
Al-Khashab, Wafiq Hussain, Al-Sahaf, Mahdi Muhammad, (1976), Natural Resources What They Are, Their Types and Their Definition, Freedom House Printing, Baghdad, p. 226.
Al-Omari, Farouk Sana Allah, Sadiq, Ali, (1977), Geology of Northern Iraq, Ministry of Higher Education and Scientific Research, Dar Al-Kutub for Printing and Publishing, University of Mosul, pp. 84-90.
Al-Sahaf, Mahdi Muhammad, et al., (1983), Hydrology, Mosul University Press, Mosul, p. 287.
Al-Sheikhly, Rana Farooq Arzuqi, (2005), The Water Needs of the Irradiating Project in Wasit Governorate, Master Thesis, discussed and conducted at the College of Education (Ibn Rushd), University of Baghdad, 2005, pp. 16-17.
Al-Zobaie, Muhammad Abbas Jameel, (2004), Irrigation and Puncture Projects in Al-Anbar Governorate, Master Thesis, discussed and approved in the College of Arts, University of Baghdad, p. 183.
Easa, Salha Mustafa, (2006), Climatic Geography, First Edition, Arab Society Library for Publishing and Distribution, Amman, pp. 145-146.
Jasem, Kathm Abadi, (2015), The Geography of Agriculture, First Edition, Dar Safa for Publishing and Distribution, Amman, pp. 55 and 53.
Karbal, Abd al-Ilah Razuqi, Wali, Majid Syed, (1978), Weather and Climate, Basra University Press, p. 107.
Khasabak, Shaker, (1973), Northern Iraq - A Study of Natural and Human Aspects, First Edition, Shafiq Press, Baghdad, pp. 13-16.
Muhammad, Khalil Karim, (2008), Groundwater in Shahzour Plain and its Investment Potential, Master Thesis, discussed and approved at the University of Sulaymaniyah, College of Humanities, p. 5.
Muhammad, Osama Ashraf, (2016), Geographical Climate Analysis of the Cities of Halabja and Penjwin, Master Thesis, discussed and approved at the University of Koya, Faculty of Education, p. 47.
Obaid, Abbas Fadel, (2017), The Geographical Evaluation of the Jarbawi Irrigation Project in Al-Qasim and Al-Taleaa Town, a Study in the Geography of Water Resources, Uruk Journal for Humanities, Second Issue, Volume X, pp. 164 and 173.
Salahaddin S. Ali, Geology and Hydrogeology of sharazoor – Piramagroon Basin in Sulaimani Area- Northeastern Iraq, Doctoral Thesis, University of Belgrade – Faculty of Mining and Geology, Belgrade, 2007, p 67-73.
Stevanovic, Zoran, Miroslav Markovic, hydrogeology of northern Iraq, vol 1, Climate, Hydrology.Geomorphology and Geology,2nd Edition. Erbil, 2003, p 77- 80.
Zain El Abidine, Ahmed Nagy, (1982), Agricultural Irrigation, Part Two in Irrigation and Drainage, Third Edition, Cairo, p. 37.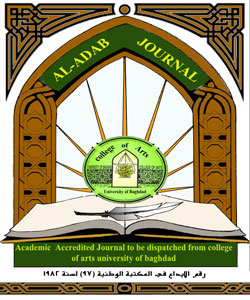 How to Cite
Abbas, A. (2021). Geographical Evaluation for Irrigation Projects and its Effects on Agricultural Facts. Al-Adab Journal, 1(136), 475-502. https://doi.org/10.31973/aj.v1i136.987
Copyright (c) 2021 Aram Dawood Abbas
This work is licensed under a Creative Commons Attribution 4.0 International License.
Copyright and Licensing:
For all articles published in Al-Adab journal, copyright is retained by the authors. Articles are licensed under an open access Creative Commons CC BY 4.0 license, meaning that anyone may download and read the paper for free. In addition, the article may be reused and quoted provided that the original published version is cited. These conditions allow for maximum use and exposure of the work.
Reproducing Published Material from other Publishers: It is absolutely essential that authors obtain permission to reproduce any published material (figures, schemes, tables or any extract of a text) which does not fall into the public domain, or for which they do not hold the copyright. Permission should be requested by the authors from the copyrightholder (usually the Publisher, please refer to the imprint of the individual publications to identify the copyrightholder).
Permission is required for: Your own works published by other Publishers and for which you did not retain copyright.
Substantial extracts from anyones' works or a series of works.
Use of Tables, Graphs, Charts, Schemes and Artworks if they are unaltered or slightly modified.
Photographs for which you do not hold copyright.

Permission is not required for: Reconstruction of your own table with data already published elsewhere. Please notice that in this case you must cite the source of the data in the form of either "Data from..." or "Adapted from...".
Reasonably short quotes are considered fair use and therefore do not require permission.
Graphs, Charts, Schemes and Artworks that are completely redrawn by the authors and significantly changed beyond recognition do not require permission.
Obtaining Permission
In order to avoid unnecessary delays in the publication process, you should start obtaining permissions as early as possible. If in any doubt about the copyright, apply for permission. Al-Adab Journal cannot publish material from other publications without permission.
The copyright holder may give you instructions on the form of acknowledgement to be followed; otherwise follow the style: "Reproduced with permission from [author], [book/journal title]; published by [publisher], [year].' at the end of the caption of the Table, Figure or Scheme.