The Representation of Bereavements
A Surrealistic Analysis of Surviving Dead in Adrienne Kennedy's She Talks to Beethoven
Keywords:
Kennedy, bereavement, surrealistic, the dead, Beethoven, Suzanne
Abstract
This study divulges the connection between the living and the dead individuals. Although the dead separated from the world of the living, they were unconsciously linked and remembered by some of the living people. The personal grief is the calamity that generates an expressive consequence to interrupt the person's appropriate choice of the surrounded objects. Adrienne Kennedy, in She Talks to Beethoven, examines the furtive motives that dominate and govern the individual's thinking and behaviour throughout certain critical state of mind.
Downloads
Download data is not yet available.
References
Allen, Carol. (2005). Peculiar Passages: Black Women Playwrights, 1875 to 2000. New York: Peter Lang Publishing, Inc.
Barnett, Claudia. (1996). "This Fundamental Challenge to Identity" Reproduction and Representation in the Drama of Adrienne Kennedy. Theatre Journal, Vol. 48, No. 2, pp. 141-155.
Boucher, Georgie. (2006). "Fractured Identity and Agency and the Plays of Adrienne Kennedy". Feminist Review, No. 84, Postcolonial Theatres, pp. 84-103.
Bryant-Jackson Paul & Overbeck, Lois More. ed. (1992). Interesting Boundaries, The Theatre of Adrienne Kennedy. Minnesota: University of Minnesota.
Curb, Rosemary K. (1980). "Fragmented Selves in Adrienne Kennedy's "Funny House Negro" and "The Owl Answers", Theatre Journal, 32, 2, pp. 180-195.
Gray, Richard. (2004). A History of American Literature. Oxford: Blackwell Publishing Ltd.
Harrison, Paul Carter & et al. (2012). "Personal Perspectives on Adrienne Kennedy" Modern Drama, Volume 55, Number 1, pp. 90-99.
Hartigan, Patti. (2000). "A Fragile Ferocious African-American Playwright. The Journal of Blacks in Higher Education, No. 28, pp. 112-113.
Kennedy, Adrienne. (2001). The Adrienne Kennedy Reader. Minneapolis: University of Minnesota Press. All quoted speeches from this edition.
Krasner, David. ed. (2005). A Companion to Twentieth-Century American Drama. Oxford: Blackwell Publishing.
Kolin, Philip C. ed. (2007). Contemporary African American Women Playwrights. London: Routledge Taylor & Francis Group, 2007.
Kolin, Philip C. (2005). Understanding Adrienne Kennedy. South Carolina: University of South Carolina Press, 2005.
Lee, Insoo. (2012). "Reading and Writing as Transformative Action in Maria Irene Fornes's and Adrienne Kennedy's Plays." Diss. U of Pittsburgh, ProQuest Dissertations & Theses Database. Michigan State U Libraries, USA.
Spencer, Jenny. (2012). "Emancipated Spectatorship in Adrienne Kennedy's Plays." Modern Drama, 55, 1, pp. 19-39.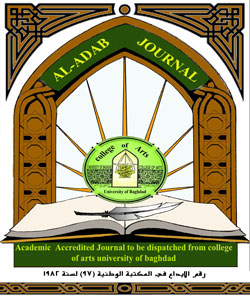 Downloads
How to Cite
Abed, H. H. (2023). The Representation of Bereavements: A Surrealistic Analysis of Surviving Dead in Adrienne Kennedy's She Talks to Beethoven. Al-Adab Journal, 1(144), 1–10. https://doi.org/10.31973/aj.v1i144.3862
Section
English linguistics and literature
License
Copyright (c) 2023 Hamid Hammad Abed
This work is licensed under a Creative Commons Attribution 4.0 International License.
Copyright and Licensing:
For all articles published in Al-Adab journal, copyright is retained by the authors. Articles are licensed under an open access Creative Commons CC BY 4.0 license, meaning that anyone may download and read the paper for free. In addition, the article may be reused and quoted provided that the original published version is cited. These conditions allow for maximum use and exposure of the work.
Reproducing Published Material from other Publishers: It is absolutely essential that authors obtain permission to reproduce any published material (figures, schemes, tables or any extract of a text) which does not fall into the public domain, or for which they do not hold the copyright. Permission should be requested by the authors from the copyrightholder (usually the Publisher, please refer to the imprint of the individual publications to identify the copyrightholder).
Permission is required for: Your own works published by other Publishers and for which you did not retain copyright.
Substantial extracts from anyones' works or a series of works.
Use of Tables, Graphs, Charts, Schemes and Artworks if they are unaltered or slightly modified.
Photographs for which you do not hold copyright.

Permission is not required for: Reconstruction of your own table with data already published elsewhere. Please notice that in this case you must cite the source of the data in the form of either "Data from..." or "Adapted from...".
Reasonably short quotes are considered fair use and therefore do not require permission.
Graphs, Charts, Schemes and Artworks that are completely redrawn by the authors and significantly changed beyond recognition do not require permission.
Obtaining Permission
In order to avoid unnecessary delays in the publication process, you should start obtaining permissions as early as possible. If in any doubt about the copyright, apply for permission. Al-Adab Journal cannot publish material from other publications without permission.
The copyright holder may give you instructions on the form of acknowledgement to be followed; otherwise follow the style: "Reproduced with permission from [author], [book/journal title]; published by [publisher], [year].' at the end of the caption of the Table, Figure or Scheme.