Dramatic Monologue in Bidart's Work "Half-Light" (2017)
Keywords:
Frank Bidart, monologue, poet, half, dramatic, poetry, light
Abstract
This paper aims at investigating dramatic monologue in Frank Bidart's poems. It discusses the way Bidart was affected by certain poets in terms of the implication of the dramatic monologue device and the power that affected his implementation and his application of this particular genre. Bidart proposes that a poet has a lot of inner consciousness. He receives various voices so he can visualize how to begin from varied places and keep a certain distance from the voice that expresses out of its sense, agony, or annoyance. Bidart has to examine the reasons for definite feelings at a particular point in time because one's emotional state should not be considered for granted. However, a poet should keep some distance from the characters in the poem as well as keep a sort of skepticism concerning oneself. This study suggests that Bidart's dramatic monologue is a contemporary genre that is significantly established at the last stage of his script with the release of his poetic work "Half Light". The study analysed two poems of Bidart's work including Old and Young, and Thirst. Results of the study showed that Bidart's poetic forms and themes relate to many issues including the point of time in which the poet published his poems, the setting and situations, and the poet's psychological state of mind.
Downloads
Download data is not yet available.
References
Anderson, Crystal L. (2015). The Coagulate and 'Not Simply a Case': Frank Bidart's Post-Confessional Framing of Mental Illness, Typography, the Dramatic Monologue and Feint in 'Herbert White' and 'Ellen West'. PhD. Thesis. University of Manchester. https://www.research.manchester.ac.uk/portal/files/54579129/FULL_TEXT.PDF.
Carol Moldaw. (2004). Frank Bidart's Poetry: The Substance of the Invisible. The Antioch Review, 62(1), 48-57.
Chiasson, Dan (2002). Saying What Happened: Post-War American Poetry and Autobiography. PhD. Thesis, Harvard University, Cambridge, Massachusetts. https://dash.harvard.edu/handle/1/42013047.
Frank Bidart's Interview. https://www.poetryfoundation.org/poets/frank-bidart.
Gale, Cengage Learning (2016). A Study Guide for Frank Bidart's "Curse". Gale, Cengage 1st edition.
Halliday, Mark (2019). Bidart's Thirst. http://www.literarymatters.org/10-2-bidarts-thirst/.
HAMMER, L. (2008). Maker and Collector: Frank Bidart. The American Scholar, 77(2), 62-63.
Hobsbaum, Philip (1975). The Rise of the Dramatic Monologue. The Hudson Review, Vol. 28, No.2, pp. 227-245.
Howard, Claud (2019). The Dramatic Monologue: Its Origin and Development. Studies in Philology, Vol. 4 (1910), pp.31+33-88. University of North Carolina Press.
Jeffrey Gray and Ann Keniston (2016). The News from Poems. Essays on the 21st Century. American Poetry of Engagement. University of Michigan Press.
Levinson, Deborah, A. (1991). Poet Frank Bidart explores "unity of thought". Retrieved from http://tech.mit.edu: http://tech.mit.edu/V111/N7/bidart.07a.html.
Abrams, M.(2005). Dramatic Monologue." A Glossary of Literary Terms.8th ed. Boston: Thomsan Wadsworth, 70-71.
Mariani, Paul (2019). The truth-telling poems of Frank Bidart. https://www.americamagazine.org/arts-culture/2019/02/22/review-truth-telling-poems-frank-bidart .
Rosana, Warren (2008). Fables of the Self: Studies in Lyric Poetry. https://poets.org/text/contradictory-classicists-frank-bidart-and-louise-gluck.
Rowe, Pauline Mary. (2019). Madness through Poetry: Voice, Autobiography, Sources and Survival in the poetry of Frank Bidart & The Sensational Nellie Bly and Other Stories. PhD. Thesis. University of Liverpool. https://livrepository.liverpool.ac.uk/3034384/.
Sessions, Ina Beth. (1974). The Dramatic Monologue. Modern Language Association, Vol. 64. No. 2 (Jun., 1974) pp. 503-516.
Swiggart, Katherine Anne (2000). Extreme Measures: Exaggeration in the Poetry of Sylvia Plath, Anthony Hecht, Frank Bidart, and John Ashbery. PhD. Thesis. University of California, Los Angeles. https://sylviaplathinfo.blogspot.com/2007/08/disserations-about-sylvia-plath.html.
Unger, T. (2018). Poet of the Incommensurate. The Threepenny Review, (153), 10-11.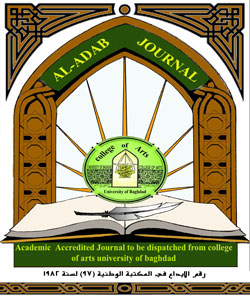 Downloads
How to Cite
Wazzan, S. A. (2023). Dramatic Monologue in Bidart's Work "Half-Light" (2017). Al-Adab Journal, 1(144), 97–116. https://doi.org/10.31973/aj.v1i144.3957
Section
English linguistics and literature
License
Copyright (c) 2023 Suzanne A. Wazzan
This work is licensed under a Creative Commons Attribution 4.0 International License.
Copyright and Licensing:
For all articles published in Al-Adab journal, copyright is retained by the authors. Articles are licensed under an open access Creative Commons CC BY 4.0 license, meaning that anyone may download and read the paper for free. In addition, the article may be reused and quoted provided that the original published version is cited. These conditions allow for maximum use and exposure of the work.
Reproducing Published Material from other Publishers: It is absolutely essential that authors obtain permission to reproduce any published material (figures, schemes, tables or any extract of a text) which does not fall into the public domain, or for which they do not hold the copyright. Permission should be requested by the authors from the copyrightholder (usually the Publisher, please refer to the imprint of the individual publications to identify the copyrightholder).
Permission is required for: Your own works published by other Publishers and for which you did not retain copyright.
Substantial extracts from anyones' works or a series of works.
Use of Tables, Graphs, Charts, Schemes and Artworks if they are unaltered or slightly modified.
Photographs for which you do not hold copyright.

Permission is not required for: Reconstruction of your own table with data already published elsewhere. Please notice that in this case you must cite the source of the data in the form of either "Data from..." or "Adapted from...".
Reasonably short quotes are considered fair use and therefore do not require permission.
Graphs, Charts, Schemes and Artworks that are completely redrawn by the authors and significantly changed beyond recognition do not require permission.
Obtaining Permission
In order to avoid unnecessary delays in the publication process, you should start obtaining permissions as early as possible. If in any doubt about the copyright, apply for permission. Al-Adab Journal cannot publish material from other publications without permission.
The copyright holder may give you instructions on the form of acknowledgement to be followed; otherwise follow the style: "Reproduced with permission from [author], [book/journal title]; published by [publisher], [year].' at the end of the caption of the Table, Figure or Scheme.