Adjectives in Shakespeare's Sonnets
A Discourse Analysis
Keywords:
Adjectives, Compound adjectives, discourse Analysis, Sonnets, Stylistics analysis
Abstract
The present paper studies the use of adjectives in Shakespeare's Sonnets (4, 5, 6, & 9), which are chosen randomly, on the three levels: grammar, lexis and conversation. It tackles adjectives as a literary term with presenting their forms and functions. The presentation is done according to the themes, their forms and functions in conversation, the adjectives are shown in this paper as for their forms, frequency and meanings in the sonnets and their effects on studying. The analysis is done according to Quirk et al. (1985) and Quirk and Greenbaum (1973). Then, all adjectives have been calculated in the sonnets. The results of the analysis have shown that compound adjectives which occurred (31) are used more than the Suffixation and Prefixation as (13) and (8) respectively. The paper shows that there is a clear relation between adjectives and the thematic structure of the sonnets. The presentation of adjectives proves Shakespeare's witty ways to use them in a method that equals various themes. Moreover, they are used precisely and accurately to transmit themes and have pedagogical effects in conversation.
Downloads
Download data is not yet available.
References
Adams, V. (1973). An Introduction to Modern English Word-formation. London: Longman Group Ltd Bauer.
Babajide, A. (2000). Of Style and Linguistics Studies in England Language. Enicrownfit publisher, Ilbadan
Bloomfield, L. (1933). Language. New York: Henry Holt
Brich, D. (1989). Language, Literature and Critical Practice. London: Routldge.
Candlin (1989). Stylistics. London: Longman Group Limited
Carter, R. (1988). What is Stylistics and Why Can We Teach It in Different Ways? In M. Short (ed) Reading Analyzing and Teaching Literature. London: Longman.
Flowler, R. (1986). Linguistic Criticism. Oxford: OUP.
Lawal, R. (1997). Pragmatics in Stylistics: A Speech-Act Analysis of Soyinka's Telephone Conversation. R.A. Lawal (ed) Stylistics in Theory and Practice, Ilorin: Paragan books.
Leech, G and Short, M. (1981). Style in Fiction: a Linguistic Introduction to English Fictional Prose. London: Longman.
Leech, G. (1969). A Linguistic Guide to English Poetry. London: Longman.
Quirk, R & Sidney, G. (1973). A University Grammar of English. London: Longman Group Limited.
Quirk, R, Sidney G, Geoffrey L, & Jan S. (1985). A Comprehensive Grammar of the English Language. London: Longman Group Limited.
Shaw, H. (1972). Dictionary of Literary Terms. New York: McGraw-Hill Book Company.
Short, M & Candlin, C. (1989). Teacing, Study skills for English Literature in Reading, Analyzing and teaching Literature. London: Longman.
Short, M. (1981). English Sentences. New York: New American Library.
Thomas, T. (2007). "Shakespeare's Sonnets". New York: McGraw-Hill Book Company.
Widdowson, H. (1975). Stylistics and the Teaching of Literature. London: Longman.
Wikipedia, the Free Encyclopedia. (2019)."English Compound".(2020, January 18) http://en.wikipedia.org/wiki
Wikipedia. English_compound. (2020, January 18) http://en.wikipedia.org/wiki/.
Wikipedia. English_compound. (2020, January 18) http://en.wikipedia.org/wiki/.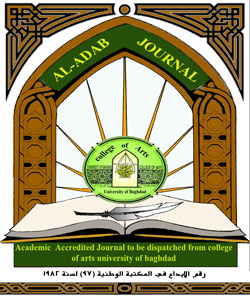 Downloads
How to Cite
Hassan, N. A. (2022). Adjectives in Shakespeare's Sonnets: A Discourse Analysis. Al-Adab Journal, 1(142), 1–16. https://doi.org/10.31973/aj.v1i142.3607
Section
English linguistics and literature
License
Copyright and Licensing:
For all articles published in Al-Adab journal, copyright is retained by the authors. Articles are licensed under an open access Creative Commons CC BY 4.0 license, meaning that anyone may download and read the paper for free. In addition, the article may be reused and quoted provided that the original published version is cited. These conditions allow for maximum use and exposure of the work.
Reproducing Published Material from other Publishers: It is absolutely essential that authors obtain permission to reproduce any published material (figures, schemes, tables or any extract of a text) which does not fall into the public domain, or for which they do not hold the copyright. Permission should be requested by the authors from the copyrightholder (usually the Publisher, please refer to the imprint of the individual publications to identify the copyrightholder).
Permission is required for: Your own works published by other Publishers and for which you did not retain copyright.
Substantial extracts from anyones' works or a series of works.
Use of Tables, Graphs, Charts, Schemes and Artworks if they are unaltered or slightly modified.
Photographs for which you do not hold copyright.

Permission is not required for: Reconstruction of your own table with data already published elsewhere. Please notice that in this case you must cite the source of the data in the form of either "Data from..." or "Adapted from...".
Reasonably short quotes are considered fair use and therefore do not require permission.
Graphs, Charts, Schemes and Artworks that are completely redrawn by the authors and significantly changed beyond recognition do not require permission.
Obtaining Permission
In order to avoid unnecessary delays in the publication process, you should start obtaining permissions as early as possible. If in any doubt about the copyright, apply for permission. Al-Adab Journal cannot publish material from other publications without permission.
The copyright holder may give you instructions on the form of acknowledgement to be followed; otherwise follow the style: "Reproduced with permission from [author], [book/journal title]; published by [publisher], [year].' at the end of the caption of the Table, Figure or Scheme.