The effect of employing the SQ6R strategy on developing literary appreciation and creative thinking among middle school students
Dr.Hassan Khilbas

University of Baghdad - College of Education Ibn Rushd for Human Sciences
Keywords:
SQ6R strategy, development, literary appreciation, creative thinking
Abstract
       The current research aims to know the effect of employing the SQ6R strategy on developing literary appreciation and creative thinking among middle school students. The research sample consisted of (62) students distributed equally among the two groups (experimental and control). The Creative Thinking Test), and after making sure of their validity and consistency, they were applied to the research sample and after treating the results statistically, they showed: the superiority of the experimental group in the two tests over the control group.
Downloads
Download data is not yet available.
References
Al-Alousi, Saeb and Talal Al-Zoubi, Creative Teaching, 1st Edition, Dar Al-Manhal Amman, (2002).
Al-Atoum, Adnan Yousef, and others, Educational Psychology, Dar Al-Masirah, Amman, Jordan, (2007).
Al-Bayati, Abdul-Jabbar Tawfiq and Zakaria Athanasios, Descriptive and Inferential Statistics in Education and Psychology, 1st Edition, Workers Culture Foundation Press, Baghdad (1977).
Al-Hashemi, Abd al-Rahman Abd, and Taha Ali Hussain al-Dulaimi, Modern Strategies in the Art of Teaching, 1st Edition, Dar Al-Shorouk Publishing and Distribution, Amman, Jordan, (2008).
Al-Mousawi, Diaa Aziz, The Impact of Robinson's Strategies (SQ3R) and Self-Questioning in the Development of Reading Comprehension and Production of Self-Questions among Second-Grade Intermediate Students, (unpublished PhD thesis), College of Education / Ibn Rushd, University of Baghdad (2012).
Al-Obaidi, Doha Mebdar, The Impact of Marzano's Model on the Literary Achievement of Fifth-Grade Students in Geography and the Development of Their Creative Thinking, (Unpublished Master Thesis), College of Education / Ibn Rushd, University of Baghdad (2011).
Amir Khan, Muhammad Hamzah, Innovative Thinking, A Cultural Study between Saudi and Nigerian Students, Journal of Social Sciences, Volume (17), Issue (1), (1995).
Amtanios, Michael, Measurement and Evaluation, Damascus University Publications, Syria, (1997).
Attia, Mohsen Ali, Metacognitive Strategies for Reading Comprehension, House of Manahij for Publishing and Distribution, Amman, Jordan, (2009).
Bloom, B.S. and others, Hand book on formative and summative Evaluation of student learning, Me, Graw Hill, (1971).
Daoud, Aziz Hanna and Anwar Hussein Abdul-Rahman, Educational Research Curricula, Dar Al-Hikma Printing Press, University of Baghdad, (1990).
Ibrahim, Abd Al-Alim, Technical Instructor for Arabic Language Teachers, Sixth Edition, Dar Al Ma'arif, Egypt, Cairo, (2002).
Khairallah, Al-Kinani, Mamdouh Abdel Moneim, Psychology of Education, Beirut, Dar Al-Nahda Al-Arabiya, (1993).
Mr. Mahmoud Ahmad, The Brief on Methods of Teaching Arabic Language and Literature, First Edition, Dar Al-Awda, Beirut, (1995).
Ruthus, Speucer A. Psychology in the new milleuium, 8thed. Thomson, USA. 2002.
Saadeh, Jawdat Ahmed, Curricula for Social Studies, First Edition, House of Science for the Millions, Beirut, (2003).
Tawfiq, Anwar Taqi, The Impact of Regelioth and Skman Models in the Achievement of Literature and Texts and the Development of Literary Appreciation among Fourth-Year Students (Unpublished PhD Thesis), College of Education / Ibn Rushd, University of Baghdad (2009).
Toaima, Rushdi Ahmed, and Mujmid Al-Sayed Manna, Teaching Arabic in General Education Theories and Experiments, House of Arab Thought for Publishing and Printing Cairo, (2001).
Torrance ٫ E. P: Creativity In the classroom ٫ Washington D. C.: National Education Association ٫ U. S. A. (1997).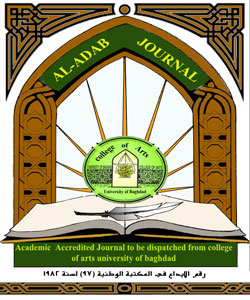 How to Cite
Khilbas, D. (2021). The effect of employing the SQ6R strategy on developing literary appreciation and creative thinking among middle school students. Al-Adab Journal, 1(136), 293-314. https://doi.org/10.31973/aj.v1i136.1226
Section
Educational and psychological sciences
Copyright (c) 2021 Dr.Hassan Khilbas
This work is licensed under a Creative Commons Attribution 4.0 International License.
Copyright and Licensing:
For all articles published in Al-Adab journal, copyright is retained by the authors. Articles are licensed under an open access Creative Commons CC BY 4.0 license, meaning that anyone may download and read the paper for free. In addition, the article may be reused and quoted provided that the original published version is cited. These conditions allow for maximum use and exposure of the work.
Reproducing Published Material from other Publishers: It is absolutely essential that authors obtain permission to reproduce any published material (figures, schemes, tables or any extract of a text) which does not fall into the public domain, or for which they do not hold the copyright. Permission should be requested by the authors from the copyrightholder (usually the Publisher, please refer to the imprint of the individual publications to identify the copyrightholder).
Permission is required for: Your own works published by other Publishers and for which you did not retain copyright.
Substantial extracts from anyones' works or a series of works.
Use of Tables, Graphs, Charts, Schemes and Artworks if they are unaltered or slightly modified.
Photographs for which you do not hold copyright.

Permission is not required for: Reconstruction of your own table with data already published elsewhere. Please notice that in this case you must cite the source of the data in the form of either "Data from..." or "Adapted from...".
Reasonably short quotes are considered fair use and therefore do not require permission.
Graphs, Charts, Schemes and Artworks that are completely redrawn by the authors and significantly changed beyond recognition do not require permission.
Obtaining Permission
In order to avoid unnecessary delays in the publication process, you should start obtaining permissions as early as possible. If in any doubt about the copyright, apply for permission. Al-Adab Journal cannot publish material from other publications without permission.
The copyright holder may give you instructions on the form of acknowledgement to be followed; otherwise follow the style: "Reproduced with permission from [author], [book/journal title]; published by [publisher], [year].' at the end of the caption of the Table, Figure or Scheme.