Novel Setting (Time): Monism and Pluralism
Dr. Hisham Qasem Issa

Al-Mustansiriya University, College of Education, Department of Arabic Language
Keywords:
narrative time, pluralism, flashback, time effectiveness, genre
Abstract
The novel is distinguished from other spatial arts like drawing, sculpting, and architecture not only in the setting (narrative time), but also in its linguistic contents, which are more flexible and capable of forming, and flowing in motion. Even linguistic issues are more flexible than artistic materials that are essential in other arts, including color, stone, and others.
Settings (narrative time) are characterized by the possibility of (pluralism) across different temporal structures in one narrative moment, and in multiple narrative perspectives, while other arts possess this plural characteristic only in surreal or post-modernist formative works. Pluralism is a key pillar in the formations of time, and in plural narrative perspectives.
Downloads
Download data is not yet available.
References
Abu Nader, Maurice. (1979). Linguistics and literary criticism in theory and practice. Al-Nahar Publishing House. Beirut.
Al-Masiri, Abdel-Wahab and Fathi Triki. (2003). Modernity and postmodernism. House of thought. Damascus.
Al-Qasrawi, Maha Hassan. (2004). Time in the Arabic novel. I 1. Arab Institution for Studies and Publishing. Beirut.
Ani, brave. (1994). Artistic construction in the Arabic novel in Iraq. General Cultural Affairs House. Baghdad.
Bahrawi, Hassan. (1990). Narrative form architecture. Arab Cultural Center. Beirut.
Butor, Michel. Research in the new novel. Translation: Fred Anthony. Aweidat Publications. Beirut - Paris.
Genet, Gerard. (1997). The story's discourse explored the curriculum. Translation: Muhammad Mutasim, and Abdul Jalil Al-Azdi. I 2. The General Authority of Al Amiria Printing Press.
Hamdani, Hamid. (2000). Narrative text structure. I 3. The Arab Cultural Center. Morocco, West, sunset.
Judge, et al. (2010). A dictionary of narratives. Muhammad Ali Publishing House. Tunisia.
Kadic, Muhammad. "The dilemma of Arab literary movement is a problematic narrative experimentation as a model." http://www.benhedouga.com/content
Mendelau. (1997). Time and novel. Translation: Bakr Abbas, review: Ehsan Abbas. I 1. Dar Sader. Beirut.
Murtad, Abdul Malik. (1998). In novel theory. knowledge world. Kuwait.
Naser, Ahmed Abdel-Razzaq. (2015). Narration techniques in the novels of Najm Wali. General Cultural Affairs House. Baghdad.
Pumpkin, happy. (1985). Read and experiment. House of Culture. White House.
Qasim, Siza Ahmed. (1984). Building a novel. I 1. The Egyptian General Book Authority. Cairo.
Shaker, Jamil, and Samir Al Marzouqi. (1985). Introduction to story theory. University Press Office. Algeria.
The scientist, Mahmoud Amin. (1994). Forty years of literary criticism. I 1. Arab Future House. Cairo.
The uncle, Mohamed Naguib. (2013). Structure and significance in the novel, an applied study. I 1. Al-Qassim Literary Club Publications. Saudi.
Willick, Rene, and Austin Warren. (1972). Literature theory. Translation: Mohieldin Subhi. Khaled Tarabishi Press.
Youssef, safe. (1997). Narration techniques in theory and practice. Dar Al-Hiwar for Publishing and Distribution. Syria.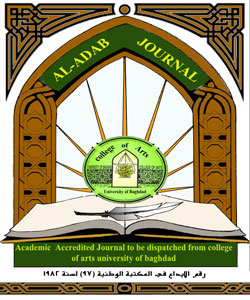 How to Cite
Qasem Issa, D. H. (2021). Novel Setting (Time): Monism and Pluralism. Al-Adab Journal, 1(136), 123-136. https://doi.org/10.31973/aj.v1i136.1031
Section
Linguistics and Arabic literature
Copyright (c) 2021 Dr. Hisham Qasem Issa
This work is licensed under a Creative Commons Attribution 4.0 International License.
Copyright and Licensing:
For all articles published in Al-Adab journal, copyright is retained by the authors. Articles are licensed under an open access Creative Commons CC BY 4.0 license, meaning that anyone may download and read the paper for free. In addition, the article may be reused and quoted provided that the original published version is cited. These conditions allow for maximum use and exposure of the work.
Reproducing Published Material from other Publishers: It is absolutely essential that authors obtain permission to reproduce any published material (figures, schemes, tables or any extract of a text) which does not fall into the public domain, or for which they do not hold the copyright. Permission should be requested by the authors from the copyrightholder (usually the Publisher, please refer to the imprint of the individual publications to identify the copyrightholder).
Permission is required for: Your own works published by other Publishers and for which you did not retain copyright.
Substantial extracts from anyones' works or a series of works.
Use of Tables, Graphs, Charts, Schemes and Artworks if they are unaltered or slightly modified.
Photographs for which you do not hold copyright.

Permission is not required for: Reconstruction of your own table with data already published elsewhere. Please notice that in this case you must cite the source of the data in the form of either "Data from..." or "Adapted from...".
Reasonably short quotes are considered fair use and therefore do not require permission.
Graphs, Charts, Schemes and Artworks that are completely redrawn by the authors and significantly changed beyond recognition do not require permission.
Obtaining Permission
In order to avoid unnecessary delays in the publication process, you should start obtaining permissions as early as possible. If in any doubt about the copyright, apply for permission. Al-Adab Journal cannot publish material from other publications without permission.
The copyright holder may give you instructions on the form of acknowledgement to be followed; otherwise follow the style: "Reproduced with permission from [author], [book/journal title]; published by [publisher], [year].' at the end of the caption of the Table, Figure or Scheme.