ЧАСТИ РЕЧИ в современном русском языке
ПОНЯТИЙНО-ТЕРМИНОЛОГИЧЕСКИЙ АСПЕКТ
Noha Khalif Ati

University of Baghdad, College of Languages, Department of Russian Language
Keywords:
parts of speech, concepts of parts of speech, conceptual and terminological aspect, concept of parts of speech, parts of speech status, Russian grammar, morphological system of language
Abstract
accepted concept of parts of speech and raises the question of the appropriateness / inappropriateness of the part-speech status of some of them in the grammatical structure of the Russian language. The views of scientists, supporters of traditional linguistics, and supporters of the new functional-categorical grammar in modern linguistics are analyzed. The dynamics of the terms for the designation of individual parts of speech is represented, starting from their fixation in the most ancient Slavic grammars and in the grammars of the following periods in which the active
development of the actual morphological system took place. The formation of the conceptual and terminological system of parts of speech from the ancient period in the development of grammatical thought to the present day is traced, as well as the changes that have occurred in its conceptual and terminological nature are presented, what are the prospects for further study of this problem
Downloads
Download data is not yet available.
References
Абрамова Т. Д. Современные проблемы терминологии : Русский язык / Т. Д. Абрамова // Филологические этюды. – 2001. – Вып. 4. – С. 268–270.
Авербух К. Я. Терминологическая вариантность : теоретический и прикладной аспекты / К. Я. Авербух // Вопросы языкознания. – 1986. – № 6. – С. 38–49.
Ахманова О. С. Словарь лингвистических терминов / О. С. Ахманова. – Москва : Изд-во «Сов. энциклопедия», 1969. – 606 с.
Бабайцева В. В. Русский язык / В. В. Бабайцева, Л. Д. Чеснокова. – Москва : Просвещение, 2003. – 256 с.
Бархударов С. Г. О значении и задачах научных исследований в области терминологии / С. Г. Бархударов // Лингвистические проблемы научно-технической терминологии. – Москва : Наука, 1970. – С. 7–10.
Березин Ф. М. Общее языкознание / Ф. М. Березин, Б. Н. Головин. – Москва : Просвещение, 1979. – 416 с.
Виноградов В. В. Русский язык : Грамматическое учение о слове / В. В. Виноградов. – Москва ; Ленинград : Учпедгиз, 1947. – 784 с.
Виноградов В. В. Исследования по русской грамматике. Избранные труды / В. В. Виноградов. – Москва : Наука, 1975. – 559 с.
Виноградов В. В. Лексикология и лексикография. Избранные труды / В. В. Виноградов. – Москва : Наука, 1977. – 304 с.
Винокур Г. О. О некоторых явлениях словообразования в русской технической терминологии / Г. О. Винокур // Труды Московского института истории, философии и литературы. Т. 5. Сборник статей по языковедению. – Москва, 1939. – С. 3–54.
Головин Б. Н. О некоторых доказательствах терминированности словосочетаний / Б. Н. Головин // Лексика. Терминология. Стили : Межвуз. науч. сб. – Вып. 2. ГГУ, 1973. – С. 57–65.
«Грамматіка словенска» Л. Зизанія. – Вільно, 1596 // Зизаній Л. Граматика словенська / [підгот. факс. вид. та дослідження пам'ятки В. В. Німчука]. – Київ : Наук. думка, 1980. – 190 с.
«Грамматіки славенскія правилноє сyнтаґма» М. Смотрицького. – Єв'є, 1619 // Смотрицький М. Граматика / [підгот. факс. вид. та дослідження пам'ятки В. В. Німчука]. – Київ : Наук. думка, 1979. – 502 с.
Даниленко В. П. Актуальные направления лингвистического исследования русской терминологии / В. П. Даниленко // Современные проблемы русской терминологии. – Москва : Наука, 1986. – С. 5–23.
Жирмунский В. М. О природе частей речи и их классификации / В. М. Жирмунский // Вопросы теории частей речи. На материале языков различных типов. – Ленинград : Наука, 1968. – С. 7–32.
Звегинцев В. А. История языкознания XIX–XX веков в очерках и извлечениях / В. А. Звегинцев. – в 2 ч., ч. 2. – Москва : Просвещение, 1965. – 496 с.
Земская Е. А. Словообразование как деятельность / Е. А. Земская. – Москва : Наука, 1992. – 221 с.
Казарина С. Г. Типологические исследования в терминологии / С. Г. Казарина // Филологические науки. – 1998. – № 2. – С. 66–73.
Кучеренко И. К. Теоретические вопросы грамматики языка : Морфология / И. К. Кучеренко // Издание второе, уточненное и дополненное. – Винница : Подолье-2000. – 2003. – 463 с.
Лингвистический энциклопедический словарь // [гл. ред. В. Н. Ярцева]. – Москва : Наука, 1990. – 684 с.
Петров В. В. Семантика научных терминов / В. В. Петров. – Новосибирск : Наука, 1982. – 127 с.
Скребнев Ю. М. Проблема частей речи и ее внутренняя противоречивость / Ю. М. Скребнев // Вопросы теории частей речи. На материале языков различных типов : тезисы докладов. – Ленинград, 1965. – С. 12–15.
Смаль-Стоцький С. «Руска граматыка» / С. Смаль-Стоцький і Т. Гартнер. – Львів, 1893. – 180 с. – 2-е вид. – Відень, 1913; 3-є вид. – Львів-Відень, 1914. – 200 с.
Хохлачева В. Н. К соотношению номинативных свойств существительных и образования терминов / В. Н. Хохлачева // Терминология и культура речи. – Москва : Наука, 1981. – С. 185–20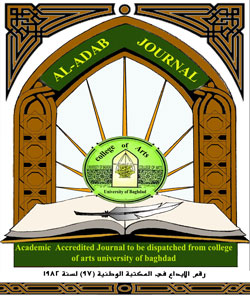 How to Cite
Khalif Ati, N. (2020). ЧАСТИ РЕЧИ в современном русском языке. Al-Adab Journal, 1(135), 21-32. https://doi.org/10.31973/aj.v1i135.997
Section
Foreign linguistics and literature
Copyright (c) 2020 Noha Khalif Ati
This work is licensed under a Creative Commons Attribution 4.0 International License.
Copyright and Licensing:
For all articles published in Al-Adab journal, copyright is retained by the authors. Articles are licensed under an open access Creative Commons CC BY 4.0 license, meaning that anyone may download and read the paper for free. In addition, the article may be reused and quoted provided that the original published version is cited. These conditions allow for maximum use and exposure of the work.
Reproducing Published Material from other Publishers: It is absolutely essential that authors obtain permission to reproduce any published material (figures, schemes, tables or any extract of a text) which does not fall into the public domain, or for which they do not hold the copyright. Permission should be requested by the authors from the copyrightholder (usually the Publisher, please refer to the imprint of the individual publications to identify the copyrightholder).
Permission is required for: Your own works published by other Publishers and for which you did not retain copyright.
Substantial extracts from anyones' works or a series of works.
Use of Tables, Graphs, Charts, Schemes and Artworks if they are unaltered or slightly modified.
Photographs for which you do not hold copyright.

Permission is not required for: Reconstruction of your own table with data already published elsewhere. Please notice that in this case you must cite the source of the data in the form of either "Data from..." or "Adapted from...".
Reasonably short quotes are considered fair use and therefore do not require permission.
Graphs, Charts, Schemes and Artworks that are completely redrawn by the authors and significantly changed beyond recognition do not require permission.
Obtaining Permission
In order to avoid unnecessary delays in the publication process, you should start obtaining permissions as early as possible. If in any doubt about the copyright, apply for permission. Al-Adab Journal cannot publish material from other publications without permission.
The copyright holder may give you instructions on the form of acknowledgement to be followed; otherwise follow the style: "Reproduced with permission from [author], [book/journal title]; published by [publisher], [year].' at the end of the caption of the Table, Figure or Scheme.