The Story of Al-Kindi
Rhetoric of Argumentation: From Submissiveness and Coaxing to Persuasion and Manipulation
Keywords:
Argumentation, Discourse of Stinginess, Imagery, Manipulation, Persuasion
Abstract
This article seeks to unearth the structures of argumentation that are employed in the story of Al-Kindi, which was included in Al-Jahiz's Kitab al-Bukhala' (The Book of Misers). The Story, which features tenants' attempts to take advantage of property laws in order to (mis)use Al-Kindi's private property, captures Al-Kindi undermining the tenants' efforts by using a myriad of pretexts and justifications, both real and unreal.
Approaching this story, this article relies on the principles of argumentation theory in its focus on communicative dimensions of the text, highlighting the main argumentative styles that Al-Kindi uses to produce a discourse that protects his rights against unfair treatment. The article highlights the strategies that move Al-Kindi's argumentation from convincing and persuading the tenants to committing epistemic violence against them through mentally and psychologically manipulating and winning them over in order to subdue them. The article concludes that the story of Al-Kindi includes surface and deep messages. While the surface of the story is built around a discourse of stinginess and parsimony, the deep meaning concerns the rhetorical strategies through which a questioning of the existing cultural norms and metaphors is established in order to enable the audience discover the inherent contradictions and paradoxes that lie within these norms.
Downloads
Download data is not yet available.
References
Al-Dahi, Muhammad, 2010, Communication between Persuasion and Adaptation, in the proceedings of the Conference: The Culture of Communication, the Fourteenth International Philadelphi Conference, Amman, Jordan.
Al-Dahi, Muhammad, 2011, The Semiotics of Adaptation, World of Thought Magazine, Vol. 40, Issue 1, issued by the National Council for Culture, Arts and Literature, Kuwait.
Al-Dahri, Amina, 2010, Al-Hajjaj and Building the Discourse: In Light of the New Rhetoric, Publishing and Distribution Company Al-Madares, 1st Edition, Dar Al-Bayda.
Al-Fairizabadi, Majd Al-Din Muhammad Bin Yaqoub (d.817 AH), 2005, Al-Muheeti Dictionary, edited by: The Heritage Investigation Office at Al-Risala Foundation, supervised by: Muhammad Na`im Al-Erqsousi, Al-Risala Foundation, 8th Edition, Beirut.
Al-Jahez, Amr Ibn Bahr (d.255 AH), 1997, Al-Bukhala, edited by Taha Al-Hajri, Dar Al-Maarif, 8th Edition, Cairo.
Al-Jurjani, Ali bin Muhammad Al-Sayed Al-Sharif (d.816 AH), 2004, Dictionary of Definitions, edited by: Muhammad Siddiq Al-Minshawi, Dar Al-Fadila, for publication, distribution and export, Cairo - Dubai.
Al-Omari, Muhammad, The Dialogue Circle and the Pitfalls of Violence: Exposing the Methods of Announcements and Fallacies (Contribution to the Creation of Discourse), 2002, East Africa, 1st Edition, Morocco.
Al-Wali, Muhammad, 2013, Al-Hajjaj: A theoretical historical introduction, within the book: "Al-Hajjaj is its concept and fields: refined theoretical and applied studies in the new rhetoric", a group of authors, the first volume: Editing and supervising: Hafez Ismaili Alawi, Ibn Nadim House for Publishing and Distribution and Dar Al-Rawafid Al Thaqafiyyah - Publishers, 1st floor, Oran - Beirut.
Bousbat, Maher, 2015, Criticism of Al-Hajjaj and the semiotics of passions: through the book Al-Bukhales by Al-Jahez, The Tunisian Book House, First Edition, Tunisia.
Charaudeau and Maingueneau, Patrick and Dominique, 2013, Dictionary of Discourse Analysis, translated by: Abdelkader El Mehairi and Hammadi Samoud, National Center for Translation, 1st Edition, Tunis.
Grimas, Algirda, 2010, The semiotics of passions: from states of things to states of the soul, translated by Said Pinkrad, House of the New Book United, 1st Edition, Beirut.
Ibn Manzur, Muhammad bin Makram bin Ali (d.711 AH), 1997, Lisan al-Arab, Vol. II, Dar Sader, Beirut.
Ibrahim, Abdullah, The Arabic Narrative: A Study of the Narrative Structure of the Arab Storytelling Legacy, 1992, The Arab Cultural Center, 1st Edition, Beirut - Casablanca.
Kilito, Abdel-Fattah, 1985, Writing and Transcription: The Concept of the Author in Arab Culture, translated by: Abd al-Salam Ben Abd al-Aali, Dar al-Tanweer for Printing and Publishing and the Arab Cultural Center, 1st Edition, Beirut - Casablanca.
Breton, Philippe, 2013, Al-Hajjaj fi Tawasul, translated by: Muhammad Meshal and Abdel Wahid Tohami El-Alami, National Center for Translation, 1st Edition, Cairo.
Soula, Abdullah, 2011, In The Theory of Al-Hajjaj: Studies and Applications, Edition 1, Mesquiliani Publishing, Tunisia.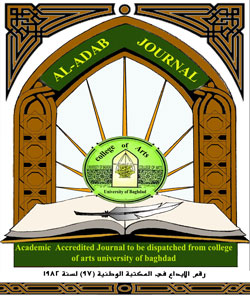 How to Cite
Mohammad Sarhan, H. (2020). The Story of Al-Kindi. Al-Adab Journal, 1(135), 49-68. https://doi.org/10.31973/aj.v1i135.994
Section
Linguistics and Arabic literature
Copyright (c) 2020 Haitham Mohammad Sarhan
This work is licensed under a Creative Commons Attribution 4.0 International License.
Copyright and Licensing:
For all articles published in Al-Adab journal, copyright is retained by the authors. Articles are licensed under an open access Creative Commons CC BY 4.0 license, meaning that anyone may download and read the paper for free. In addition, the article may be reused and quoted provided that the original published version is cited. These conditions allow for maximum use and exposure of the work.
Reproducing Published Material from other Publishers: It is absolutely essential that authors obtain permission to reproduce any published material (figures, schemes, tables or any extract of a text) which does not fall into the public domain, or for which they do not hold the copyright. Permission should be requested by the authors from the copyrightholder (usually the Publisher, please refer to the imprint of the individual publications to identify the copyrightholder).
Permission is required for: Your own works published by other Publishers and for which you did not retain copyright.
Substantial extracts from anyones' works or a series of works.
Use of Tables, Graphs, Charts, Schemes and Artworks if they are unaltered or slightly modified.
Photographs for which you do not hold copyright.

Permission is not required for: Reconstruction of your own table with data already published elsewhere. Please notice that in this case you must cite the source of the data in the form of either "Data from..." or "Adapted from...".
Reasonably short quotes are considered fair use and therefore do not require permission.
Graphs, Charts, Schemes and Artworks that are completely redrawn by the authors and significantly changed beyond recognition do not require permission.
Obtaining Permission
In order to avoid unnecessary delays in the publication process, you should start obtaining permissions as early as possible. If in any doubt about the copyright, apply for permission. Al-Adab Journal cannot publish material from other publications without permission.
The copyright holder may give you instructions on the form of acknowledgement to be followed; otherwise follow the style: "Reproduced with permission from [author], [book/journal title]; published by [publisher], [year].' at the end of the caption of the Table, Figure or Scheme.