Ruthlessness against Women during Wars in Danai Gurira's Eclipsed
A Feminist Approach
Keywords:
Dehumanization, feminism, gender, wars
Abstract
Civil wars, conflicts, and the spread of terror in recent times have produced a lot of loss and left great many victims. The terrorist assaults on women like the kidnappings of more than twenty-seven young female students by the terrorist organization Boko Haram and the news about the widespread rape and sexual exploitation in regions of conflict have prompted several theatrical plays in the United States that picture those crimes of violence. Works by women of African origin who migrated to the States as well as those who reside in Africa have also exposed the suffering of African women as far as sexual violence, oppression, and disease are concerned. The main purpose of the research is to clarify and investigate in detail Gurira 's Eclipsed through the lens of transnationalism as a recent field of inquiry which has emerged as another theoretical theory through which we can see the brutal acts against women in times of war. An example of those acts is those that took place during the Liberian Civil War in 2003. The helpless women in the play are caught in an intolerable state that lets them be treated like slaves who have lost their bodies and souls, and how do they pass their calamities. 
Downloads
Download data is not yet available.
References
Gurira, Danai. Eclipsed, Theatre communications Group, Inc., 2018.
Adelakun, Abimbola and Falola, Toyin eds. Art, Creativity, and Politics in Africa and the Diaspora . Macmillan Publishers Ltd., 2018.
Chon ,w. Byongsok ."Intercultural dramaturgy: Dramaturgy as Cultural Liaison". The Routledge Companion to Dramaturgy, edited by Magda Romanska. Routledge, 2015.
"Eclipsed: An Interview with Director Liesl Tommy and Playwright Danai Gurira" YouTube, uploaded by Public Theater NY, 30 Jul., 2015
"Eclipsed': Danai Gurira Interview" YouTube, uploaded by backstage, 29 Sep. 2009. www.youtube.com/watch?v=KzpzdIfUQqU .
Friedman Sharon." The Gendered Terrain in Contemporary Theatre of War by Women" Theatre Journal, vol. 62, no. 4, Dec. 2010, pp. 593-610. https://www.jstor.org/stable/41000802?seq=9#metadata_info_tab_contents
Igweonu , Kene, Okagbue Osita . edts. Performative Inter-Actions in African Theatre 3: Making Space, Rethinking Drama and Theatre in Africa. Scholars Publishing, 2014.
"In Conversation with Danai Gurira" YouTube, uploaded by American Theatre Wing, July 14, 2016.
Kilalea Rory ed., In the Continuum and Other Plays. Weaver Press, 2019.
Listengarten and Rosenthal. Modern American Drama: Playwriting 2000-2009: Voices, Documents, New Interpretations Decades of Modern American Drama: Playwriting from the 1930s to 2009. Bloomsbury Publishing, 2019.
Nigh, Katherine Jean." Eclipsed by Danai Gurira (review)." Theatre Journal, vol. 68, no. 3, Sept 2016, pp. 459-461. muse.jhu.edu/article/633901/summary.
Nygren, Kate. Transnational Feminism in 21st Century Black American Drama and Performance Diss. University of Kansas. 2019.Web 12May 2021.
Purcell, Carey. From Aphra Behn to Fun Home: A Cultural History of Feminist Theater. Rowman & Littlefield, 2019.
Ruiz, Michelle. "Eclipsed Playwright Danai Gurira on Bringing Activism to Broadway." Vogue, http://www.vogue.com/article/danai-gurira-eclipsed-interview. Accessed 17 July. 2020.
"When Danai Gurira couldn't find complex stories about African women, she wrote her own" YouTube, uploaded by PBS News Hour, 19 Feb.,2016.
"Zimbabwean-American actress and playwright, Danai Gurira, talks about giving African women a voice" YouTube, uploaded by CGTN America,3 Nov.,2016.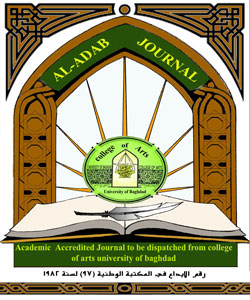 Downloads
How to Cite
Al-Khafaji, A. (2023). Ruthlessness against Women during Wars in Danai Gurira's Eclipsed: A Feminist Approach. Al-Adab Journal, 1(146), 1–14. https://doi.org/10.31973/aj.v1i146.3964
Section
English linguistics and literature
License
Copyright (c) 2023 د. عمار شامل كاظم الخفاجي
This work is licensed under a Creative Commons Attribution 4.0 International License.
Copyright and Licensing:
For all articles published in Al-Adab journal, copyright is retained by the authors. Articles are licensed under an open access Creative Commons CC BY 4.0 license, meaning that anyone may download and read the paper for free. In addition, the article may be reused and quoted provided that the original published version is cited. These conditions allow for maximum use and exposure of the work.
Reproducing Published Material from other Publishers: It is absolutely essential that authors obtain permission to reproduce any published material (figures, schemes, tables or any extract of a text) which does not fall into the public domain, or for which they do not hold the copyright. Permission should be requested by the authors from the copyrightholder (usually the Publisher, please refer to the imprint of the individual publications to identify the copyrightholder).
Permission is required for: Your own works published by other Publishers and for which you did not retain copyright.
Substantial extracts from anyones' works or a series of works.
Use of Tables, Graphs, Charts, Schemes and Artworks if they are unaltered or slightly modified.
Photographs for which you do not hold copyright.

Permission is not required for: Reconstruction of your own table with data already published elsewhere. Please notice that in this case you must cite the source of the data in the form of either "Data from..." or "Adapted from...".
Reasonably short quotes are considered fair use and therefore do not require permission.
Graphs, Charts, Schemes and Artworks that are completely redrawn by the authors and significantly changed beyond recognition do not require permission.
Obtaining Permission
In order to avoid unnecessary delays in the publication process, you should start obtaining permissions as early as possible. If in any doubt about the copyright, apply for permission. Al-Adab Journal cannot publish material from other publications without permission.
The copyright holder may give you instructions on the form of acknowledgement to be followed; otherwise follow the style: "Reproduced with permission from [author], [book/journal title]; published by [publisher], [year].' at the end of the caption of the Table, Figure or Scheme.