Cartographic representation of the efficiency of distribution of primary education services in Al-Maimuna District for the year 2021
Keywords:
Cartographic representation, GIS, Standards, Primary schools
Abstract
          The study research includes the representation of primary education services in the district of Al-Maimuna maps, and modern technologies have been used in the use of information and data in the preparation of maps with high accuracy in drawing, design and information as well as deduction, updating and analysis, the research has indicated that the total number of primary schools in the district of Al-Maimuna for the year 2021 ( 101 ) schools, the center of elimination ranked first with the largest number of schools and then the side of peace in second place while the area of Sayed Ahmed Rifai came in The third and last rank, and the research proved that the number of primary schools is not commensurate with the number of students in the judiciary according to the global standard for the number of students in one class, through this study it was concluded that the district of Maimuna needs (13) schools for the purpose of achieving the ideal number of schools.
Downloads
Download data is not yet available.
References
Al-Khikani, A. A. (2013). Evaluating the efficiency of primary education service in the city of Al-Amarah using geographical information systems. Master,Faculty of Education for Humanities, University of Babylon, p. 9.
Daish, A. K. (2011). Preparing Maps of School Distribution in Kut City Using Geographic Information Systems. Journal of Engineering and Technology, Volume 29, Issue 16, p. 652.
Mohammed, B. (2000). Tourism Maps of Syria Using Computer Software. Damascus University Journal, p. p.10.
Mohammed, F. W.-H. (2010). Evaluation and Planning of Educational Services in the City of Tubas Using Geographic Information Systems. Al-Najah National University, p. 8.
Saad, K. S. (2014). Natural, Human and Economic Geography of Maysan Governorate (Vol. 1). Dar Al Diaa Printing & Design.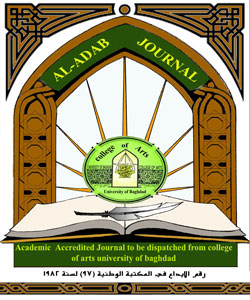 Downloads
How to Cite
Awadh, M. (2023). Cartographic representation of the efficiency of distribution of primary education services in Al-Maimuna District for the year 2021. Al-Adab Journal, 1(146), 37–58. https://doi.org/10.31973/aj.v1i146.3908
License
Copyright (c) 2023 Murtadha Sarhan Awadh
This work is licensed under a Creative Commons Attribution 4.0 International License.
Copyright and Licensing:
For all articles published in Al-Adab journal, copyright is retained by the authors. Articles are licensed under an open access Creative Commons CC BY 4.0 license, meaning that anyone may download and read the paper for free. In addition, the article may be reused and quoted provided that the original published version is cited. These conditions allow for maximum use and exposure of the work.
Reproducing Published Material from other Publishers: It is absolutely essential that authors obtain permission to reproduce any published material (figures, schemes, tables or any extract of a text) which does not fall into the public domain, or for which they do not hold the copyright. Permission should be requested by the authors from the copyrightholder (usually the Publisher, please refer to the imprint of the individual publications to identify the copyrightholder).
Permission is required for: Your own works published by other Publishers and for which you did not retain copyright.
Substantial extracts from anyones' works or a series of works.
Use of Tables, Graphs, Charts, Schemes and Artworks if they are unaltered or slightly modified.
Photographs for which you do not hold copyright.

Permission is not required for: Reconstruction of your own table with data already published elsewhere. Please notice that in this case you must cite the source of the data in the form of either "Data from..." or "Adapted from...".
Reasonably short quotes are considered fair use and therefore do not require permission.
Graphs, Charts, Schemes and Artworks that are completely redrawn by the authors and significantly changed beyond recognition do not require permission.
Obtaining Permission
In order to avoid unnecessary delays in the publication process, you should start obtaining permissions as early as possible. If in any doubt about the copyright, apply for permission. Al-Adab Journal cannot publish material from other publications without permission.
The copyright holder may give you instructions on the form of acknowledgement to be followed; otherwise follow the style: "Reproduced with permission from [author], [book/journal title]; published by [publisher], [year].' at the end of the caption of the Table, Figure or Scheme.