A critical Evaluation of Zakariyau Oseni's (play in Arabic) Al-'Amid Al-Mubajjal
Keywords:
critica, evaluation, play
Abstract
The emergence of Arabic play in Nigeria cannot be easily traced. However, the first published one is the Oseni's al 'Amid al-Mubajjal (The Honorable Dean) in 1994.Thereafter, more than forty of the Nigerian Arabic plays have emerged. The aim of this study is to give a summarized translation of the play and   critically examine its literary elements such as the themes, setting, characterization and plots as portrayed in the Arabic play. The research is also significant as it exposes the moral value of the play. The researcher used the descriptive method of research. The play is a reflection of what goes on in some Nigerian Universities where some students and staff are being oppressed by some wicked staff. Having examined the literary styles, it is found that literary elements are used by the author to a large extent to pilot the organic unity of the play. It is recommended, therefore, that the play should be staged on international television stations for the benefit of humanity.
Downloads
Download data is not yet available.
References
Americana C. (1976), the Encyclopedia Americana Vol. 8 U. S. A: Library of congress cataloging in publication Data.
Abdul Ganniy,A.A(2016).A handbook of Arabic Drama in Nigeria .Ilorin :Almaktab AlAdabi
Abdul Karim ,I.S(2016).Arabic Drama in Nigeria and Contemporary Developments:NRARP.
Abrams .M.H(2016]A Glossary of Literary Terms.Geoffrey Galt Harpham publishers.
Arthur,N.A(2006).The Language of Literature.Mc Dougal Little:USA
Elias A. Elias (1986), Elias' Modern Dictionary- Arabic- English Cairo: Elias Modern Publishing House and Co.
Ganeshi. D. (1980), Translation and Literary. Indian: Indian Publication Press
H. I. Olagunju (1995), Translation and the Oral aspects of Teaching Arabic Ilorin: JARS
Jonathan C. (1995), Oxford Advance Learners Oxford: Oxford University Press
Jawando S. A. (2002), Professor Z. I. as scholar and Leader. Ilorin: Alabi Printing Production.
Martha O. O. (1997), English for Vocational Students. Indemac Publishers Nig. Ltd.
Rahman A. A. (1985), Madhabun Islamiyun fi al-Adab Wan-Naqd. Saudi University Press.
Z. I Oseni (1994), al- 'Amidal- mubajjal. Auchi, Darun-Nur
Z. I. Oseni (2000). Al-ma'dubat al Adabiyyah li-tullab al- Arabiyyah fi Ifriqiyah al Garbiyyah (A literary Banquet for Arabic students in West Africa). Auchi Darun-Nur.
Z. I. Oseni (2002), Prose and Drama in Nigerian Literature in Arabic. The Journey so far (53rd unilorin inaugural lecture; 31st January, 2002, Ilorin: Library and publications committee, University of Ilorin.
Z. I. Oseni (2004) Curriculum vitae of Professor Z. I. Oseni
Kankawi, U.I etal(2020)The Guardian of Arabic Language and Literature in Nigeria: professor Z.I Oseni. Essays in Homour of Z.I Oseni. Al-Hasby Production; Ilorin.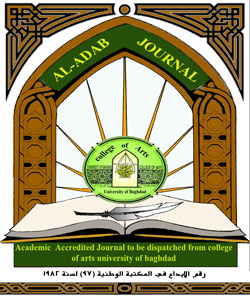 Downloads
How to Cite
Rahman, L. (2022). A critical Evaluation of Zakariyau Oseni's (play in Arabic) Al-'Amid Al-Mubajjal. Al-Adab Journal, 1(142), 41–52. https://doi.org/10.31973/aj.v1i142.3783
Section
Linguistics and Arabic literature
License
Copyright and Licensing:
For all articles published in Al-Adab journal, copyright is retained by the authors. Articles are licensed under an open access Creative Commons CC BY 4.0 license, meaning that anyone may download and read the paper for free. In addition, the article may be reused and quoted provided that the original published version is cited. These conditions allow for maximum use and exposure of the work.
Reproducing Published Material from other Publishers: It is absolutely essential that authors obtain permission to reproduce any published material (figures, schemes, tables or any extract of a text) which does not fall into the public domain, or for which they do not hold the copyright. Permission should be requested by the authors from the copyrightholder (usually the Publisher, please refer to the imprint of the individual publications to identify the copyrightholder).
Permission is required for: Your own works published by other Publishers and for which you did not retain copyright.
Substantial extracts from anyones' works or a series of works.
Use of Tables, Graphs, Charts, Schemes and Artworks if they are unaltered or slightly modified.
Photographs for which you do not hold copyright.

Permission is not required for: Reconstruction of your own table with data already published elsewhere. Please notice that in this case you must cite the source of the data in the form of either "Data from..." or "Adapted from...".
Reasonably short quotes are considered fair use and therefore do not require permission.
Graphs, Charts, Schemes and Artworks that are completely redrawn by the authors and significantly changed beyond recognition do not require permission.
Obtaining Permission
In order to avoid unnecessary delays in the publication process, you should start obtaining permissions as early as possible. If in any doubt about the copyright, apply for permission. Al-Adab Journal cannot publish material from other publications without permission.
The copyright holder may give you instructions on the form of acknowledgement to be followed; otherwise follow the style: "Reproduced with permission from [author], [book/journal title]; published by [publisher], [year].' at the end of the caption of the Table, Figure or Scheme.