The impact of the Corona pandemic on family relations in the Emirates society
A field study on a sample of families in the Emirate of Abu Dhabi
Keywords:
Corona pandemic, family social relations, parents
Abstract
After the outbreak of the new Corona virus (Covid-19) in most countries of the world, and the imposition of home quarantine, some families lived in crisis, as a result of the isolation and loneliness imposed by governments. And the effects of the pandemic were different in the family, some of them suffered from many problems at all social, economic and psychological levels, and some of them were able to overcome these effects, and even invest the quarantine period in strengthening marital and family relationships, his relationship with his life partner. This study aimed to identify family relationships during the Corona pandemic period, and relied on the descriptive approach and used quantitative and qualitative methods of analysis. The size of the study sample was (300) families, who were selected using the snow sample method. Among the most important findings of the study, is that family relations were not negatively affected by the Corona pandemic, and there are no statistically significant differences for the demographic variables of gender, income and educational qualification on family relations, and the study recommended the responsible ministries to activate the role of family centers to strengthen and support marital relations.
Downloads
Download data is not yet available.
References
الأمام ، مصطفى محمود واخرون (1990) للقياس والتقويم ، مطبعة دار الحكمة ، بغداد ، العراق.
بروفود أمين (2020). تأثير الحجر الصحي على العلاقات الاُسرية " العنف ضد الزوجة نموذجاً"، مجلة البوغاز للدراسات القأنونية والقضائية، العدد السابع، الصفحات: 182-191.
بني جابر، جودة. (2004). علم النفس الاجتماعي. عمَّأن: دار الثقافة للنشر والتوزيع.
بومخلوف، محمد(2008). "واقع الاُسرة الجزائرية والتحديات التربوية في الوسط الحضري القطيعة المستحيلة"، ط1، مخبر الوقاية والأرغوميات، جامعة الجزائر، سلسلة "احذر من الخطر قبل فوات الأوأن.
رشوأن ، حسين عبد الحميد .(2003) ،الاُسرة والمجتمع: دراسة في علم اجتماع الاُسرة، الاسكندرية : مؤسسة شباب الجامعة.
السلمي عطية بن رويبح فلاح(2020). جائحة كورونا وآثارها الاجتماعية على الاُسرة: دراسة وصفية على عينة من الأسر السعودية بمدينة جدة، المجلة العلمية للخدمة الاجتماعية - دراسات وبحوث تطبيقية بجامعة أسيوط، المجلد 1، العدد 12، الصفحات: 74-100.
عبد الحميد ، محمد (2000). نظريات الإعلام واتجاهات التأثير" ، ط2 ، القاهرة : عالم الكتب، ص 131.
عزب سهام أحمد وسحر علي الجوهري (2020).، أثر بعض المتغيرات الاُسرية على أنماط الاتصال الزواجي فترة كوفيد - 19 " دراسة تطبيقية على بعض الأسر السعودية "، المجلة العربية للآداب والدراسات الأنسأنية، المجلد الرابع، العدد 14، الصفحات: 107-142.
فلاك، فريدة (2018). العلاقات الاُسرية في ظل وسائل الإعلام الجديدة، المجلة الجزائرية لبحوث الإعلام والرأي العام"، المجلد (1) ، العدد (2).
القحطأني هاجر محمد مفلح، 2021، الأنعكاسات النفسية والاجتماعية لأزمة جائحة كورونا السعودية الأسر في الزوجية العلاقات على Covid-19 واستراتيجيات مواجهتها: بحث ميدأني مطبق على عينة من الذكور والأناث المتزوجين من جميع مناطق المملكة العربية السعودية، مجلة جامعة أم القرى للعلوم الاجتماعية، مجلد 13، عدد خاص، الصفحات: 371- 436.
القديري أمل بنت حماد، 2021، جائحة كورونا ومستوى تماسك الاُسرة السعودية: دراسة تطبيقية على عينة من الأمهات بمدينة الرياض، مجلة جامعة أم القرى للعلوم الاجتماعية، مجلد 13، عدد خاص، الصفحات: 232- 289.
مضوي مسلم عبدالقادر أحمد، 2021، أبعاد التفاعل الأسري في ظل جائحة كورونا المستجد "كوفيد- 19 " في مدينة جدة: دراسة ميدأنية، مجلة الفنون والأدب وعلوم الأنسأنيات والاجتماع، العدد 67، الصفحات 107- 121.
مكاوي ، حسن عماد ؛ السيد، ليلى حسين (2006) ، الاتصال ونظرياته المعاصرة ،القاهرة : الدار المصرية اللبنأنية .
منظمة الصحة العالمية (2018). https://www.who.int/ar
الموقع الرسمي لوزارة الصحة (2020). https://mohap.gov.ae/ar/covid-19
الناصر ، منال محمد بن حمد (2019) .تأثير وسائل التواصل الاجتماعي على العلاقات الاجتماعية والاُسرية لدى طلبة الجامعة السعودية الإلكترونية بمدينة الرياض .مجلة البحث العلمي في التربية . العدد (20).ص241 – ص291.
النجار، علي ، والزيات ، وأحمد حسن ، ومصطفى، إبراهيم، وعبد القادر، حامد. (2004). المعجم الوسيط. ط4. القاهرة: مكتبة الشرق الدولية، ص145.
Parsons talcoltt (1973). "le systéme des societies moderns,trad millerad danced" , paris.
Zhang Ye, 2020, Spending Time with Family Members: How COVID-19 has Changed the Family Member Relationship, Social Science, Education and Humanities Research jou., Vol. 496, pp: 173-182.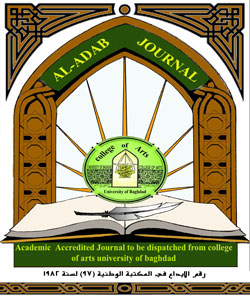 How to Cite
Altnaiji, R., & Abouelkheir, O. (2023). The impact of the Corona pandemic on family relations in the Emirates society: A field study on a sample of families in the Emirate of Abu Dhabi. Al-Adab Journal, 1(144), 315–342. https://doi.org/10.31973/aj.v1i144.3763
License
Copyright (c) 2023 رقية محمد الطنيجي، أميمة أبوالخير
This work is licensed under a Creative Commons Attribution 4.0 International License.
Copyright and Licensing:
For all articles published in Al-Adab journal, copyright is retained by the authors. Articles are licensed under an open access Creative Commons CC BY 4.0 license, meaning that anyone may download and read the paper for free. In addition, the article may be reused and quoted provided that the original published version is cited. These conditions allow for maximum use and exposure of the work.
Reproducing Published Material from other Publishers: It is absolutely essential that authors obtain permission to reproduce any published material (figures, schemes, tables or any extract of a text) which does not fall into the public domain, or for which they do not hold the copyright. Permission should be requested by the authors from the copyrightholder (usually the Publisher, please refer to the imprint of the individual publications to identify the copyrightholder).
Permission is required for: Your own works published by other Publishers and for which you did not retain copyright.
Substantial extracts from anyones' works or a series of works.
Use of Tables, Graphs, Charts, Schemes and Artworks if they are unaltered or slightly modified.
Photographs for which you do not hold copyright.

Permission is not required for: Reconstruction of your own table with data already published elsewhere. Please notice that in this case you must cite the source of the data in the form of either "Data from..." or "Adapted from...".
Reasonably short quotes are considered fair use and therefore do not require permission.
Graphs, Charts, Schemes and Artworks that are completely redrawn by the authors and significantly changed beyond recognition do not require permission.
Obtaining Permission
In order to avoid unnecessary delays in the publication process, you should start obtaining permissions as early as possible. If in any doubt about the copyright, apply for permission. Al-Adab Journal cannot publish material from other publications without permission.
The copyright holder may give you instructions on the form of acknowledgement to be followed; otherwise follow the style: "Reproduced with permission from [author], [book/journal title]; published by [publisher], [year].' at the end of the caption of the Table, Figure or Scheme.