Translating Linguistic and Situation-based Jokes from Arabic into English
An Integrated Approach
Keywords:
Translation, political jokes, Skopos, Systemic Functional Linguistics, Arabic, English
Abstract
Jokes have increasingly become the medium through which people in different Arab countries express their concerns. Social media platforms such as Facebook and Twitter are full of jokes tackling various spheres of life. Those jokes serve as a secure resort for people to raise issues they may not be able to express openly. The present study deals with the complications involved in the translation of Arabic jokes in general, and political jokes in particular into English. It sheds some light on the extent to which the translations of those jokes retain the force of their originals. The corpus of this study consists of 100 jokes that have been collected from different websites. The theoretical framework is eclectic, as it considers theories of translation and linguistics. It is based on Hans Vermeer's skopos theory (Nord, 1997; Reiss and Vermeer, 2014; Vermeer, 1989), and Halliday's theory of Systemic Functional Linguistics (SFL) (Halliday, 1985/1994). This study concludes that understanding a joke and then reproducing and translating it depends on a combination of linguistic and extralinguistic factors. The joke tellers may embrace various ideologies, and translators are required to be familiar with those ideologies to render the text adequately. The fidelity of translation will never be preserved unless all those aspects are taken into consideration.  
Downloads
Download data is not yet available.
References
Aarons, D. (2012). Jokes and the linguistic mind. London and New York: Routledge. https://doi.org/10.4324/9780203814741
Abu Ya'qoub, S. (2013). Audience types in translating humor in TV shows from English into Arabic [PhD Thesis]. Palestine: An-Najah National University.
Al-Rawabdeh, M. S. (2009). Translating Arabic jokes into English [Article, Yarmouk University]. http://repository.yu.edu.jo:80/jspui/handle/123456789/9359
Attardo, S. (2002). Translation and humour: An approach based on the General Theory of Verbal Humour (GTVH). The Translator, 8(2), 173–194. https://doi.org/10.1080/13556509.2002.10799131
Bassnett, S. (2013). Translation studies (4th ed.). London and New York: Routledge. https://doi.org/10.4324/9780203488232
Bergson, H. (1956). Laughter. In W. Sypher (Ed.), Comedy. New York: Garden City.
Butt, D., Fahey, R., Feez, S., Spinks, S., and Yallop, C. (2000). Using functional grammar: An explorer's guide. Macquarie University: National Centre for English language Teaching and Research.
El-Yasin, M. K. (2002). The translatability of Arabic jokes into English. Meta, 42(4), 670–676. https://doi.org/10.7202/002706ar
Escarpit, R. (1991). L'Humour. Presses Universitaires de France - PUF.
Freud, S. (1960). Jokes and their relation to the unconscious. New York: W. W. Norton & Company.
Goatly, A. (2012). Meaning and humour. Cambridge: Cambridge University Press. https://doi.org/10.1017/CBO9780511791536
Halliday, M. A. K. (1985). An introduction to functional grammar (1st ed.). London: Edward Arnold.
Halliday, M. A. K. (2001). Towards a theory of good translation. In E. Steiner and C. Yallop (Eds.), Exploring translation and multilingual text production: Beyond content (Vol. 3, pp. 13–18). Walter de Gruyter. https://doi.org/10.1515/9783110866193.13
Halliday, M. A. K., and Hasan, R. (1985). Language, context, and text: Aspects of language in a social-semiotic perspective. Victoria, Australia: Deakin University.
Halliday, M. A. K., and Matthiessen, C. (2004). An introduction to functional grammar. London: Edward Arnold.
Han, Q. (2011). On over-compensation and principles of linguistic humor in EC Translation. Journal of Language Teaching and Research, 2(4), 832-836.
Leibold, A. (1989). The translation of humor; Who says it can't be done? Meta: Journal Des Traducteurs/Meta: Translators' Journal, 34(1), 109–111. https://doi.org/10.7202/003459ar
Low, P. A. (2011). Translating jokes and puns. Perspectives: Studies in Translatology, 19(1), 59–70. https://doi.org/10.1080/0907676X.2010.493219
Mahdjoubi, N., and Djafour, S. (2015). Translation of jokes: The possibility of linguistic & cultural rendering [Master Thesis]. Ouargla: Algeria: KasdiMerbah University.
Manfredi, M. (2008). Translating text and context: Translation studies and systemic functional linguistics. Vol. 1 Translation Theory. [Available online] http://amsacta.unibo.it/2393/1/Manfredi_2008_Monografia.pdf
Mohammed, T. A. S., and Banda, F. (2018). Translating Yemeni cartoons into English: A Systemic Functional Linguistics approach. Stellenbosch Papers in Linguistics Plus, 55(0). https://doi.org/10.5842/55-0-779
Newmark, P. (1981). Approaches to translation (Language teaching methodology senes). Oxford: Pergamon Press.
Nord, C. (1997). Translating as a purposeful activity: Functionalist approaches explained. Manchester: St. Jerome Publishing. https://doi.org/10.4324/9781315760506
Popa, D.-E. (2005). Jokes and translation. Perspectives: Studies in Translatology, 13(1), 48–57. https://doi.org/10.1080/09076760508668963
Raskin, V. (1984). Semantic mechanisms of humor. Dordrecht, Boston and Lancaster: D. Reidel Publishing Company.
Reiss, K., and Vermeer, H. J. (2014). Towards a general theory of translational action: Skopos theory explained. London and New York: Routledge. https://doi.org/10.4324/9781315759715
Salem, H., and Taira, K. (2012). al-Thawra al-DaHika: The challenges of translating revolutionary humour. In S. Mehrez (Ed.), Translating Egypt's revolution: The language of Tahrir. Cairo: The American University in Cairo Press.
Schäffner, C. (1998). Skopos theory. In M. Baker and G. Saldanha (Eds.), Routledge Encyclopedia of Translation Studies (Vol. 17, pp. 235–238). London and New York: Routledge.
Sippola, J. (2010). The translation of culture-specific verbal humour in the TV-series Friends [Master's thesis]. Jyväskylä, Finland: University of Jyväskylä.
Vandaele, J. (2010). Humor in translation. In Y. Gambier and L. V. Doorslaer (Eds.), Handbook of translation studies (Vol. 1, pp. 147–152). John Benjamins Publishing.
Vermeer, H. J. (1989). Skopos and translation commission. In A. Chesterman (Ed.), Readings in translation theory (Vol. 29). Finnlectura.
Wilson, C. (1979). Jokes: Form, content, use and function. London: Academic Press.
Zabalbeascoa, P. (1996). Translating jokes for dubbed television situation comedies. The Translator, 2(2), 235–257. https://doi.org/10.1080/13556509.1996.10798976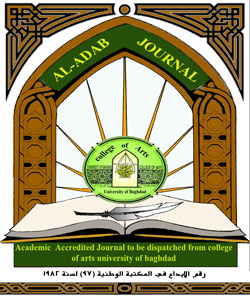 Downloads
How to Cite
Mohammed Al-Kenani, T. A. S. (2022). Translating Linguistic and Situation-based Jokes from Arabic into English: An Integrated Approach. Al-Adab Journal, 1(142), 17–40. https://doi.org/10.31973/aj.v1i142.3678
Section
English linguistics and literature
License
Copyright and Licensing:
For all articles published in Al-Adab journal, copyright is retained by the authors. Articles are licensed under an open access Creative Commons CC BY 4.0 license, meaning that anyone may download and read the paper for free. In addition, the article may be reused and quoted provided that the original published version is cited. These conditions allow for maximum use and exposure of the work.
Reproducing Published Material from other Publishers: It is absolutely essential that authors obtain permission to reproduce any published material (figures, schemes, tables or any extract of a text) which does not fall into the public domain, or for which they do not hold the copyright. Permission should be requested by the authors from the copyrightholder (usually the Publisher, please refer to the imprint of the individual publications to identify the copyrightholder).
Permission is required for: Your own works published by other Publishers and for which you did not retain copyright.
Substantial extracts from anyones' works or a series of works.
Use of Tables, Graphs, Charts, Schemes and Artworks if they are unaltered or slightly modified.
Photographs for which you do not hold copyright.

Permission is not required for: Reconstruction of your own table with data already published elsewhere. Please notice that in this case you must cite the source of the data in the form of either "Data from..." or "Adapted from...".
Reasonably short quotes are considered fair use and therefore do not require permission.
Graphs, Charts, Schemes and Artworks that are completely redrawn by the authors and significantly changed beyond recognition do not require permission.
Obtaining Permission
In order to avoid unnecessary delays in the publication process, you should start obtaining permissions as early as possible. If in any doubt about the copyright, apply for permission. Al-Adab Journal cannot publish material from other publications without permission.
The copyright holder may give you instructions on the form of acknowledgement to be followed; otherwise follow the style: "Reproduced with permission from [author], [book/journal title]; published by [publisher], [year].' at the end of the caption of the Table, Figure or Scheme.