Selfie- liking and its relationship to some personality Traits among a sample of university students
Keywords:
Selfie liking, personality traits, Narcissism, attention-seeking, Self –centered behavior, Loneliness, University instructors
Abstract
The aim of the present study is to identify the level of selfie- liking among students of Baghdad University and recognize the differences between males and females, and the correlation between selfie- liking and the personality traits. A random sample of (135) University students has been selected (64males and 61 females), selfie- liking (6 items) and narcissism (8items) scales responding according to 5-Likert scale ranging from (strongly agree- strongly disagree). And Loneliness (6 items), and attention- seeking(4items), and self-centered behavior(5items) scales responding according to 5- Likert scale ranging from (always- never). The results showed that the level of selfie- liking is high among the research sample, and that there are significant differences in selfie- liking, due to the gender, with high level for females., and that there is high correlation between the two variables. After conducting a regression analysis, it was found that the narcissistic personality trait and self-centered behavior made the greatest contribution to the selfie- liking among Baghdad University students.
Downloads
Download data is not yet available.
References
الشربيني، لطفي.(2001). موسوعة شرح المصطمحات النفسية انجليزي- عربي، دار النهضة العربية للطباعة والنشر، بيروت.
عثمان، طارق.(2017).أكثر من صورة الدوافع النفسية للسيلفي، اوراق نماء(147)، مركز نماء للبحوث والدراسات،1-15. تم استردادها من https://www.academia.edu/31748989/.
عبد الخالق، احمد محمد(1987). الابعاد الاساسية للشخصية.ط4، دار المعرفة ، الاسكندرية، مصر.
Aerni, M. (2014). The passionate 'sharing' of creative women: A Study of self-portrayal on Facebook and Instagram. (Masters Thesis, Stockholm University).Retrieved from http://www.divaportal.org/smash/get/diva2:724725/FULLTEXT01.pdf
Angstman, K. B., & Rasmussen, N. H. (2011). Personality disorders: Review and clinical application in daily practice. American Family Physician, 8, 1253–1260.
Arpaci, Ibrahim.(2018). The moderating effect of gender in the relationship between narcissism and selfie-posting behavior, Personality and Individual Differences. 134 ,71–74
Balakrishnan, J.,& Griffiths,MD(2018). An Exploratory Study of "Selfitis" and the Development of the Selfitis Behavior Scale. International Journal of Mental Health and Addiction, 16,722-736.
Baumeister Roy F., Hutten, Debra G. (1987). Self-presentation theory: self-construction and audience pleasing. In Goethals, George and Mullen, Brian (ed.) theories of group behavior. New york: springer –Verlag Inc. pp. 71-87.
Borkenau, P., Brecke, S., Möttig, C., & Paelecke, M. (2009). Extraversion is accurately perceived after a 50-ms exposure to a face. Journal of Research in Personality, 43(4), 703-706.
Charoensukmongkol, Peerayuth. (2016). Exploring personal characteristics associated with selfie-liking. Cyberpsychology. 10(2).1-13.
El-Sherbiny, Lotfi (2001), Encyclopedia of Explaining Arabic Psychological Terms, Dar Al-Nahda Al-Arabiya for Printing and Publishing, Beirut.
Flaherty, G. T., & Choi, J. (2016). The 'selfie'phenomenon: reducing the risk of harm while using smartphones during international travel. Journal of Travel Medicine, 23(2), 1–3.
Fox, J., & Rooney, M. C. (2015). The Dark Triad and trait self objectification as predictors of men's use and self- presentation behaviors on social networking sites. Personality and Individual Differences, 76, 161-165.
Gabriel, Fleur. (2014). Sexting, Selfies and Self-Harm: Young People, Social Media and the Performance of Self-Development. Media International Australia incorporating Culture and Policy. 151. 104-112.
Halpern, D., Valenzuela, S., & Katz, J. E. (2016). "Selfie-ists" or "Narci-selfiers"?: A cross-lagged panel analysis of selfie taking and narcissism. Personality and Individual Differences, 97, 98–101.
Hess, A. (2015). Selfies| the selfie assemblage. International Journal of Communication, 9, 1629–1646.
Kaur, Sukhdeep & Maheshwari, Dr S K & Preksha, Dr. (2018). Narcissistic Personality and Selfie Taking Behavior among College Students. International Journal of medical and health research. 3. 56-60.
Kwon, Y. J. & Kwon, K. N. (2011). Self in Selca, Self-Portrait Photography, as a Model, Photographer, And Consumer. Building Connections, 39, 660-661.
Ma, J. W., Yang, Y., & Wilson, J. A. (2017). A window to the ideal self: a study of UK Twitter and Chinese Sina Weibo selfie-takers and the implications for marketers. Journal of Business Research, 74, 139–142.
Moon, J. H., Lee, E., Lee, J. A., Choi, T. R., & Sung, Y. (2016). The role of narcissism in self-promotion on Instagram. Personality and Individual Differences, 101, 22–25.
Naumann, L. P., Vazire, S., Rentfrow, P. J., & Gosling, S. D. (2009). Personality judgments based on physical appearance. Personality and Social Psychology Bulletin, 35(12), 1661-1671
Nestler, S., Egloff, B., Küfner, A. C., & Back, M. D. (2012). An integrative lens model approach to bias and accuracy in human inferences: Hindsight effects and knowledge updating in personality judgments. Journal of personality and social psychology, 103(4), 689-717.
Nesvadba, Noé(2017) The presentation of self in the digital world: Goffman and the study of women's self portrayal on istagram through selfies, A Master's Dissertation Submitted in partial fulfillment of the requirements for the award of M.A in Digital Media and Society, Loughborough University, Retrieved from https://www.academia.edu/36582334/
Qiu, L., Lu, J., Yang, S., Qu, W., & Zhu, T. (2015). What does your selfie say about you? Computers in Human Behavior, 52, 443–449.
Roberts, J., & Koliska, M. (2017). Comparing the use of space in selfies on Chinese Weibo and Twitter. Global Media and China, 2(2), 1–16.
Sorokowski, P., Sorokowska, A., Oleszkiewicz, A., Frackowiak, T., Huk, A., & Pisanski, K. (2015). Selfie posting behaviors are associated with narcissism among men. Personality and Individual Differences, 85, 123–127.
Steinfield, C., Ellison, N. B., & Lampe, C. (2008). Social capital, self-esteem, and use of online social network sites: A longitudinal analysis. Journal of Applied Developmental Psychology, 29, 434–445.
Swihart,JD., Polack,C., Gilbert, E., Essa,I. (2017). Selfie-Presentation in Everyday Life: A Large-Scale Characterization of Selfie Contexts on Instagram, Proceedings of the Eleventh International AAAI Conference on Web and Social Media,42-51
Tandoc, E. C., Jr., Ferrucci, P., & Duffy, M. (2015). Facebook use, envy, and depression among college students: Is facebooking depressing? Computers in Human Behavior, 43, 139–146.
Vazire, S., Naumann, L. P., Rentfrow, P. J., & Gosling, S. D. (2008). Portrait of a narcissist: Manifestations of narcissism in physical appearance. Journal of Research in Personality, 42(6), 1439-1447.
Weiser, E. B. (2015). Me: Narcissism and its facets as predictors of selfie-posting frequency. Personality and Individual Differences, 86, 477–481.
Weiten & Margaret (1994) Psychology Applied Modern Life, Cole PUBLISHING Company Pacific Grove, California.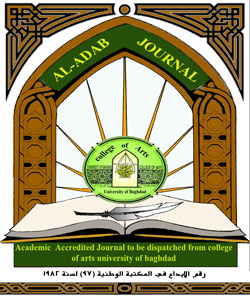 How to Cite
Ahmed, B. O. (2022). Selfie- liking and its relationship to some personality Traits among a sample of university students. Al-Adab Journal, 1(142), 261–284. https://doi.org/10.31973/aj.v1i142.1837
Section
Educational and psychological sciences
License
Copyright and Licensing:
For all articles published in Al-Adab journal, copyright is retained by the authors. Articles are licensed under an open access Creative Commons CC BY 4.0 license, meaning that anyone may download and read the paper for free. In addition, the article may be reused and quoted provided that the original published version is cited. These conditions allow for maximum use and exposure of the work.
Reproducing Published Material from other Publishers: It is absolutely essential that authors obtain permission to reproduce any published material (figures, schemes, tables or any extract of a text) which does not fall into the public domain, or for which they do not hold the copyright. Permission should be requested by the authors from the copyrightholder (usually the Publisher, please refer to the imprint of the individual publications to identify the copyrightholder).
Permission is required for: Your own works published by other Publishers and for which you did not retain copyright.
Substantial extracts from anyones' works or a series of works.
Use of Tables, Graphs, Charts, Schemes and Artworks if they are unaltered or slightly modified.
Photographs for which you do not hold copyright.

Permission is not required for: Reconstruction of your own table with data already published elsewhere. Please notice that in this case you must cite the source of the data in the form of either "Data from..." or "Adapted from...".
Reasonably short quotes are considered fair use and therefore do not require permission.
Graphs, Charts, Schemes and Artworks that are completely redrawn by the authors and significantly changed beyond recognition do not require permission.
Obtaining Permission
In order to avoid unnecessary delays in the publication process, you should start obtaining permissions as early as possible. If in any doubt about the copyright, apply for permission. Al-Adab Journal cannot publish material from other publications without permission.
The copyright holder may give you instructions on the form of acknowledgement to be followed; otherwise follow the style: "Reproduced with permission from [author], [book/journal title]; published by [publisher], [year].' at the end of the caption of the Table, Figure or Scheme.