The scientific efforts of a professor of Andalusian literature Dr. Hamida Al-Baldawi
An analytical study
Keywords:
Hamida Al-Baldawi, Andalusian literature
Abstract
The subject of our study concerns the literary and scientific efforts of acontemporary Iraqi academic researcher specializing in Andalusian literature, as she has published a lot of research and books within her scientific specialization, as well as the scientific production of specializations close to her precise specialization, Professor Dr. Hamida Saleh Mahdi Al-Baldawi.
the aim
Being aware of its published and printed efforts in this field, and getting acquainted with its style and literary importance for researchers and readers.
Our study was limited to an analysis of samples of its research output in authoring and publishing according to the years of research, due to the abundance of production that it enjoyed throughout its teaching and research period (may God extend its lifetime). Style and approach, it has adopted the literary and artistic style in its scientific and academic method for study and analysis, so that its product has a literary taste and a cognitive material and is a mark in the world of scientific creativity and cognitive composition.
The researcher, Dr. Hamida Al-Baldawi, is considered a second generation of Andalusian literature historians, investigators and scholars of Andalusian heritage and its publication. By presenting, studying and analyzing many knowledge and literature regarding this heritage.
In my opinion, I tried to fulfill what Professor Dr. Hamida Al-Baldawi deserves.
Downloads
Download data is not yet available.
References
الكتب العربية
حميدة البلداوي ، موازنات شعرية بين الاندلسيين والمشارقة. بغداد عام 1997
زكي مبارك، المدائح النبوية في الادب العربي، مصر: دار الكاتب العربي،.
زينة اسعد الذهبي، جهود الباحثين العراقيين في دراسة الأدب الأندلسي، ،دار غيداء/عمان/2020
شهاب الدين محمد الإشبيهي: المستظرف من كل فن مستظرف، دار الكتب العلمية ،بيروت لبنان، ط1، 2001م،
الحلة السيرا في مدح خير الورى ،تحقيق على أبو زيد، عالم الكتب دمشق ط2 /1985م
الكتب الاجنبية
- Otis E. and Stephen F. Milliken 1972. Buffon. New York: Twayne. pp 149–
المجلات والدوريات
مجلة إشكالات في اللغة والأدب مجلد: 08 عدد: 04 السنة: 2019
مجلة كلية التربية للبنات في المجلد 17،ع1، 2006
مجلة كلية التربية للبنات مج21 ع(4) سنة2010
مجلة كلية التربية للبنات المجلد22ع(2) 2011
مواقع شبكة الانترنت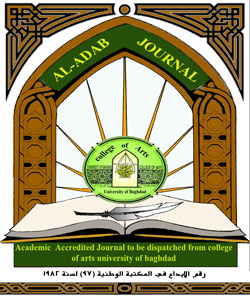 How to Cite
Reda, E. A. (2022). The scientific efforts of a professor of Andalusian literature Dr. Hamida Al-Baldawi: An analytical study. Al-Adab Journal, 1(142), 19–44. https://doi.org/10.31973/aj.v1i142.1815
Section
Linguistics and Arabic literature
License
Copyright and Licensing:
For all articles published in Al-Adab journal, copyright is retained by the authors. Articles are licensed under an open access Creative Commons CC BY 4.0 license, meaning that anyone may download and read the paper for free. In addition, the article may be reused and quoted provided that the original published version is cited. These conditions allow for maximum use and exposure of the work.
Reproducing Published Material from other Publishers: It is absolutely essential that authors obtain permission to reproduce any published material (figures, schemes, tables or any extract of a text) which does not fall into the public domain, or for which they do not hold the copyright. Permission should be requested by the authors from the copyrightholder (usually the Publisher, please refer to the imprint of the individual publications to identify the copyrightholder).
Permission is required for: Your own works published by other Publishers and for which you did not retain copyright.
Substantial extracts from anyones' works or a series of works.
Use of Tables, Graphs, Charts, Schemes and Artworks if they are unaltered or slightly modified.
Photographs for which you do not hold copyright.

Permission is not required for: Reconstruction of your own table with data already published elsewhere. Please notice that in this case you must cite the source of the data in the form of either "Data from..." or "Adapted from...".
Reasonably short quotes are considered fair use and therefore do not require permission.
Graphs, Charts, Schemes and Artworks that are completely redrawn by the authors and significantly changed beyond recognition do not require permission.
Obtaining Permission
In order to avoid unnecessary delays in the publication process, you should start obtaining permissions as early as possible. If in any doubt about the copyright, apply for permission. Al-Adab Journal cannot publish material from other publications without permission.
The copyright holder may give you instructions on the form of acknowledgement to be followed; otherwise follow the style: "Reproduced with permission from [author], [book/journal title]; published by [publisher], [year].' at the end of the caption of the Table, Figure or Scheme.