The social implications of applying alternative sanctions in The Punitive Policy of the United Arab Emirates
(Analytical study of theory)
Omar Mohammed Al-Zaabi, PhD student

University of Sharjah - College of Arts for Humanities and Social Sciences

Makia Gomaa Ahmed Himat, Associate Professor

University of Sharjah - College of Arts for Humanities and Social Sciences
Keywords:
freedom-negating, punitive policy, alternative punishments
Abstract
Penal policy varies from country to country in terms of the extent to which penalties imposed by the legislature are compatible with the values and customs of society, the extent to which sanctions achieve security and stability and the extent to which they need to be developed in order to keep pace with social, economic and religious developments.
The problem with this research was the need to highlight the social effects of alternative sanctions, which have taken many forms, such as community service and electronic monitoring, in terms of both positive and negative impacts.
The importance of the study lies in the fact that, although penitentiary institutions are developed and apply the most modern reform and rehabilitation systems, they are not in keeping with many short-term sentences of deprivation of liberty, and they have shown their negative results as a result of their application.
Consequently, alternatives to these sentences must be applied in order to protect the families of convicts and society.
The results of the study showed that the application of alternative penalties had proved to be remarkably successful, despite the fact that in some cases they were not compatible with the objective of punishment in both the private and general deterrence aspects, such as repeat offenders and criminal recidivists.
The proposals and recommendations noted that attempts should be made to apply alternative penalties to certain other penalties involving deprivation of liberty for a long period of time, which enjoy good conduct and conduct and the purity of their criminal record.
Downloads
Download data is not yet available.
References
الجوهري، مصطفى فهمي، أصول علمي الإجرام والعقاب، أكاديمية شرطة دبي،2002، ص402
د. يسر أنور علي و د. آمال عثمان، أصول علمي الإجرام والعقاب، دار النهضة العربية، القاهرة، 1993، ص 295 وما بعدها.
https://u.ae/ar-ae/participate/blogs/blog?id=362
أكرم نشأت إبراهيم، الحدود القانونية لسلطة القاضي الجنائي في تقدير العقوبة، مكتبة الثقافة للنشر والتوزيع، عمان، ١٩٩٨، ص١٤٥.
ابن منظور، محمد بن مكرم، (1979). لسان العرب، دار صادر للنشر والتوزيع، بيروت، لبنان.
الذيابي، حجاب، (2001). بدائل السجون، جامعة الإمام محمد بن سعود الإسلامية، رسالة ماجستير غير منشورة، السعودية، الرياض.
اليوسف، عبد الله بن عبد العزيز، (2006). آراء القضاة والعاملين في السجون نحو البدائل الاجتماعية للعقوبات السالبة للحرية، مؤسسة الملك خالد الخيرية، الرياض، السعودية.
الوريكات، محمد عبد الله، (2009). أصول علمي الإجرام والعقاب، دار وائل للنشر والتوزيع، عمان، الأردن.
السراج، عبود، (1983) علم الإجرام وعلم العقاب، منشورات جامعة الكويت، الكويت.
السمالوطي، نبيل محمد توفيق، (1989) الأيديولوجيا وقضايا علم الاجتماع: النظرية والمنهجية والتطبيقية. تأليف نبيل السمالوطي دار المطبوعات الجديدة.
القريشي، غني ناصر، (2011) علم الجريمة، دار صفاء للنشر والتوزيع، عمان، الأردن.
غانم، عبد الله عبد الغني، (1994) علم الاجتماع الجنائي الإسلامي، الجريمة والمجرم من المنظور الإسلامي، نحو نظرية إسلامية عامة للجريمة، المكتب الجامعي الحديث، الإسكندرية، مصر.
العوا، محمد سليم، (1998) في أصول النظام الجنائي الإسلامي، ط 2، دار المعارف، ص 72، القاهرة، مصر.
الحميدي، هاجر سيف، (2019) "الخدمة المجتمعية كبديل للعقوبات السالبة للحرية قصيرة المدة) دراسة مقارنة بين القانون الإماراتي والقانون الفرنسي، جامعة الإمارات العربية المتحدة.
الشحي، مزيود حسن علي (2019)، "التدابير البديلة لعقوبة جريمة تعاطي المخدرات في دولة الإمارات العربية المتحدة، دراسة مقارنة، جامعة عجمان.
هياجنة، احمد موسى (2017)، "نظام العقوبات والتدابير البديلة: نظام ذو ملامح خاصة لفلسفة عقابية متغيرة" دراسة مقارنة بين قانون العقوبات الإماراتي والأردني، مجلة جامعة الشارقة.
تقرير الأمين العام للأمم المتحدة المقدم في الأول من حزيران 1991 إلى مؤتمر الأمم المتحدة الثامن لمنع الجريمة ومعاملة المجرمين المنعقد في هافانا- كوبا من 27 آب- 7 أيلول 1991
د. محمد أبو شادي، مبادئ علم العقاب، الكويت، 1993، ص 133.
عبد الرحمان خلفي، العقوبات البديلة (دراسة فقهية تحليلية تأصيلية مقارنة)، ط 1 المؤسسة الحديثة للكتاب 2015، لبنان، ص 40.
إبراهيم سعد الغامدي، المردود الردعي والإصلاحي لبدائل العقوبات السالبة للحرية ودورها في تطوير نسق العقوبات من وجهة نظر المختصين، أطروحة دكتوراه، جامعة نايف العربية للعلوم الأمنية، كلية الدراسات العليا، قسم العلوم الاجتماعية، الرياض 2013
Yannis Panoussis, la surpopulation pénitentiaire en europe, édit Bruylant, Bruxelles., 1999, p: 03
UNODC، مكتب الأمم المتحدة المعني بالجريمة والمخدرات، دليل بشأن الاستراتيجيات الرامية إلى الحد من الاكتظاظ في السجون، سلسلة كتيبات العدالة الجنائية، بالتعاون مع اللجنة الوطنية للصليب الأحمر، منشور صادر عن قسم اللغة الإنجليزية والمنشورات والمكتبة، مكتب الأمم المتحدة في فيينا, 2014، ص 19 وما يليها.
بشرى، رضا سعد، 2010، بدائل العقوبة السالبة للحرية، وأثرها في الحد من الخطورة الإجرامية، أطروحة دكتوراه، جامعة عمان العربية، صفحة 96
https://u.ae/ar-ae/resources/laws
https://www.cnbcarabia.com/news/view/25497
رفعت رشوان، بدائل العقوبات السالبة للحرية قصيرة المدة، ندوة العقوبات السالبة للحرية قصيرة المدة، وزارة الداخلية، دولة الإمارات العربية المتحدة، يونيو 2011، ص 19 وما بعدها
محمود، محمود مصطفى، شرح قانون الإجراءات الجنائية، القاهرة: دار النهضة العربية، 1986، ص131.
محمد شلال العاني، أصول الإجراءات الجزائية في التشريع والفقه والقضاء، الإمارات العربية المتحدة: مكتبة الجامعة، (2015)، ط1، ص: 145.
https://u.ae/ar-ae/participate/blogs/blog?id=362 10/02/2020 عام | د. حمد سيف الشامسي /النائب العام للدولة.
مركز بحوث الشرطة، البدائل المستحدثة للعقوبات السالبة للحرية قصيرة المدة، الإصدار الخامس والأربعون،
مركز بحوث الشرطة. أكاديمية الشرطة. وزارة الداخلية المصرية، القاهرة، 2014، ص 142.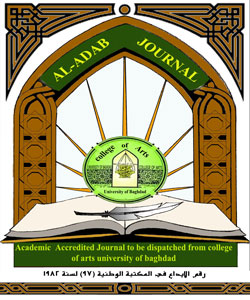 How to Cite
Al-Zaabi, O., & Himat, M. (2022). The social implications of applying alternative sanctions in The Punitive Policy of the United Arab Emirates. Al-Adab Journal, 1(141), 511-532. https://doi.org/10.31973/aj.v1i141.1611
Copyright (c) 2022 Omar Mohammed Al-Zaabi, PhD student, Makia Gomaa Ahmed Himat, Associate Professor
This work is licensed under a Creative Commons Attribution 4.0 International License.
Copyright and Licensing:
For all articles published in Al-Adab journal, copyright is retained by the authors. Articles are licensed under an open access Creative Commons CC BY 4.0 license, meaning that anyone may download and read the paper for free. In addition, the article may be reused and quoted provided that the original published version is cited. These conditions allow for maximum use and exposure of the work.
Reproducing Published Material from other Publishers: It is absolutely essential that authors obtain permission to reproduce any published material (figures, schemes, tables or any extract of a text) which does not fall into the public domain, or for which they do not hold the copyright. Permission should be requested by the authors from the copyrightholder (usually the Publisher, please refer to the imprint of the individual publications to identify the copyrightholder).
Permission is required for: Your own works published by other Publishers and for which you did not retain copyright.
Substantial extracts from anyones' works or a series of works.
Use of Tables, Graphs, Charts, Schemes and Artworks if they are unaltered or slightly modified.
Photographs for which you do not hold copyright.

Permission is not required for: Reconstruction of your own table with data already published elsewhere. Please notice that in this case you must cite the source of the data in the form of either "Data from..." or "Adapted from...".
Reasonably short quotes are considered fair use and therefore do not require permission.
Graphs, Charts, Schemes and Artworks that are completely redrawn by the authors and significantly changed beyond recognition do not require permission.
Obtaining Permission
In order to avoid unnecessary delays in the publication process, you should start obtaining permissions as early as possible. If in any doubt about the copyright, apply for permission. Al-Adab Journal cannot publish material from other publications without permission.
The copyright holder may give you instructions on the form of acknowledgement to be followed; otherwise follow the style: "Reproduced with permission from [author], [book/journal title]; published by [publisher], [year].' at the end of the caption of the Table, Figure or Scheme.