Immigrant Children's Adaptation
An Ecortitical study of the
Rafid Sami Majeed

Ministry of Higher Education and Scientific Research AL-Ma'mon- University College Department of English
Keywords:
Immigrant, Adaptation, Ecocriticism, communicative societies, environment, moves
Abstract
When a person gets used to a place where he was born and grew up and adapts to people and the environment around him and becomes an integral part of them, it would be difficult if he is forced, by any means,  to leave the place and abandon these people ,leaving them behind. Migration, whether voluntary or compulsory, has its negative effects. A migrant may need many years to forget the effects of the moves he did and perhaps will not forget their influence on him throughout his life, especially if he is forced to move for certain circumstances and will definitely need someone (s) to help him feel secure and safe in the new environment, and that will relieve him of his feelings of emptiness, irrelevance and isolation.
       It is part of human nature to live in social and communicative societies, not in isolation and detachment. Migrant children are the most affected people in these moves. Juan Felipe Herrera believes that it is the duty of the new society to which immigrants are moved to accept and help them, not to impose tough and inconsiderate laws or put other obstacles before them. These immigrants are already loaded with concerns and worries and need no more trouble to suffer. He insists that attention to these children is a human duty, which, when done, can assists them to adapt environmentally, socially and psychologically to their new societies.  In The Upside Down Boy, Juanito, the immigrant child    feels lost at the first days he is in the new school and that everything is upside down for him when his family moved from Mexico to San Francisco. Herrera, himself a Mexican immigrant, tells people about the situations juanito suffers and calls them to help him to set things up right once more.
Downloads
Download data is not yet available.
References
Bursztyn, Alberto M. (2015) Immigrant Children and Youth: Psychological Challenges: Psychological Challenges. California: ABC Printing.
Glotfelty, Cheryll and Harold Fromm (1996), The Ecocriticism Reader, University of Georgia Press.
Herrera, Juan Felipe. (2000) .The Upside down Boy .San Francesco: Press. Children's Books.
Hunt, Peter. (2001) Children's Literature .Oxford: Blackwell.
Kennedy, Nyabuti Ondimu (2010), Child Exclusion Among Internally Displaced Populations in Firt Valley and Ayanza Provinces of Kenya. Organization for Social Science Research in Eastern and Southern Africa (OSSREA).
Lynn, Byrd, M. (2004). Wild Things: Children's Culture and Ecocriticism. Detroit, Wyane State University Press.
Seyhan, Azade. (2001) Writing Outside the Nation .Princeton: Princeton University Press .
Shavit, Zohar. (1995),"The Historical Model of the Development of Children's Literature " in Aspects and Issues in the History of Children's Literature, ed.by Maria Nikolajeva ,27-38, Westport, London: Greenwood.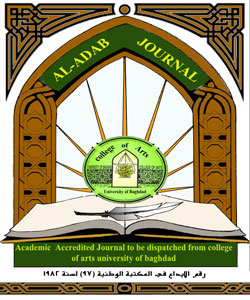 How to Cite
Sami Majeed, R. (2021). Immigrant Children's Adaptation. Al-Adab Journal, 1(136), 57-68. https://doi.org/10.31973/aj.v1i136.1263
Section
English linguistics and literature
Copyright and Licensing:
For all articles published in Al-Adab journal, copyright is retained by the authors. Articles are licensed under an open access Creative Commons CC BY 4.0 license, meaning that anyone may download and read the paper for free. In addition, the article may be reused and quoted provided that the original published version is cited. These conditions allow for maximum use and exposure of the work.
Reproducing Published Material from other Publishers: It is absolutely essential that authors obtain permission to reproduce any published material (figures, schemes, tables or any extract of a text) which does not fall into the public domain, or for which they do not hold the copyright. Permission should be requested by the authors from the copyrightholder (usually the Publisher, please refer to the imprint of the individual publications to identify the copyrightholder).
Permission is required for: Your own works published by other Publishers and for which you did not retain copyright.
Substantial extracts from anyones' works or a series of works.
Use of Tables, Graphs, Charts, Schemes and Artworks if they are unaltered or slightly modified.
Photographs for which you do not hold copyright.

Permission is not required for: Reconstruction of your own table with data already published elsewhere. Please notice that in this case you must cite the source of the data in the form of either "Data from..." or "Adapted from...".
Reasonably short quotes are considered fair use and therefore do not require permission.
Graphs, Charts, Schemes and Artworks that are completely redrawn by the authors and significantly changed beyond recognition do not require permission.
Obtaining Permission
In order to avoid unnecessary delays in the publication process, you should start obtaining permissions as early as possible. If in any doubt about the copyright, apply for permission. Al-Adab Journal cannot publish material from other publications without permission.
The copyright holder may give you instructions on the form of acknowledgement to be followed; otherwise follow the style: "Reproduced with permission from [author], [book/journal title]; published by [publisher], [year].' at the end of the caption of the Table, Figure or Scheme.