The poetic purpose and its effect on producing the meaning in the Iraqi poetry of the 1950
Abdel Wahab Al-Bayati as a model
Raghad Hamid Abdullah

Anbar University
Keywords:
Production, Meaning, Abdel Wahab Al-Bayati
Abstract
The generation of the fifties carried different intellectual and artistic visions from the previous generations، by virtue of the developments witnessed by the Arab nation in general and Iraq in particular، which were evoked by what the Iraqi reality witnessed at all political، social and economic levels that led to the development of intellectual awareness in the various events it carried. Among the poets of that period، and then one of its outputs was the emergence of poetic objects and themes that reflected to the recipient that reality with various meanings according to the poetic theme So our research came to find out some of those poetic purposes to show their effect in producing meaning for the recipient in that period of time، and we chose the poet Abdul Wahhab Al-Bayati to be a model for the study.
Downloads
Download data is not yet available.
References
Horizons in literature and criticism, Inad Ghazwan, Ministry of Culture and Information, printed in the General Cultural Affairs House Press, Baghdad, 1, 1990 AD.
The production of meaning in the Abbasid poetry until the end of the third century AH, d. Muhammad Nuri Abbas, Al-Ara Scientific Complex for Publishing and Distribution, Amman, 1st edition, 2014.
The crown of the bride from the jewels of the dictionary, Mortada Al-Zubaidi (d. 1205 AH), investigation: a group of investigators, Kuwait, 1391 AH / 1971 AD.
The Aesthetics of Poetic Meaning - Formation and Interpretation - Abdel Qader Al-Rubai, The Arab Foundation for Studies and Publishing, 1, 1998 AD.
Evidence of Miracles, Abd al-Qaher al-Jarjani (died 471 AH), read and commented on by: Mahmoud Muhammad Shaker, Al-Madani and Cairo Press, 3rd Edition, 1413 AH / 1992 AD.
Diwan of Broken Jugs, Abdel Wahab Al-Bayati, Beirut Printing House, Beirut, 2nd Edition, 1955 AD.
Diwan Notice in Exile, Abdul Wahab Al-Bayati, New Culture Publications, 2nd Edition, 1958 AD.
Diwan Al-Majd for Children and Olives, Al-Maaref Library Publications, Beirut, 2nd Edition, 1958 AD.
Diwan of Fire and Words, Abdul Wahab Al-Bayati, Dar Al-Adab Publications, Beirut, 2nd Edition, 1997 AD.
Diwan of Abd al-Wahhab al-Bayati, Dar al-Awda, Beirut, 3rd edition, 1979.
Diwan of Undying Words, Abdel Wahab Al-Bayati, Dar Al-Ilm for Millions of Publications, Beirut, 1960 AD.
The vision in the poetry of Al-Bayati, Mohieddin Subhi, House of General Cultural Affairs, Arab Horizons, Iraq, 1st edition, 1987 AD.
Al-Sahbi in the Fiqh of Language and its Issues and Sunan Al-Arab in Her Words, Ahmed bin Faris (d. 395 AH), published by Muhammad Beydoun Library, 1, 1418 AH / 1997 AD.
Abdul-Wahhab Al-Bayati (The Journey of Poetry and Life), Abdul Latif Arnaout, Al-Manara Foundation, Beirut, 1, 2004 AD.
Semantics between theory and practice, d. Hamdi Bakhit Omran, The Modern Academy of University Books, Cairo, 1, 1428 AH / 2007 AD.
Qayr al-Sha'ar, Ibn Tabataba al-Alawi (died 322 AH), investigation: Abdul Aziz bin Nasser al-Manea, Dar al-Uloom for printing and publishing, Cairo, 1985 AD.
Al-Ain, Al-Khalil bin Ahmed Al-Farahidi (died 170 AH), investigation: Dr. Mehdi Makhzoumi and d. Ibrahim Al-Samarrai, House and Library of Al-Hilal, (Dr. T).
In the monetary term, d. Ahmed Matlab, The Scientific Council Publications, The Scientific Council Press, 1423 AH - 2002 AD.
A Dictionary of Language Measures, Ahmed bin Faris (d. 395 AH), investigated by: Abd al-Salam Muhammad Harun, Dar al-Fikr, 1399 AH / 1979 AD.
The theory of constructivism in literary criticism, d. Salah Fadl, House of General Cultural Affairs, Baghdad, 1987 AD.
The One Who Comes and Does Not Come (Search), Abdel-Moneim Al-Hanafi, in the book The Revolutionary Model in the Poetry of Al-Bayati.
Al-Bayati's Journey with the Fire of Words (research), Sabri Hafez, in the book Contemporary Man in Al-Bayati's Poetry, Egyptian House of Printing and Publishing, Cairo, 1966.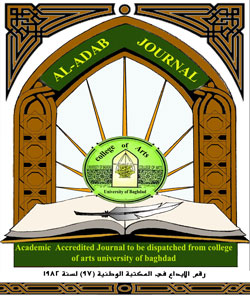 How to Cite
Hamid Abdullah, R. (2021). The poetic purpose and its effect on producing the meaning in the Iraqi poetry of the 1950. Al-Adab Journal, 1(138), 65-80. https://doi.org/10.31973/aj.v1i138.1225
Section
Linguistics and Arabic literature
Copyright (c) 2021 Raghad Hamid Abdullah
This work is licensed under a Creative Commons Attribution 4.0 International License.
Copyright and Licensing:
For all articles published in Al-Adab journal, copyright is retained by the authors. Articles are licensed under an open access Creative Commons CC BY 4.0 license, meaning that anyone may download and read the paper for free. In addition, the article may be reused and quoted provided that the original published version is cited. These conditions allow for maximum use and exposure of the work.
Reproducing Published Material from other Publishers: It is absolutely essential that authors obtain permission to reproduce any published material (figures, schemes, tables or any extract of a text) which does not fall into the public domain, or for which they do not hold the copyright. Permission should be requested by the authors from the copyrightholder (usually the Publisher, please refer to the imprint of the individual publications to identify the copyrightholder).
Permission is required for: Your own works published by other Publishers and for which you did not retain copyright.
Substantial extracts from anyones' works or a series of works.
Use of Tables, Graphs, Charts, Schemes and Artworks if they are unaltered or slightly modified.
Photographs for which you do not hold copyright.

Permission is not required for: Reconstruction of your own table with data already published elsewhere. Please notice that in this case you must cite the source of the data in the form of either "Data from..." or "Adapted from...".
Reasonably short quotes are considered fair use and therefore do not require permission.
Graphs, Charts, Schemes and Artworks that are completely redrawn by the authors and significantly changed beyond recognition do not require permission.
Obtaining Permission
In order to avoid unnecessary delays in the publication process, you should start obtaining permissions as early as possible. If in any doubt about the copyright, apply for permission. Al-Adab Journal cannot publish material from other publications without permission.
The copyright holder may give you instructions on the form of acknowledgement to be followed; otherwise follow the style: "Reproduced with permission from [author], [book/journal title]; published by [publisher], [year].' at the end of the caption of the Table, Figure or Scheme.