Spatial variation of date production in Al-Zahdi and Al-Khistawi in Iraq for the duration (2010-2019) and its future predictions
Dr. Amal Sabah Hassan

University of Baghdad / College of Arts
Keywords:
Production of dates, al-Zahdi and Al-Khistawi, simple linear regression, time series, cluster analysis
Abstract
The study is part of agricultural studies that address the productivity problem of the two most prominent types of dates in areas known to have been cultivated since ancient times. Palm cultivation and date production are constantly deteriorating in most of its production areas, so the study summarized the spatial variation of the production of Al-Zahdi and Al-Khistawi in iraq's production provinces for the period (2010-2019), to determine the volume of production and future predictions using approved statistical methods.
The study was followed by two main approaches (geospatial analysis method) to determine spatial variations in production (and the inference analysis method) as the simple linear regression model was chosen to find the predictive value of its production in the study area by relying on a time series of production quantity (2010-2019) by provinces and for the two categories through a set of results such as correlation value coefficient and F value of the overall morality of the regression equation and the value (t) of the partial parameters of the parameters. According to this model, the production of the two categories was predicted until 2025, and the results showed a spatial and temporal variation in production at the level of the producing provinces. The hierarchical cluster analysis was used to divide the provinces into clusters with common elements and characteristics in production and which is unique from the rest of the provinces by producing one of the categories, indicating the specificity of these provinces in their production in quantity and quality. Based on the data available from the Ministry of Planning/Central Bureau of Statistics/Directorate of Agricultural Statistics on production volumes at the level of the provinces producing for the calculated period.
The study included many tables, charts and illustrative maps, the study also came up with a number of conclusions and proposals, and the study relied on many important sources in the topic.
Downloads
Download data is not yet available.
References
Abdul Majid Hamza Al Nasser, Zafer Hussein Rashid, Records and Time Series Analysis, Baghdad University, University Of Printing and Publishing, Baghdad, 2013.
Abdul Wahab al-Dabbagh, Palm and Dates in Iraq Geographical Analysis of Palm Cultivation, Date Production, Industry and Trade, Umma Press, Baghdad, 1956.
Ali Al Azzawi, Statistical Quantitative Methods in Geography, Dar Al-Yazouri, Amman, 2019.
Brown; S & Tinsley; H; 2000, Hand Book of Applied Multivariate Statistics and Mathematical Modeling, USA.
Graig.A.Mertler, Interpreting Standar Dized Test Scores, Bowling Green States University , United States of America, 2007,P.120.
Hassan Khalid Hussein Al-Akidi, Palm of Dates - Lady of the Trees and Dora al-Thmar, 2008.
Hassan Yassin Touma, Iman Hussein Hanoush, Methods of Applied Statistics, Dar Al Safaa, Jordan, 2009.
Iraqi Ministry of Planning, Central Bureau of Statistics, Agricultural Statistics Directorate, Date Production Data for The Duration (2010-2019), Published Data.
Jassim Mohammed Al-Medares, Atlas of Dates in the Gulf, First Edition, Kuwait, 2010.
Joel.F.Lubar, Robert Thatcher, Z Score Neuro feed bake, Academic press, London, UK,2014,P.4.
Mahmoud Khaled Okasha, Use of spss system in statistical data analysis, first edition, Gaza University, Palestine, 2002.
Mahmoud Shaker Mahmoud, Statistical Analysis of The Reasons for Not Enrolling, Ministry of Planning, Iraq, 2014.
Manash Dutta, Cost Accounting Principles and Practice, India, 2009, P.14.14.
Ministry of Water Resources, Directorate General of Area, Iraq Administrative Map Scale 1/1000000, 2020.
Mohammed Al Nuaimi, Hassan Touma, Applied Statistics, Wael Publishing House, First Edition, 2008.
Pauls.P.GowP ertwait, Andrew Metcalf, Introductory Time Series With R, Hopkins University, New York, USA, 2009, P.1.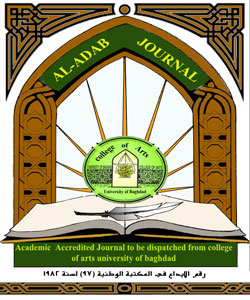 How to Cite
Sabah Hassan, D. A. (2021). Spatial variation of date production in Al-Zahdi and Al-Khistawi in Iraq for the duration (2010-2019) and its future predictions. Al-Adab Journal, 1(136), 81-106. https://doi.org/10.31973/aj.v1i136.1176
Copyright (c) 2021 Amal Sabah Hassan
This work is licensed under a Creative Commons Attribution 4.0 International License.
Copyright and Licensing:
For all articles published in Al-Adab journal, copyright is retained by the authors. Articles are licensed under an open access Creative Commons CC BY 4.0 license, meaning that anyone may download and read the paper for free. In addition, the article may be reused and quoted provided that the original published version is cited. These conditions allow for maximum use and exposure of the work.
Reproducing Published Material from other Publishers: It is absolutely essential that authors obtain permission to reproduce any published material (figures, schemes, tables or any extract of a text) which does not fall into the public domain, or for which they do not hold the copyright. Permission should be requested by the authors from the copyrightholder (usually the Publisher, please refer to the imprint of the individual publications to identify the copyrightholder).
Permission is required for: Your own works published by other Publishers and for which you did not retain copyright.
Substantial extracts from anyones' works or a series of works.
Use of Tables, Graphs, Charts, Schemes and Artworks if they are unaltered or slightly modified.
Photographs for which you do not hold copyright.

Permission is not required for: Reconstruction of your own table with data already published elsewhere. Please notice that in this case you must cite the source of the data in the form of either "Data from..." or "Adapted from...".
Reasonably short quotes are considered fair use and therefore do not require permission.
Graphs, Charts, Schemes and Artworks that are completely redrawn by the authors and significantly changed beyond recognition do not require permission.
Obtaining Permission
In order to avoid unnecessary delays in the publication process, you should start obtaining permissions as early as possible. If in any doubt about the copyright, apply for permission. Al-Adab Journal cannot publish material from other publications without permission.
The copyright holder may give you instructions on the form of acknowledgement to be followed; otherwise follow the style: "Reproduced with permission from [author], [book/journal title]; published by [publisher], [year].' at the end of the caption of the Table, Figure or Scheme.