Abdul Ali bin Nasser bin Rahma Al-Hawizi historian
1000-1075 A.H. / 1584-1664 A.M
Fardous Abdul Rahman Karim

University of Mustansiriya / Faculty of Arts
Keywords:
Ibn Rahma, Al-Mushashah, Basra, Territories
Abstract
This research deals with the march of a scientist, a thinker and a great historian of the scholars, thinkers and historians of Iraq in the eleventh century AH in the seventeenth century AD in the field of knowledge fields in which he created and wrote about, his writings have been over thirty, and the subject of history among those topics which emerged in his writings Historical, political, social, economic and cultural conditions that took place in southern Iraq in some periods of the Ottoman era, which prevailed in Iraq and the Arab world for four centuries, but despite the characterization of this rule of destruction and wars and ignorance and backwardness that affected the Arab society and others, The Arab states enjoyed semi-independent administration that allowed them to act in their internal affairs despite their dependence on the Ottoman rule. Among these states was the province of Basra, ruled by the family of Al-Afrasiyab Al-Diri in the eleventh century AH and the mandate of Al-Huweiza in southeastern Iraq, The family of Al-Masha'sha was about three centuries of Hawiye and was wary of its relations with the Safavids and Ottomans.
The Arab identity of the governors of Basra and Hawizah is one of the factors of cultural, literary and cultural prosperity. Among the evidence of this cultural, scientific and cultural prosperity is the abundance of schools, libraries, mosques, the role of science and worship, the care of scientists and students of science and the journey to seek knowledge. In the days of Azza and prosperity and Azorh superiority, and was our historian Abdul Ali bin Rahma al-Hawizi spent the first part of his life in his hometown of Huweizah, wakes up from the scientific sources and sips of the literary nectar and Ijals professors and schools and libraries Until he matured his talent and strengthened his property, headed at the beginning of the fourth decade of his life towards Basra and made his journey in which he offered his goods to the visual society and embraced by the governors of the state was one of their entourage and became the author of the state and poet Ether and submitted most of his works in Basra, the right historical literature that we will review in the search Insha'Allah.
Downloads
Download data is not yet available.
References
Abdul Hamid, Dr. Saeb, History and Approaches of Historians, Beirut Edition, 1431 AH-2010AD.
Al-Adhami, Ali Zarif, Brief History of Basra, Baghdad edition, 1947.
Al-Amin, Mohsen, Shia notables, Sidon, Vol. 43.
Al-Azzawi, Abbas, History of Arab Literature in Iraq, Part 4, Baghdad Edition, 1962.
Al-Azzawi, Abbas, The History of Iraq Between Two Occupations, Part 4, Baghdad Edition, 1965.
Al-Hamwi, Ruby, A Dictionary of Countries, Beirut Edition, 1956.
Al-Huwaizi, Abdul-Ali bin Nasser bin Rahma, Qatar Al-Ghumam, in explaining the words of the kings of the kings of speech, Baghdad edition, 1438 AH-2017AD.
Al-Huwaizi, Abdul-Ali bin Nasser bin Rahma, the abundant flood in the explanation of Moalya al-Amir, Baghdad edition, 1438 AH-2017 AD.
Al-Huwaizi, Abdul-Ali bin Nasser bin Rahma, the best jewelry (Diwan of Poetry), Baghdad, 1438 AH-2017 AD.
Al-Huwaizi, Ali bin Abdullah bin Ali, the Meccan Voyage and the Meshacic State, the Sabhalar Library Manuscript, Tehran No. 1513, a copy in my possession.
Al-Hwizi, Abd Al-Ali bin Nasser bin Rahma, The Biographical Path in Explaining the Hypothesis, a manuscript in the library of Muhammad Al-Khali Qadi Al-Sulaymana, a copy in my possession.
Al-Hwizi, Abdul-Ali bin Nasser bin Rahma, the radiator in the science of performances, manuscript under No. 33252 in the Iraqi manuscripts house.
Al-Jabri, Abdul Jalil, Emirate of the Mashaa'in, University of Baghdad, College of Arts, Unpublished Master Thesis, 19730.
Al-Jazairi, Neamat Allah Bin Abdullah, Al-Anwar Al-Numaniya, Vol. 3, 4, Beirut Edition, 2008.
Al-Kaabi, Fathallah bin Alwan, Zad al-Musafer, Baghdad, 1925.
Al-Madani, Ibn Masum, Sulafa Al-Asr in Mahasin People of Poetry, Qatar, 1963.
Al-Mahboubah Family, Ja`far al-Sheikh Baqir, The Past and Present of Najaf, Najaf Edition, 1957.
Al-Mohebi, Muhammad Amin, Al-Rihanna's whiff and tavern, Part 3, Cairo Edition, 1968.
Al-Quraishi, Ridha, Non-Arabized Poetic Arts, Baghdad, 1976.
Kawtharani, Wajih, History of History, Beirut Edition, 2012.
Lankarnck, Stephen, Four Centuries of Iraqi History, translated by Ja`far al-Khayyat, Baghdad 1968.
Mohiuddin, Dr. Abdul-Razzaq, present and unemployed, Baghdad, 1971.
Sharqi, Ali, Al-Arab and Iraq, Baghdad, 1963.
Shubr, Jasim, the history of the Mashha'in and the translation of their flags, Najaf, 1965.
Shubr, Jassem, founder of the Masha'isha state, Najaf, 1973.
The Magazine of the Arabic Language Academy, Cairo, No. 38, 1976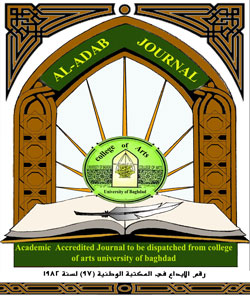 How to Cite
Abdul Rahman Karim, F. (2020). Abdul Ali bin Nasser bin Rahma Al-Hawizi historian. Al-Adab Journal, 1(135), 247-276. Retrieved from https://aladabj.uobaghdad.edu.iq/index.php/aladabjournal/article/view/1164
Copyright and Licensing:
For all articles published in Al-Adab journal, copyright is retained by the authors. Articles are licensed under an open access Creative Commons CC BY 4.0 license, meaning that anyone may download and read the paper for free. In addition, the article may be reused and quoted provided that the original published version is cited. These conditions allow for maximum use and exposure of the work.
Reproducing Published Material from other Publishers: It is absolutely essential that authors obtain permission to reproduce any published material (figures, schemes, tables or any extract of a text) which does not fall into the public domain, or for which they do not hold the copyright. Permission should be requested by the authors from the copyrightholder (usually the Publisher, please refer to the imprint of the individual publications to identify the copyrightholder).
Permission is required for: Your own works published by other Publishers and for which you did not retain copyright.
Substantial extracts from anyones' works or a series of works.
Use of Tables, Graphs, Charts, Schemes and Artworks if they are unaltered or slightly modified.
Photographs for which you do not hold copyright.

Permission is not required for: Reconstruction of your own table with data already published elsewhere. Please notice that in this case you must cite the source of the data in the form of either "Data from..." or "Adapted from...".
Reasonably short quotes are considered fair use and therefore do not require permission.
Graphs, Charts, Schemes and Artworks that are completely redrawn by the authors and significantly changed beyond recognition do not require permission.
Obtaining Permission
In order to avoid unnecessary delays in the publication process, you should start obtaining permissions as early as possible. If in any doubt about the copyright, apply for permission. Al-Adab Journal cannot publish material from other publications without permission.
The copyright holder may give you instructions on the form of acknowledgement to be followed; otherwise follow the style: "Reproduced with permission from [author], [book/journal title]; published by [publisher], [year].' at the end of the caption of the Table, Figure or Scheme.