Investigating and Translating Formality in English Legal Texts into Arabic
Sameer Salih Mahdi Al-Dahwi

Mustansiriyah University, College of Arts, Department of Translation, Iraq
Keywords:
formality, legal language, translation of formality
Abstract
Legal language is an unusual type of language which raises the interest of many people. It is considered to be one of the discourses that prefer traditional styles and values. Moreover, using this language is confined to specific places and circumstances, namely, in a court or legal texts. Additionally, legal language is radically different from ordinary language in vocabulary, morphology, syntax, and semantics, in addition to other distinctive features. In fact, one of the predominant distinctive features of legal language is that it is a formal language. It is hypothesized that formality in English legal language is realized with different ways and at different levels. It is also hypothesized that what is formal in English is not necessarily formal in Arabic. In other words, formal expressions in English and Arabic are realized differently.
The data in this study has been quoted from different authentic legal texts supplemented by the researcher's renderings. 
Downloads
Download data is not yet available.
References
Alcaraz, E. (2009). "Isomorphism and Anisomorphism in the Translation of Legal Texts", in Olson, F., Lorz, R. A. and Stein, D. (eds). Translation Issues in Language and Law. London/New York: Palgrave Macmillan, pp. 182-192.
Alcaraz, E. and Brian,H. (2002). Legal Translation Explained. Manchester: St. Jerome Publishing.
August, R. (2002). International Business Law: Text, Cases and Readings (3rd edition) Beijing: Higher Education Press.
Bahatia, V.K., Candlin, C.N. and Gotti,M. (eds). (2003). "Legal Discourse in Multilingual and Multicultural Contexts: Arbitration Texts in Europe". (Linguistic Insights). Vol. 6, USA: Peter Lang Publishing.
Black's Law Dictionary (2009) 9th edition. London: West Group.
Bouharaoui, A. (2008). Some Lexical Features of English Legal Language. http://www.translationdirectory.com
Bowers, F. (1989). Linguistic Aspects of Legislative Expression. Vancouver: University of British Columbia Press.
Butt, P.J. and Richrd, C. (2006). Modern Legal Drafting: A Guide to Using Clearer Language. New York: Cambridge University Press.
Coates, J. (1983). The Semantics of Modal Auxiliaries. London: Croom Helm.
Crystal, D. and Davy, D. (1969). Investigating English Style. London: Longman.
Cutts, M. (1995). The Plain English Guide. Oxford: Oxford University Press.
Crystal, D. and Davy, D. (1986). Investigating English Style. London: Longman.
Danet, B. (1985). "Legal Discourse" in Van Dijk, T.A. (ed.). Handbook of Discourse Analysis. London: Palgrave Macmillan.
Garner, B. A. (2002). Black's Law Dictionary. St. Paul, Minn. West Group. Second Pocket Edition.
Goodrich, P. (1987). Legal Discourse: Studies in Linguistics, Rhetoric and Legal Analysis. London: Palgrave Macmillan.
Maley, Y. (1987). "The Language of Legislation". Language in Society. Vol. 16 No. 1-4, pp: 25-48.
Mattila, H. (2006). "Comparative Legal Linguistics". Meta Journal. Vol.55 published in 2010.
Mellinkoff, D. (1963). The Language of the Law. Boston: Little Brown.
Oxford Advance Learners' Dictionary
Sabra, A.M.M. (1995). Translation of Contracts. The American University of Cairo.
Sarcevic, S. (1997). New Approach to Legal Translation. London and Boston: Kluwer Law International.
Tiersma, P. (1999). Legal Language. Chicago: University of Chicago Press.
Triebel, V. (2009). "Pitfalls of English as a Contract Language", in Olson, F., Lorz, R.A. and Stein, D.(eds). Translation Issues in Language and Law. London/ New York/ UK: Palgrave Macmillan, pp. 147-181.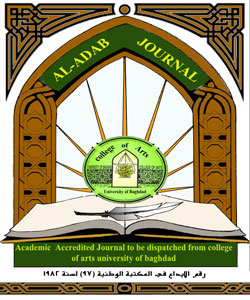 How to Cite
Al-Dahwi, S. (2021). Investigating and Translating Formality in English Legal Texts into Arabic. Al-Adab Journal, 1(136), 69-80. https://doi.org/10.31973/aj.v1i136.1157
Section
English linguistics and literature
Copyright (c) 2021 Sameer Salih Mahdi Al-Dahwi
This work is licensed under a Creative Commons Attribution 4.0 International License.
Copyright and Licensing:
For all articles published in Al-Adab journal, copyright is retained by the authors. Articles are licensed under an open access Creative Commons CC BY 4.0 license, meaning that anyone may download and read the paper for free. In addition, the article may be reused and quoted provided that the original published version is cited. These conditions allow for maximum use and exposure of the work.
Reproducing Published Material from other Publishers: It is absolutely essential that authors obtain permission to reproduce any published material (figures, schemes, tables or any extract of a text) which does not fall into the public domain, or for which they do not hold the copyright. Permission should be requested by the authors from the copyrightholder (usually the Publisher, please refer to the imprint of the individual publications to identify the copyrightholder).
Permission is required for: Your own works published by other Publishers and for which you did not retain copyright.
Substantial extracts from anyones' works or a series of works.
Use of Tables, Graphs, Charts, Schemes and Artworks if they are unaltered or slightly modified.
Photographs for which you do not hold copyright.

Permission is not required for: Reconstruction of your own table with data already published elsewhere. Please notice that in this case you must cite the source of the data in the form of either "Data from..." or "Adapted from...".
Reasonably short quotes are considered fair use and therefore do not require permission.
Graphs, Charts, Schemes and Artworks that are completely redrawn by the authors and significantly changed beyond recognition do not require permission.
Obtaining Permission
In order to avoid unnecessary delays in the publication process, you should start obtaining permissions as early as possible. If in any doubt about the copyright, apply for permission. Al-Adab Journal cannot publish material from other publications without permission.
The copyright holder may give you instructions on the form of acknowledgement to be followed; otherwise follow the style: "Reproduced with permission from [author], [book/journal title]; published by [publisher], [year].' at the end of the caption of the Table, Figure or Scheme.