Frankenstein in Baghdad
a Contemporary Iraqi Dystopian Writing
Zainab Abdulkadhim Salman Al-Shammari

Mustansiriyah University, Arts College, Department of English Language and Literature
Keywords:
Frankenstein, Baghdad, Iraqi, Dystopian
Abstract
The present essay is personal reading of Ahmed Saadawi's novel Frankenstein in Baghdad, which is viewed in light of the development of the genre of utopian/dystopian writing not only in Western literature but also in the Arab/Islamic literature, highlighting the way the Iraqi writer understood the realities in his own country following the American invasion. The novel is a metaphor of the intertribal violence that is still shaking the illusory peace of the country, affecting the lives and destinies of a people which has not completely recovered from the horrors of the wars of the last decades.
"Frankenstein in Baghdad… is something of an exorcism of the evil spirits of an era not quite past. Saadawi's goal isn't to resolve the horror of war, but rather to thrust the reader into its midst so that they may question its senselessness". ~ Zahra Hankir
Downloads
Download data is not yet available.
References
Brocas, Alexis. Ahmed Saadawi:" Le fantastique fait partie de la réalité irakienne". An interview. Magazine Littéraire. 28 October 2016.
Fromm, Erich. 1973. The Anatomy of Human Destructiveness. New York, NY: Holt, Rinehart and Winston.
Garner, Dwight. "In 'Frankenstein in Baghdad,' a Fantastical Manifestation of War's Cruelties", The New York Times, Jan. 22, 2018.
Hankir, Zahra. "Ahmed Aaadawi wants to tell a new story about the war in Iraq", Literary Hub, June 19, 2018. https://lithub.com/ahmed-saadawi-wants-to-tell-a-new-story-about-the-war-in-iraq/
Jani, Bushra Juhi. "Violence as the Abject in Iraqi Literature: Ahmed Saadawi's Frankenstein in Baghdad and Mary Shelley's Frankenstein". International Journal of Humanities and Cultural Studies, Volume 1, Issue 4, March 2015. 320-336. http://ijhcschiefeditor.wix.com/ijhcs
Metz, Sam. "Fiction of Dystopian Times: Ahmed Saadawi's 'Frankenstein in Baghdad'". Los Angeles Review of Books, June 5, 2018. https://lareviewofbooks.org/article/fiction-dystopian-times-ahmed-saadawis-frankenstein-baghdad/#!
Najjar, Al-Mustafa. "Iraqi Author Ahmad Saadawi: 'The Novel Implicitly Questions This Concept of Salvation'," 26 March 2014, Arabic Literature (in English), 4 Feb. 2015 http://arablit.org/2014/03/26/iraqi-author-ahmad-saadawi-the-novel-implicitly-questions-this-concept-of-salvation/.
Saadawi, Ahmed. 2018. Frankenstein in Baghdad (2013). Translated by Jonathan Wright. New York: Penguin Books.
Shelley, Mary. 2003. Frankenstein or, The Modern Prometheus (1818). New York: Millennium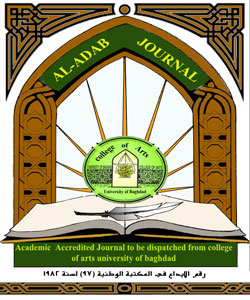 How to Cite
Al-Shammari, Z. (2021). Frankenstein in Baghdad. Al-Adab Journal, 1(136), 121-130. https://doi.org/10.31973/aj.v1i136.1008
Section
English linguistics and literature
Copyright (c) 2021 Zainab Abdulkadhim Salman Al-Shammari
This work is licensed under a Creative Commons Attribution 4.0 International License.
Copyright and Licensing:
For all articles published in Al-Adab journal, copyright is retained by the authors. Articles are licensed under an open access Creative Commons CC BY 4.0 license, meaning that anyone may download and read the paper for free. In addition, the article may be reused and quoted provided that the original published version is cited. These conditions allow for maximum use and exposure of the work.
Reproducing Published Material from other Publishers: It is absolutely essential that authors obtain permission to reproduce any published material (figures, schemes, tables or any extract of a text) which does not fall into the public domain, or for which they do not hold the copyright. Permission should be requested by the authors from the copyrightholder (usually the Publisher, please refer to the imprint of the individual publications to identify the copyrightholder).
Permission is required for: Your own works published by other Publishers and for which you did not retain copyright.
Substantial extracts from anyones' works or a series of works.
Use of Tables, Graphs, Charts, Schemes and Artworks if they are unaltered or slightly modified.
Photographs for which you do not hold copyright.

Permission is not required for: Reconstruction of your own table with data already published elsewhere. Please notice that in this case you must cite the source of the data in the form of either "Data from..." or "Adapted from...".
Reasonably short quotes are considered fair use and therefore do not require permission.
Graphs, Charts, Schemes and Artworks that are completely redrawn by the authors and significantly changed beyond recognition do not require permission.
Obtaining Permission
In order to avoid unnecessary delays in the publication process, you should start obtaining permissions as early as possible. If in any doubt about the copyright, apply for permission. Al-Adab Journal cannot publish material from other publications without permission.
The copyright holder may give you instructions on the form of acknowledgement to be followed; otherwise follow the style: "Reproduced with permission from [author], [book/journal title]; published by [publisher], [year].' at the end of the caption of the Table, Figure or Scheme.