General planning policies and their impact on combating poverty
A comparative study of poverty alleviation strategy in Iraq and Malaysia
Keywords:
poverty, planning policies, planning, Sustainability, social justice
Abstract
Poverty is a social problem that exists throughout the world, with varying degrees of severity and in different environments. In some countries, it means hunger and death. Poverty is not confined to poor countries or only to third world countries, but rather it is found in rich and developed countries, as no society is devoid of them. The fight against poverty is a strategic goal that everyone strives to achieve.
Therefore, this research attempts to shed light on the most important governmental policies that contribute in a realistic way to eradicate or reduce poverty
Downloads
Download data is not yet available.
References
Agenor, Pierre-Richard, (2002), Macroeconomic Adjustment and the poor analytical Issue and Cross-country Evidence.
Al-Karkhi & Majeed (2010) Introduction to Strategic Planning, House of Curricula - House of Curricula - Jordan.
Allam & Sami A. (2015) The Role of Governmental Planning in Treating Inflationary Effects in Developing Countries by Application to Egypt, Dongola University Journal for Scientific Research, Issue Eight, Abu Dhabi University.
Al-Mada Daily Newspaper, Issue 2371 on 22/8/2011 in Ali Ahmed's research, the Malaysian development experience and lessons learned from it in the Arab world, Babylon University Journal, Pure and Applied Sciences, Issue 3, Volume 23, 2015.
Al-Masry & Saeed B. Malaysia's experience in economic development (lessons learned), master's thesis submitted to the Department of Economics / Faculty of Economics and Administrative Sciences / Al-Azhar University / Gaza.
Al-Tayyib & Hussein Absher (2000) The Modern State, the State of Institutions, Cairo, Culture Press.
Andrew C. Ezeanya, Malaysian housing policy: Prospects and obstacles of National Vision 2020, International Conference Toronto, June, 24-27/2004.
Beloul, Saber (2009) Macroeconomic Policies and Their Role in Reducing Poverty, Published Research, Damascus University Journal of Economic and Legal Sciences - Volume-25, First Issue.
Bennacer & Issa (2003) The Problem of Poverty in Algeria and Cooperation, Journal of Economy and Management, Tlemcen, Issue 12.
Chambers, Robert, what is poverty? Concepts and measures, Institute of Development Studies, Sussex, UK, International Poverty Centre Poverty in Focus December 2006.
Daraj & Ahmed A. (2015), The Malaysian development experience and lessons learned from it in the Arab world, Babylon University Journal, Pure and Applied Sciences, Issue 3, Volume 23.
Federal Budget Law for the Republic of Iraq (2017) Al-Waqi'a Newspaper, No. 4430.
Ghayat, Cherif, Boufelfel & Sihem (2013), the contributions of small and medium enterprises in combating poverty with insights on the experiences of some countries, a research paper presented at the Second International Forum on: Islamic Finance, held in the city of Sfax - in the Republic of Tunisia, organized by the University of Sfax in cooperation with: the bank The Islamic Development Company - Jeddah during the period 27-28-29 / 6/2013.
Hanania & May (2011): Educational Policy and Education in the Development Performance of Singapore and Malaysia, The Arab Future, Beirut: Center for Arab Unity Studies, at the link: http://webcache.googleusercontent.com/.
IOM (2017), Displacement Tracking Matrix, August 2017.
Juda, Hilal S. (2009) Measuring the Standard of Living in Basra for the year 2007, Al-Ghari Journal for Economic and Management Sciences, Issue 5.
Karim & Karima (2005) Studies in Poverty and Globalization, Egypt and the Arab Countries, Supreme Council for Culture, Cairo.
Kattan & Rola (2017) Public Policies and Strategies, General Directorate for Studies and Information Department of Research and Studies, Lebanese Republic, published research www.lp.gov.lb/ViewPublications.aspx Accessed 5/13/2020.
Khadija & Borib (2012), the Malaysian development model: perspectives, reality and future challenges, its entries in the International Forum on: The ingredients for achieving sustainable development in the Islamic economy, Guelma University, on 3-4 / 12/2012.
Kizbar, Sabah & Belkacem M. (2019) Department of Ethnic Diversity in Malaysia and Course in State Building, First Edition, Arab Democratic Center, Berlin, Germany.
Lutfi & Wafaa (2016) Development Policies in Malaysia, Sharjah, Gulf Publishing Center.
Maghraoui & Iman (2018) Leadership Style and Its Impact on Public Policy-Making in Algeria, Master's Degree in Political Science presented to the Faculty of Law and Political Science, Jilali University, Bounama Khamis Miliana.
Mahmoud, Mounir M., Yousry, & Mahmoud T. (2012), Policies for the Sustainable Development of Communities Rural Poor, Millennium Development Goals Awareness Initiative Project, College of Urban and Regional Planning, Cairo, report published at the link https://webcache.googleusercontent.com/ accessed 5/31/2020.
Matar & Ibrahim H. (2012), Attitudes of University Youth Towards Social Justice as a Variable in Making New Social Care Policies, Thesis for a Master's Degree in Social Work, Specialization in Social Planning / Helwan University.
Milovanovic & Mihailo (2018), Policy Analysis Handbook, European Training Foundation, publication, at www.etf.europa.eu/sites/default/files Entry Date 5/31/2020.
Ministry of Planning, United Nations Human Settlements (2017), Fixing Slum Settlement Sites.
Muhammad, Saleh A. (2005) Reducing the Urban Rural Gap through Integrated Development, Arab Regional Conference and High-Level Arab Meeting of the Economic and Social Commission for Western Asia (ESCWA), Cairo.
Qureen & Koueider H. (2014) The phenomenon of poverty in Algeria and its effects on the social fabric in light of the financial boom, unemployment and inflation, Academic Journal of Social and Humanitarian Studies, Issue: 2.
Saleh, Olqa & Muhammad H. (2016) Mechanisms and Policies of Poverty Reduction and Their Impact on Unemployment in Sudan, Ph.D. thesis, Philosophy in Economics, Sudan University of Science and Technology.
Sarji, Abdul Hamid Ahmad, Vision 2020. Selangor Darul Ehsan, Petaling Jaya: Pelanduk Publications, 1995.
Supreme Committee for Poverty Reduction Strategy (2018), Ministry of Planning, Republic of Iraq, published report at the link: https://www.google.com/search?q.
Tabra & Hassan (Without a Year). The Role of Corruption in Deepening the Manifestations of Poverty in Iraq, The Social Cost of Corruption, Published Research, Journal of Integrity and Transparency for Research and Studies, Issue VI.
Talhawi, Fatima Z. & Muhammad M. (2014), Anti-poverty policies in Malaysia, the Intervention Complex of the International Forum on Evaluating Poverty Reduction Policies in Arab Countries in the Light of Globalization, December 9-8.
Towards a Knowledge Society (2007), a series of studies issued by the Media Production Center, King Abdulaziz University, Thirteenth Edition.
Vishwanat, tare, where are Iraq's Poor: Mapping Poverty in Iraq,2015, see discussions, and author for files this publication at: http://documents.worldbank.org/curated/en/.
Waddam & Ali M. (2003) Globalization and the Future of the Earth, First Edition, National House.
Yaghi, Abdel-Fattah (2009), Public Policies: Theory and Practice, Arab Organization for Administration, United Arab Emirates.
Yahya Masoudi (2009) The Problem of Sustainable Development in the Light of Globalization in the Third World - The Case of Algeria, Master's Degree, University of Algiers.
Zahira & Kamli (2019) Economic Experience and Sustainable Development in Malaysia: Determinants and Qualifications, First Edition, Arab Democratic Center, Berlin, Germany.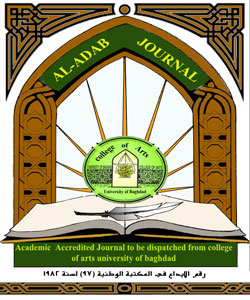 How to Cite
Abbas, L., & Abbas kadhim, A. (2021). General planning policies and their impact on combating poverty. Al-Adab Journal, 1(136), 591-614. https://doi.org/10.31973/aj.v1i136.998
Copyright (c) 2021 Laith Zaid Abbas, Ahmed Abbas kadhim
This work is licensed under a Creative Commons Attribution 4.0 International License.
Copyright and Licensing:
For all articles published in Al-Adab journal, copyright is retained by the authors. Articles are licensed under an open access Creative Commons CC BY 4.0 license, meaning that anyone may download and read the paper for free. In addition, the article may be reused and quoted provided that the original published version is cited. These conditions allow for maximum use and exposure of the work.
Reproducing Published Material from other Publishers: It is absolutely essential that authors obtain permission to reproduce any published material (figures, schemes, tables or any extract of a text) which does not fall into the public domain, or for which they do not hold the copyright. Permission should be requested by the authors from the copyrightholder (usually the Publisher, please refer to the imprint of the individual publications to identify the copyrightholder).
Permission is required for: Your own works published by other Publishers and for which you did not retain copyright.
Substantial extracts from anyones' works or a series of works.
Use of Tables, Graphs, Charts, Schemes and Artworks if they are unaltered or slightly modified.
Photographs for which you do not hold copyright.

Permission is not required for: Reconstruction of your own table with data already published elsewhere. Please notice that in this case you must cite the source of the data in the form of either "Data from..." or "Adapted from...".
Reasonably short quotes are considered fair use and therefore do not require permission.
Graphs, Charts, Schemes and Artworks that are completely redrawn by the authors and significantly changed beyond recognition do not require permission.
Obtaining Permission
In order to avoid unnecessary delays in the publication process, you should start obtaining permissions as early as possible. If in any doubt about the copyright, apply for permission. Al-Adab Journal cannot publish material from other publications without permission.
The copyright holder may give you instructions on the form of acknowledgement to be followed; otherwise follow the style: "Reproduced with permission from [author], [book/journal title]; published by [publisher], [year].' at the end of the caption of the Table, Figure or Scheme.