Integrate the procedures of textual analysis of the poetic image Between rhetoric and stylistic
hocine tarrouche

Department of Arabic Language and Literature, College of Arts and Languages, University of Mohamed Lamine Dabbaghine, Setif 2, Algeria
Keywords:
cognitive integration, poetic image, rhetoric, stylistic
Abstract
     The general aim of this intervention is to highlight the positive aspect of Arabic eloquence by comparing it to the methodical science that claims to be scientific and objective. At the same time, the personal and superficial rhetoric is accused by an important structural element of literary composition, the poetic image.
     I chose the poetic picture because it is regarded in the eyes of rhetoric and stylistic as a linguistic composition based on the imagination, understanding and interpretation cannot go beyond the linguistic boundaries, which is an important way to combine the two sciences separated time and environment and brought together many procedural tools born in the hands of rhetoric and developed between the folds Stylistics.
Downloads
Download data is not yet available.
References
Abu Zaid, Nasr Hamid (1984), The Concept of Systems by Abdul Qadir Al-Jurjani, Fasoul Magazine, Volume 5, No. 1
Al-Batal, Ali (1980), the image in Arabic poetry until the late 2nd century AH, Dar Al-Andalus, Beirut, Lebanon, 1st edition.
Al-Ghazhami, Abdullah (1994), Problem and Difficulty, Reading in Arab Critical Theory and Research in Different Similarities, Arab Cultural Center, Beirut.
Al-Jurjani, Abd al-Qaher (1992), Evidence of Miracles, An Inquiry: Mahmoud Muhammad Shaker, Al-Madani Press in Cairo, and Dar Al-Madani, Jeddah, 3rd Edition.
Al-Jurjani, Abd al-Qaher (1979) Asrar al-Balagha, Achievement: H. Ritter, Al-Mutanabi Library, Cairo, 2nd edition.
Al-Omari, Mohamed (1999), Arabic Rhetoric, Origins and Extensions, East Africa Publishing House, Morocco.
Al-Tajditi, Nizar (1987), the theory of displacement of Jean Cohen, Journal of Sal Studies I, Morocco.
Asfour, Jaber, (1992), the artistic image in the critical and rhetorical heritage of the Arabs, the Arab Cultural Center Beirut, 3rd floor.
Cohen, John (1986), The Structure of Poetic Language, translation: Muhammad al-Wali Muhammad al-Omari, Dar Toubkal, Morocco.
Cohen, John (1999), The Most High Language, Poetic Theory, translation: Ahmed Darwish, Dar Gharib, Cairo, Egypt, 4th floor.
Dahman, Hamad Ali (1986), The rhetorical picture at Al-Jarjani curriculum and application, Dar Tlass, Damascus
Fadl, Salah (1998), Constructivist theory in literary criticism, Dar Al-Shorouk, Cairo, i 1.
Hilal, Muhammad Ghanimi (1973), Modern Literary Criticism, Dar Al-Thaqafa and Dar al-Awda, Beirut.
Ibn Manzoor, Abu Al-Fadl Jamal Al-Din Muhammad Bin Makram Bin Ali Al-Ansari Al-Ruwa'afi Al-Afriki: (w, d), Lisan Al-Arab, Dar Sader, Beirut, part 2.
Rababa, Musa (2001), Abd al-Qaher's Strangeness, Jaddur Journal, Literary Cultural Club, p. 5.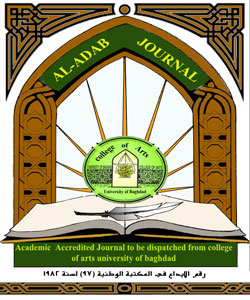 How to Cite
tarrouche, hocine. (2021). Integrate the procedures of textual analysis of the poetic image Between rhetoric and stylistic. Al-Adab Journal, 1(136), 1-18. https://doi.org/10.31973/aj.v1i136.938
Section
Linguistics and Arabic literature
Copyright (c) 2021 hocine tarrouche
This work is licensed under a Creative Commons Attribution 4.0 International License.
Copyright and Licensing:
For all articles published in Al-Adab journal, copyright is retained by the authors. Articles are licensed under an open access Creative Commons CC BY 4.0 license, meaning that anyone may download and read the paper for free. In addition, the article may be reused and quoted provided that the original published version is cited. These conditions allow for maximum use and exposure of the work.
Reproducing Published Material from other Publishers: It is absolutely essential that authors obtain permission to reproduce any published material (figures, schemes, tables or any extract of a text) which does not fall into the public domain, or for which they do not hold the copyright. Permission should be requested by the authors from the copyrightholder (usually the Publisher, please refer to the imprint of the individual publications to identify the copyrightholder).
Permission is required for: Your own works published by other Publishers and for which you did not retain copyright.
Substantial extracts from anyones' works or a series of works.
Use of Tables, Graphs, Charts, Schemes and Artworks if they are unaltered or slightly modified.
Photographs for which you do not hold copyright.

Permission is not required for: Reconstruction of your own table with data already published elsewhere. Please notice that in this case you must cite the source of the data in the form of either "Data from..." or "Adapted from...".
Reasonably short quotes are considered fair use and therefore do not require permission.
Graphs, Charts, Schemes and Artworks that are completely redrawn by the authors and significantly changed beyond recognition do not require permission.
Obtaining Permission
In order to avoid unnecessary delays in the publication process, you should start obtaining permissions as early as possible. If in any doubt about the copyright, apply for permission. Al-Adab Journal cannot publish material from other publications without permission.
The copyright holder may give you instructions on the form of acknowledgement to be followed; otherwise follow the style: "Reproduced with permission from [author], [book/journal title]; published by [publisher], [year].' at the end of the caption of the Table, Figure or Scheme.