A study of the balance between the poet Falih Rikabi and the poet Nawat Hassan Amin
Comparative study
Haidar Hadi Salman

Basic Education / Kufa University
Keywords:
Nawat Hassan Amin, Falih Rikabi
Abstract
The study of narrative in Arabic poetry has received a lot of modern monetary effort, and it has been included under various names such as story, story, story building, narrative performance, and dramatic construction in poetry, as if all these animals mean one thing, despite the differences between them.
What matters to us here is the means of narrative construction that the creative uses in creating narrative text and showing it to exist through the description and narration, as well as dialogue, as the narration and description work together, but in a contradictory way, each of them his job, the narrative focuses on highlighting events in narrative work , The description seeks to reveal the objects and their components, people and their congenital print.
The study was conducted in order to study the methods of narrative construction and its manifestations in the contemporary Iraqi poetry (a balance between the poet Falih al-Rikabi and the poet Nawat Hassan Amin). The study was divided between two sections: the first studied the description; the second came to study the dialogue. Its main findings.
The researcher chose two prominent figures in the field of contemporary Iraqi poetry, and in the field of administrative work, which allows them to approach society in all its categories, as well as their love for the country, and their monitoring of the political and social issues experienced by the country, they carry the same love, attraction itself, nostalgia itself Stay away from him.
Downloads
Download data is not yet available.
References
The Holy Quran.
Abdel Nour, Jabbour (1979): The Literary Dictionary, Dar Al-Alam Al-Malayn, Second Edition, Beirut.
Al-Fayrouzabadi, (2007): Al-Qamoos Al-Muheet, edited by Abu Al-Wafa Nasr Al-Hurini, Dar Al-Kutub Al-Ilmiyya, Second Edition, Beirut.
Al-Hatti, Nasser (1967): The term in Western literature, Publications of the Modern Library House, Saida – Beirut.
Al-Jabri, Dr. Muhammad Abed (1995): The Arab Political Mind, Its Determinants and Manifestations, Center for Arab Unity Studies, Third Edition, Beirut.
Al-Jumaili, Hasanain Ghazi Latif (n.d.): The Artistic Structure of the Short Story in Iraq from (1990-2000), PhD Thesis, University of Baghdad.
Al-Kabbani, Hussein (1974): The Art of Writing a Story, Second Edition, Amman.
Alloush, Dr. Saeed (1985): A Dictionary of Contemporary Literary Terms, Arab Book House, Beirut, University Library Press, First Edition, Casablanca.
Al-Rikabi, Dr. Falih (1995): Screaming in the Corridors of Silence, House of General Cultural Affairs, First Edition, Baghdad.
Al-Rikabi, Dr. Falih (2016): Scratches in the Memory of Time, New Amal House for Printing, First Edition, Syria.
Al-Tabtabaei, Mr. Muhammad Hussein (2009): Al-Meezan fi Tafsir al-Qur'an, Dar Al-Kitaab Al-Arabi, First Edition, Baghdad.
Al-Zamakhshari, (1979): The Basis of Rhetoric, Sader House, Beirut.
Amin, Awat Hassan (2005): The Kingdom Beyond the Equator, House of General Cultural Affairs.
Bakhtin, Mikhail (1987): The Narrative Speech, translated by: Muhammad Barada, Dar Al-Fikr for Studies and Publishing, First Edition, Cairo – Egypt.
Elias, Jassim Khalaf (2010): The Very Short Story Poetry, Nineveh House, Damascus.
Genet, Gerard (1993): Narration and Description, Translated by: Dr. Muhannad Yunus, Foreign Culture Press, Baghdad, No. 2.
Ibn Faris, (without history): Dictionary of Language Standards, edited by: Abd al-Salam Haroun, Dar al-Fikr for printing.
Ibn Jaafar, Qudama (d. 337 AH), (without history): Criticism of poetry, edited by: Dr. Muhammad Abdel-Moneim Khafaji, Dar Al-Kutub Al-Ilmiyya, Beirut – Lebanon.
Ibn Manzur (1994): Lisan Al Arab, Beirut, Dar Sader.
Lahhamdani, Dr. Hamid (1991): The Structure of the Narrative Text (From the Perspective of Literary Criticism), Arab Cultural Center, First Edition, Beirut-Lebanon.
Lifatah, Dr. Diaa Ghani (2009): Narrative Structure in Tramp Poetry, Dar Al-Hamid, First Edition, Amman.
Mari, Prof. Dr.. Muhammad Saeed (2007): Dialogue in Ancient Arabic Poetry - Imru` Al Qais Poetry as a Model, Tikrit University Journal for Human Sciences, Volume 14, Issue 3.
Muqalad, Dr. Taha Abdel-Fattah (1975): Dialogue in Story and Play: Dar Al-Zaitoun.
Najm, Dr. Muhammad Yusuf (1955): The Art of the Story, Beirut House for Printing and Publishing, Beirut.
Nasser, Dr. Abdel Hilal (2006): Narrative Mechanisms in Contemporary Arabic Poetry, First Edition, Cairo.
Qasim, Siza Ahmed (1984): Building the Novel, (A comparative study of Naguib Mahfouz's trilogy), The Egyptian General Book Authority, Cairo.
Sahrawi, Ibrahim (2008): The Ancient Arab Narrative - Types, Functions and Structures, Arab House of Sciences, First Edition, Algeria.
Zaitouni, Latif (2004): Critique of the Novel, First Edition, Beirut.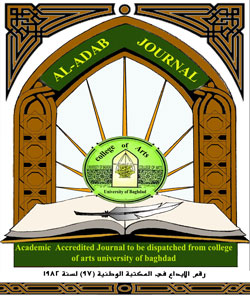 How to Cite
Salman, H. (2020). A study of the balance between the poet Falih Rikabi and the poet Nawat Hassan Amin. Al-Adab Journal, 1(135), 143-166. https://doi.org/10.31973/aj.v1i135.890
Section
Linguistics and Arabic literature
Copyright (c) 2020 Haidar Hadi Salman
This work is licensed under a Creative Commons Attribution 4.0 International License.
Copyright and Licensing:
For all articles published in Al-Adab journal, copyright is retained by the authors. Articles are licensed under an open access Creative Commons CC BY 4.0 license, meaning that anyone may download and read the paper for free. In addition, the article may be reused and quoted provided that the original published version is cited. These conditions allow for maximum use and exposure of the work.
Reproducing Published Material from other Publishers: It is absolutely essential that authors obtain permission to reproduce any published material (figures, schemes, tables or any extract of a text) which does not fall into the public domain, or for which they do not hold the copyright. Permission should be requested by the authors from the copyrightholder (usually the Publisher, please refer to the imprint of the individual publications to identify the copyrightholder).
Permission is required for: Your own works published by other Publishers and for which you did not retain copyright.
Substantial extracts from anyones' works or a series of works.
Use of Tables, Graphs, Charts, Schemes and Artworks if they are unaltered or slightly modified.
Photographs for which you do not hold copyright.

Permission is not required for: Reconstruction of your own table with data already published elsewhere. Please notice that in this case you must cite the source of the data in the form of either "Data from..." or "Adapted from...".
Reasonably short quotes are considered fair use and therefore do not require permission.
Graphs, Charts, Schemes and Artworks that are completely redrawn by the authors and significantly changed beyond recognition do not require permission.
Obtaining Permission
In order to avoid unnecessary delays in the publication process, you should start obtaining permissions as early as possible. If in any doubt about the copyright, apply for permission. Al-Adab Journal cannot publish material from other publications without permission.
The copyright holder may give you instructions on the form of acknowledgement to be followed; otherwise follow the style: "Reproduced with permission from [author], [book/journal title]; published by [publisher], [year].' at the end of the caption of the Table, Figure or Scheme.