Alienation in Scapegoat novel by Elie Amir
Keywords:
Alienation, Eli Amir, Scapegoat
Abstract
This study aims to study the phenomenon of alienation in the novel " Scapegoat " by Elie Amir, because this phenomenon appears more clear in this novel, and it represents a current that dominates its data and intellectual and artistic trends, especially that the writer was able to embody this pivotal phenomenon distinctive technical embodiment, and revealed The nature of the relationship between the real world and the dream world of personalities, and the contradictory, opposing, collision and sense of frustration, loss and alienation that characterize it. The study included the following axes:
Amir's reality and conditions of his life. The concept of alienation. Alienation in fiction. Intellectual data in the novel. Manifestations of alienation in the novel. Narrative techniques and their role in highlighting the experience of alienation.
Downloads
Download data is not yet available.
References
Al-Samra, Mahmoud (1964), Contemporary Writers from the West, Beirut, House of Culture.
Al-Shqeirat, Ahmad Awdallah (1987), Alienation in the poetry of Badr Shaker Al-Sayyab, Amman, Dar Ammar.
Amir, Eli (1983), Scapegoat, Tel Aviv, Am Oved Publishing.
Bitar, Salem (2001), Man's Alienation and Freedom (a philosophical study), Tripoli, the modern book establishment.
Fayoumi, Mohamed Ibrahim (1988), Ibn Majah and the Philosophy of Alienation, Beirut, 1st edition, Dar Al-Jeel.
Govrin, Nurit (2008), Reading the Generations: Hebrew Literature in Circles, Volume 4, Jerusalem, Carmel Publishing House.
Hammad, Hassan Mohamed (1995), the Alienation from Erich Fromm, Beirut, University Foundation for Studies and Publishing.
Holtzman, Avner (2006), Love of Zion: Faces in New Hebrew Literature, Jerusalem, Carmel Press.
Ja`far, Muhammad Radi (1999), Alienation in Iraqi poetry, Damascus, Arab Writers Union publications.
Rashid, Ali Mohamed (2018), the cock still shouting, retrieved from the link:
https://www.alfikre.com/articles.php?id=42413
Rashid, Ali Muhammad (2019), his heart hung in the east - a meeting with Israeli-Iraqi writer Elie Amir retrieved from the link:
https://kitabat.com/2019/09/07/%d9%82%d9%84%d8%a8%d9%87-%d9%85%d8%b9%d9%84%d9%82-%d9%81%d9%8a-%d8%a7%d9%84%d8%b4%d8%b1%d9%82-%d9%84%d9%82%d8%a7%d8%a1-%d9%85%d8%b9-%d8%a7%d9%84%d8%b1%d9%88%d8%a7%d8%a6%d9%8a-%d8%a7%d9%84%d8%a7/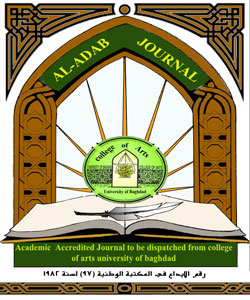 How to Cite
Rasheed, A. (2021). Alienation in Scapegoat novel by Elie Amir. Al-Adab Journal, 1(136), 639-660. https://doi.org/10.31973/aj.v1i136.825
Section
Eastern linguistics and literature
Copyright (c) 2021 Ali Mohamed Rasheed
This work is licensed under a Creative Commons Attribution 4.0 International License.
Copyright and Licensing:
For all articles published in Al-Adab journal, copyright is retained by the authors. Articles are licensed under an open access Creative Commons CC BY 4.0 license, meaning that anyone may download and read the paper for free. In addition, the article may be reused and quoted provided that the original published version is cited. These conditions allow for maximum use and exposure of the work.
Reproducing Published Material from other Publishers: It is absolutely essential that authors obtain permission to reproduce any published material (figures, schemes, tables or any extract of a text) which does not fall into the public domain, or for which they do not hold the copyright. Permission should be requested by the authors from the copyrightholder (usually the Publisher, please refer to the imprint of the individual publications to identify the copyrightholder).
Permission is required for: Your own works published by other Publishers and for which you did not retain copyright.
Substantial extracts from anyones' works or a series of works.
Use of Tables, Graphs, Charts, Schemes and Artworks if they are unaltered or slightly modified.
Photographs for which you do not hold copyright.

Permission is not required for: Reconstruction of your own table with data already published elsewhere. Please notice that in this case you must cite the source of the data in the form of either "Data from..." or "Adapted from...".
Reasonably short quotes are considered fair use and therefore do not require permission.
Graphs, Charts, Schemes and Artworks that are completely redrawn by the authors and significantly changed beyond recognition do not require permission.
Obtaining Permission
In order to avoid unnecessary delays in the publication process, you should start obtaining permissions as early as possible. If in any doubt about the copyright, apply for permission. Al-Adab Journal cannot publish material from other publications without permission.
The copyright holder may give you instructions on the form of acknowledgement to be followed; otherwise follow the style: "Reproduced with permission from [author], [book/journal title]; published by [publisher], [year].' at the end of the caption of the Table, Figure or Scheme.