Evoking Heritage and its Impact on Establishing the Palestinian Right in Tamim Barghouti's poetry Poem (Fi Al-Quds)
"In Jerusalem" As a Model
Keywords:
Evoking the Heritage, Tamim Al-Barghouthi, the Right, Palestine
Abstract
This research attempts to reveal the extent of the appearance of heritage and its invocation in the poetry of Tamim al-Barghouti, whether this presence is historical, civil, national or religious, through some of his famous poem (In Jerusalem). In this poem, al-Barghouti employs heritage in a creative and significant way. The aim of this research is to show the significance of evoking heritage in al-Barghouti's poetry. The poet chose heritage to convey specific meanings to the recipients, and to express his own thoughts and feelings about Jerusalem. There is no doubt that the cultural and civilized means of defending rights have an important and effective role in combating colonial settlement, and in establishing the national rights of any nation. Islamic and Christian religious fraternity in Palestine represents a lofty state of civilization, and an important national force in resisting the colonial settlement and fighting its attempts to obliterate the cultural and civilizational identity of the Palestinian people.
Downloads
Download data is not yet available.
References
Abla Ben Hamed. Mafhum Al-Turath fi Al-Nqd Al-Hadeeth. Superviros: Bodiseh Bolnwar. University of Mohammed Bodyaf. Master Thesis. 2015.
Al-Barghouthi, T. Diwan Fi Al-Quds. Dar Al-Shoroq, Cairo, 2015.
Al-Kafafi. A. Types of heritage. https://tinyurl.com/vemm6ayh
Ateq, O. 2017. Dirasah Thera'ya L Qasedet (Fi Al-Quds). Llshaer Tamim Al-Barghouthi. Al-Quds Open University, Jenin.
Ben Lazreg, Houssem (2017) "In Jerusalem by Tamim Al-Barghouti," Transference: Vol. 5: Iss. 1, Article 13. Available at: https://scholarworks.wmich.edu/transference/vol5/iss1/13
Ghaith, A. 2018. Al-Tanas fi Sha'r Tamim Al-Barghothi. Thesis Master.
Ghawadreh, F. 2009. Surat Al-Quds fo She'r Tamim Al-Barghothi. Al-Quds Open University, Jenin. https://tinyurl.com/2s437x8d
Harath. M. 2019. Jamaliyat Al-Eqa' wa Dalalatuh fi Qasidet (Fi Al-Quds) Llshaer Tamim Al-Barghothi. Al-Akademia L elderasat Al-Ejtema'ya wa Al-Nafseyeh. No. 1. Volume 12. Algeria.
Jihad, B.H. 2018. A stylistic linguistic approach to a poem in Jerusalem by Tamim Al-Barghouti, Algeria, University Center Belhadj Bouchaib Ain Temouchent - Informer of Communication Discourse.
Khalil, H; Jaber, H. 2017. "Inter-textuality of Tamim Barghouti poetry, in his poem "In Jerusalem model": study of in textuality types: historical and lecturer. Journal of Jameat Ben Rushed. No. 24. Pp.:
Osta, A. Qira'a fi Qasidet Tamim Al-Barghothi fi Al-Quds. https://tinyurl.com/bdcuz5cm
Sahar, K.O. Men Akhbar Al-A'rab Fi Kutub Al-Turath Al-Arabi. Amman, (Dar Men Al-Muhet Ela Al-Khaleej) Editorial from the Ocean to the Gulf. First printed. 2017.
Shartah, I. Dirasa Naseyeh Fi Al-Muhafezat Al-Jamaleyeh Le Sha'r Tamim Al-Barghothui. Damascus, Al-Taba Al-Ola, Dar Lelderasat Wa Al-Nasher, 2012.
The Intermediary Dictionary (Al-Mu'jam Al-Waset): The Academy of the Arabic Language in Cairo. Shorouk International Bookshop. Cairo. Fourth printed. 2004.
Websites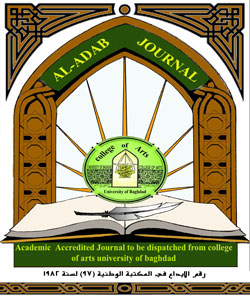 Downloads
How to Cite
Mobarakeh, M., & AbuAlsaud, L. (2023). Evoking Heritage and its Impact on Establishing the Palestinian Right in Tamim Barghouti's poetry Poem (Fi Al-Quds): "In Jerusalem" As a Model. Al-Adab Journal, 1(144), 45–60. https://doi.org/10.31973/aj.v1i144.3846
Section
Linguistics and Arabic literature
License
Copyright (c) 2023 Mamon Mobarakeh، Loay AbuAlsaud
This work is licensed under a Creative Commons Attribution 4.0 International License.
Copyright and Licensing:
For all articles published in Al-Adab journal, copyright is retained by the authors. Articles are licensed under an open access Creative Commons CC BY 4.0 license, meaning that anyone may download and read the paper for free. In addition, the article may be reused and quoted provided that the original published version is cited. These conditions allow for maximum use and exposure of the work.
Reproducing Published Material from other Publishers: It is absolutely essential that authors obtain permission to reproduce any published material (figures, schemes, tables or any extract of a text) which does not fall into the public domain, or for which they do not hold the copyright. Permission should be requested by the authors from the copyrightholder (usually the Publisher, please refer to the imprint of the individual publications to identify the copyrightholder).
Permission is required for: Your own works published by other Publishers and for which you did not retain copyright.
Substantial extracts from anyones' works or a series of works.
Use of Tables, Graphs, Charts, Schemes and Artworks if they are unaltered or slightly modified.
Photographs for which you do not hold copyright.

Permission is not required for: Reconstruction of your own table with data already published elsewhere. Please notice that in this case you must cite the source of the data in the form of either "Data from..." or "Adapted from...".
Reasonably short quotes are considered fair use and therefore do not require permission.
Graphs, Charts, Schemes and Artworks that are completely redrawn by the authors and significantly changed beyond recognition do not require permission.
Obtaining Permission
In order to avoid unnecessary delays in the publication process, you should start obtaining permissions as early as possible. If in any doubt about the copyright, apply for permission. Al-Adab Journal cannot publish material from other publications without permission.
The copyright holder may give you instructions on the form of acknowledgement to be followed; otherwise follow the style: "Reproduced with permission from [author], [book/journal title]; published by [publisher], [year].' at the end of the caption of the Table, Figure or Scheme.