Turkey and the Strategy of Britain's Security in the Middle East (1954-1955)
Keywords:
Britain, Iraq, Middle East, Pakistan, strategy, Turkey
Abstract
The issue of securing Britain's security in the Middle East after WWII had a great importance in British Politics. Britain was exhausted from the war despite its victory, therefore it had to look for an alternative to help secure its defenses in the Middle East and found Turkey as their best choice. Turkey was eager to play the guardian role of British interest in the region to secure its political and economic interests, gain as much as they can of military assistance from Britain and allies and to protect themselves from the Soviet danger. Due to the importance of the issue, the study focuses on Turkey's role in securing British strategy in the Middle East for the period from the signing the Turkish-Pakistani agreement on April 4th, 1954 to the singing of the Turkish-British agreement on April 4th, 1955, as well as the impact of the British-Turkish policy in the Middle East and their alliance.
The Study discussed the importance of Turkey's role in British security in the Middle East and Britain's stand of the Turkish-Pakistani agreement. It also discussed (Baghdad Pact) the cooperation between Iraq and Turkey, Turkey's role in drafting the pact, Britain's gains from it and its role in rebuilding Britain's defenses according to the Iraqi-British agreement on April 4th, 1955.
The study has several conclusions; Britain had achieved what it is called Defense by Proxy to secure its strategy in the Middle East and protect its political and economical interests by using Turkey as a tool. Additionally, Britain succeeded in directing Turkey's policy with what suits its Defense Policy in the Middle East. Turkey also fulfilled its goal of proving its trustworthiness to great powers such as Britain and the United States, as well as securing the northern front from the Soviet Union and securing the flow of military assistant.
Downloads
Download data is not yet available.
References
I. Unpublished Official Documents
United Kingdom National Archives
I. Foreign Office FO
FO 371/110997, RC 4671341, VQ10344/1
FO 371/110997, RC 4671341,VQ10344/2
FO 371/110997, RC 4671341,VQ10344/3
FO 371/110787, File 1073
II. Cabinet Office Papers CAB
CAB129/65/4, C. (54)4, Copx No.69.
CAB 192/66/3, C (54) 53.
CAB 192/65/6, C(54) 6.
CAB /129/74/20.
CAB 129/74/20, C(55).
III. Prime Minister Office/ PREM
PREM 11/569, WK 1051/ 55G
II. Published Documents
Hansard UK Parliament
I. UK, House of Commons (HC), Vol. 539, https://api.parliament.uk/historic-hansard/commons/1955/apr/04/turco-iraqi-pact-united-kingdom-accession.
II. UK, House of Lords (HL), Vol.192, https://api.parliament.uk/historic-hansard/lords/1955/mar/30/britain-and-turco-iraqi-pact
Foreign Relation of United States
I. Vol. IX, Part I, No.156, 161,162, 164, 168, 229, 232, 233,239
II. Vol. IX, Part. II, No. 223, 229, 1407
III. Vol. XII, Not 2, No.2, 418, 418, 420 .
National Archives catalog
I.Central Treaty Organization 8191959-51979 Organization Authority Record, https://catalog.archives.gov/id/10530775
III. Books
Al-Hasani, Abd Al-Razzaq, (1988). History of the Iraqi Ministries, Vol. 9 ,Baghdad: Dar al-shun al-thqafia.
Bilgi, Mustafa, (2007). Britain and turkey in the middle East, London: Tauris Academic Studies
Cohen, Michael J. (2015). Fighting World War three from the Middle East: Allied contingency plans 1945-1954, Second published, New York: Routledge.
Elliot, Matthew (2000). Defeat and Revival: Britain in the middle east. In Wolfram Kaiser &Gillian Staerck(Eds). British Foreign policy 1955-1964, Great Britain: Macmillan press.
Goktep, Cihat, ( 2003). British foreign policy towards turkey 1959-1965, Great Britain: Frank Cass Publisher.
Hasting, Max, (1989), the Korean War.
Hurewitz, J. C. (1956). Diplomacy in the near and middle east: A Documentary record: 1914-1956, Vol. 2, Canada: Van Nostkand Company.
1. Imam, Abdullah, (1999). Salah Nasr: The revolution- the intelligence - The Setback, Cairo: Dar Al-Khayal
Karpat, Kemal H. (1975). Turkey's foreign policy in transition: 1950-1974, Netherland: E. J. Brill.
Lamb, Alastair (1992). Kashmir: A disputed legacy 1846-1990, translated by Cecil Zakhar, Damascus.
IV. Published research
a. Dwelee. Alaa Hamza (2015). "British policy towards turkey 1945-1952", Al- Adab Journal, Number 105, College of Arts, University of Baghdad: Iraq.
b. Dwelee, Alaa Hamza (2020,). "Turkey and Middle East Defense Organization (MEDC): A study in the problem of others comprehension", Midad Al- Adab magazine, Number 20, Al-Iraqia University: Iraq.
c. Yeşilbursa, Behçet Kemal (2020). "CENTO: the forgotten alliance in the Middle East (1959-1979)", Middle Eastern Studies, Vol. 56, Issue 6.
V. Encyclopedias
Meydan Larousse, 1969, vol. 4, Istanbul.
Wikipedia
https://en.wikipedia.org/wiki/AnthonyEden
VI. Websites
a. United Nation Charter (full text) https://www.un.org/ar/about-us/un-charter/full-text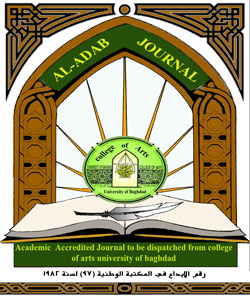 How to Cite
Dwelee, A. H., & Musa, A. J. (2022). Turkey and the Strategy of Britain's Security in the Middle East (1954-1955). Al-Adab Journal, 1(142), 155–182. https://doi.org/10.31973/aj.v1i142.3643
License
Copyright and Licensing:
For all articles published in Al-Adab journal, copyright is retained by the authors. Articles are licensed under an open access Creative Commons CC BY 4.0 license, meaning that anyone may download and read the paper for free. In addition, the article may be reused and quoted provided that the original published version is cited. These conditions allow for maximum use and exposure of the work.
Reproducing Published Material from other Publishers: It is absolutely essential that authors obtain permission to reproduce any published material (figures, schemes, tables or any extract of a text) which does not fall into the public domain, or for which they do not hold the copyright. Permission should be requested by the authors from the copyrightholder (usually the Publisher, please refer to the imprint of the individual publications to identify the copyrightholder).
Permission is required for: Your own works published by other Publishers and for which you did not retain copyright.
Substantial extracts from anyones' works or a series of works.
Use of Tables, Graphs, Charts, Schemes and Artworks if they are unaltered or slightly modified.
Photographs for which you do not hold copyright.

Permission is not required for: Reconstruction of your own table with data already published elsewhere. Please notice that in this case you must cite the source of the data in the form of either "Data from..." or "Adapted from...".
Reasonably short quotes are considered fair use and therefore do not require permission.
Graphs, Charts, Schemes and Artworks that are completely redrawn by the authors and significantly changed beyond recognition do not require permission.
Obtaining Permission
In order to avoid unnecessary delays in the publication process, you should start obtaining permissions as early as possible. If in any doubt about the copyright, apply for permission. Al-Adab Journal cannot publish material from other publications without permission.
The copyright holder may give you instructions on the form of acknowledgement to be followed; otherwise follow the style: "Reproduced with permission from [author], [book/journal title]; published by [publisher], [year].' at the end of the caption of the Table, Figure or Scheme.