The Distribution of Metadiscourse Markers in Texts of English Trade Agreements
Alyaa Farooq Najeeb

MA student / English department / college of languages / University of Baghdad

May Stephan Rezqallah

Asst. Professor in English Department / college of languages / University of Baghdad
Keywords:
Trade agreements, metadiscourse, Interactive markers, interactional markers
Abstract
  Metadiscourse markers refer to the linguistic elements that establish a relationship between the writers and the readers, the current study has conducted a quantitative analysis to measure the distribution and frequencies of metadiscourse markers in the texts of English trade agreements. The study has adopted the classifications of Hyland (2005); these classifications been applied to four English trade agreements obtained from official websites; four extracts have been selected randomly from each agreement. The results of the study have revealed that the English agreements used Interactive markers more than interactional markers.
Downloads
Download data is not yet available.
References
Adel, A. (2006), metadiscourse in L1 and L2 English. Amsterdam/Philadelphia: John Benjamins Publishing Company.
Ebrahimi S. (2018) The Role of Metadiscourse Markers in Comprehending Texts of Reading Comprehension Books Published in Iran and Oxford University Press. Islamic Azad University.
Farahani. M. (2018) The Usage and Distributional Pattern of Metadiscourse Features in Research Articles in Applied Linguistics Based on Hyland's Classification. Applied Linguisics Research Journal, 2 (1), 35–51
Gholami, Tajalli, Hokrpour (2014) An Investigation Of Metadiscourse Markers In English Medical Texts And Their Persian Translation Based On Hyland's Model. European Journal Of English Language And Literature Studies.
Ho, V. (2018) using metadiscourse in making persuasive attempts through workplace request emails. Hong Kong: Elsevier. B.V.
Holt, E., & Johnson, A. (2010). Socio-pragmatic aspects of legal talk: Police interviews and trial discourse. In M. Coulthard, & A. Johnson (Eds.), The Routledge handbook of forensic linguistics. London: Routledge.
Hyland K. (2005) Metadiscourse Exploring interaction in Writing. London: Bloomsburry Academic.
Hyland, K. (1994) 'Hedging in academic textbooks and EAP'. English for Specific Purposes,
Hyland, K. (2000) Disciplinary Discourses: Social Interactions in Academic Writing. London: Longman.
Hyland, K. (2001a) 'Bringing in the reader: addressee features in academic articles. Written Communication.
Tenedero, P. (2015) Linguistic Analysis of Trading Agreements: Insights for Plain Writing in Philippine Contracts. Philippine: The Linguistic Society of the Philippine.
Vijay K. Bhatia (2010). Legal writing: specificity Specification in legislative writing: accessibility, transparency, power and control, The Routledge handbook of forensic linguistics. London: Routledge.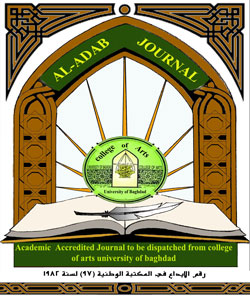 How to Cite
Najeeb, A., & Rezqallah, M. (2022). The Distribution of Metadiscourse Markers in Texts of English Trade Agreements. Al-Adab Journal, 2(140), 1-16. https://doi.org/10.31973/aj.v2i140.3627
Section
English linguistics and literature
Copyright (c) 2022 Alyaa Farooq Najeeb, May Stephan Rezqallah
This work is licensed under a Creative Commons Attribution 4.0 International License.
Copyright and Licensing:
For all articles published in Al-Adab journal, copyright is retained by the authors. Articles are licensed under an open access Creative Commons CC BY 4.0 license, meaning that anyone may download and read the paper for free. In addition, the article may be reused and quoted provided that the original published version is cited. These conditions allow for maximum use and exposure of the work.
Reproducing Published Material from other Publishers: It is absolutely essential that authors obtain permission to reproduce any published material (figures, schemes, tables or any extract of a text) which does not fall into the public domain, or for which they do not hold the copyright. Permission should be requested by the authors from the copyrightholder (usually the Publisher, please refer to the imprint of the individual publications to identify the copyrightholder).
Permission is required for: Your own works published by other Publishers and for which you did not retain copyright.
Substantial extracts from anyones' works or a series of works.
Use of Tables, Graphs, Charts, Schemes and Artworks if they are unaltered or slightly modified.
Photographs for which you do not hold copyright.

Permission is not required for: Reconstruction of your own table with data already published elsewhere. Please notice that in this case you must cite the source of the data in the form of either "Data from..." or "Adapted from...".
Reasonably short quotes are considered fair use and therefore do not require permission.
Graphs, Charts, Schemes and Artworks that are completely redrawn by the authors and significantly changed beyond recognition do not require permission.
Obtaining Permission
In order to avoid unnecessary delays in the publication process, you should start obtaining permissions as early as possible. If in any doubt about the copyright, apply for permission. Al-Adab Journal cannot publish material from other publications without permission.
The copyright holder may give you instructions on the form of acknowledgement to be followed; otherwise follow the style: "Reproduced with permission from [author], [book/journal title]; published by [publisher], [year].' at the end of the caption of the Table, Figure or Scheme.