An analytical statistical study to assess the quality of university transportation services
A case study of female students of King Saud University in Riyadh
Keywords:
Questionnaire, Random sampling, Shapiro-Wilk test, Kolmogorov-Smirnov test, Cronbach's alpha coefficient, variance, Level of the female's student's satisfaction, King Saud University, Riyadh, Saudi Arabia, University Student Transportation
Abstract
1.      Study subject:

This research presents a statistical analysis of the satisfaction level of female students at King Saud University in Riyadh about using the university transportation. This study subject can be used to design and develop a smart system of university transportation for female students and providing practical solutions applying intelligent transportation technologies and Network Analysis.

2.      Objectives of the study:

This study seeks to employ the outputs of statistical analysis of random questionnaire dataset consisting of )162 (students distributed over )14) municipalities in Riyadh and )17) colleges at King Saud University in order to improving the quality of university transportation systems using GIS in spatial analysis. The spatial analysis objectives aim to determine the best way to serve female student in moving easily from domicile to the King university and vice-versa. The statistical analysis of the level of female students' satisfaction is important in enhancing the efficiency of university transportation in order ensure the sustainability and the preservation of university resources.

3.      Study methodology:

The methodology of this study depends on several sequential and interrelated steps, starting with unloading the questionnaire datasets. In the second step, the distribution pattern of the datasets was tested by applying the tests of normality (Shapiro-Wilk test) to the sample size less than )30) observations, and the (Kolmogorov-Smirnov) to the sample size more than )30) observations. Also (Cronbach's Alpha coefficient) was applied to testing the internal consistency of the questionnaire contents.

4.      Study datasets:

This study relied on the questionnaire outputs, which included (74) paragraphs distributed over 10 axes determined by applying the Likert scale.

 

5.      Results:

This study reached to determine the distribution pattern of the questionnaire datasets conform to the normal distribution at the significance level of (0.05) and the degrees of freedom of (16) and (162), respectively. The internal consistency of the questionnaire's contents and was also determined by (the Cronbach's alpha) coefficient of used (Likert scale). In addition, the general satisfaction about the quality of the university transport service and the factors that help improve its quality with the decisions and recent infrastructure projects of Riyadh city, were identified.

6.      Conclusion:

This study concluded with many results using the various statistical tests available in the Analyze tools of the descriptive statistics of the (SPSS23) software.
Downloads
Download data is not yet available.
References
المراجع العربية
أحمد إسماعيل حجي. (2016). الحكومة الإلكترونية المتكاملة والمدن الذكية وحوكمتها. القاهرة: عالم الكتب.
إدارة النقل جامعة الملك سعود. (ديسمبر, 2018). إدارة النقل. تم الاسترداد من جامعة الملك سعود: http://alnagel.ksu.edu.sa/ar
الهيئة العامة للإحصاء. (2018). تم الاسترداد من https://apps.stats.gov.sa
الهيئة العليا لتطوير مدينة الرياض. (2018). تم الاسترداد من موقع الهيئة العليا لتطوير مدينة الرياض: http://www.ada.gov.sa
خالد قردوح، و فارس فنطازي. (2019). أثر جودة خدمة النقل الحضري الجماعي على الجاذبية السياحية (دراسة حالة ولاية جيجل). رسالة ماجستير غير منشورة، قسم العلوم التجارية، كلية العلوم الاقتصادية والتجارية وعلوم التسيير، جامعة محمد الصديق بن يحي، جيجل، الجزائر، 118.
سامر قاسم، و دانيا زين العابدين. (2010). تحسين جودة خدمات نقل الركاب البري (الخاص والعام) : دراسة تطبيقية على قطاع النقل البري للركاب في محافظة اللاذقية. مجلة جامعة تشرين للبوحوث والدراسات العلمية - سلسلة العلوم الاقتصادية والقانونية، المجلد 32( العدد 1)، 231-251.
سهام مخلوف. (2020). دراسة تحليلية لرضا المستعملين عن جودة خدمات النقل الحضري الجماعي (المؤسسة العمومية للنقل الحضري وشبه الحضري لمدينة عنابة نموذجا). كلية العلوم والاقتصاد والتجارة وعلوم التسيير، جامعة الحاج لخضر، باتنة 1، الجزائر، 355.
علاء حسين الحمامي، و مازن سمير الحكيم. (2017). كل شيء عن إنترنت الاشياء وتطبيقات المدن الذكية. عمان: دار الراية للنشر والتوزيع.
محمد صالح ربيع العجيلي. (2016). جغرافية النقل الجضري مبادئ ة أسس. عمان: دار مجدلاوي للنشر والتوزيع.
نادية دواس، و سامية لحول. (2017). أثر المزيج التسويقي في مؤسسات النقل الجماعي على رضى الزبون (دراسة حالة مؤسسة النقل الحضري الجماعي ETUM لمسيلة). مجلة الحقوق والعلوم الإنسانية(دراسات الاقتصاد والقانون)، المجلد (32)(العدد 1)، 238-251.
المراجع الأجنبية
El Zein, A. (2019). A study of service quality and customer satisfaction of using public transport in Lebanon. Unpublished Master Thesis of Science in Civil Engineering, School of applied Science Near East University,NICOSIA, Cyprus.
George, D., & Mallery, P. (2016). IBM SPSS Statistics 23 Step by Step: A Simple Guide and Reference (14 ed.). New York: Taylor & Francis.
Kral, P., Janoskova, K., & Kliestik, T. (2018). Key determinants of the public transport user's satisfaction. Administratie si Management Public, 36-51. doi:10.24818/amp/2018.31-03
Sukhov, A., Lattman, K., Olsson, L. E., Friman, M., & Fujii, S. (2021). Assessing travel satisfaction in public transport: A configurational approach. Transportation Research Part D 93 (2021) 132732, 14 Pgaes.
Zhang, X., Liu, H., Xu, M., Mao, C., Shi, J., Meng, G., & Wu, J. (2020). Evaluation of passenger satisfaction of urban multi-mode public transport. PLoS ONE 15(10): e0241004 Dragan Pamucar, University of Defence, SERBIA, 21 Pages.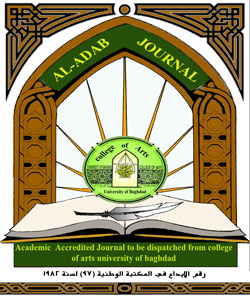 How to Cite
Aldaham, S. R. I., & Alzeer, N. M. (2022). An analytical statistical study to assess the quality of university transportation services: A case study of female students of King Saud University in Riyadh. Al-Adab Journal, 1(142), 331–358. https://doi.org/10.31973/aj.v1i142.3589
License
Copyright and Licensing:
For all articles published in Al-Adab journal, copyright is retained by the authors. Articles are licensed under an open access Creative Commons CC BY 4.0 license, meaning that anyone may download and read the paper for free. In addition, the article may be reused and quoted provided that the original published version is cited. These conditions allow for maximum use and exposure of the work.
Reproducing Published Material from other Publishers: It is absolutely essential that authors obtain permission to reproduce any published material (figures, schemes, tables or any extract of a text) which does not fall into the public domain, or for which they do not hold the copyright. Permission should be requested by the authors from the copyrightholder (usually the Publisher, please refer to the imprint of the individual publications to identify the copyrightholder).
Permission is required for: Your own works published by other Publishers and for which you did not retain copyright.
Substantial extracts from anyones' works or a series of works.
Use of Tables, Graphs, Charts, Schemes and Artworks if they are unaltered or slightly modified.
Photographs for which you do not hold copyright.

Permission is not required for: Reconstruction of your own table with data already published elsewhere. Please notice that in this case you must cite the source of the data in the form of either "Data from..." or "Adapted from...".
Reasonably short quotes are considered fair use and therefore do not require permission.
Graphs, Charts, Schemes and Artworks that are completely redrawn by the authors and significantly changed beyond recognition do not require permission.
Obtaining Permission
In order to avoid unnecessary delays in the publication process, you should start obtaining permissions as early as possible. If in any doubt about the copyright, apply for permission. Al-Adab Journal cannot publish material from other publications without permission.
The copyright holder may give you instructions on the form of acknowledgement to be followed; otherwise follow the style: "Reproduced with permission from [author], [book/journal title]; published by [publisher], [year].' at the end of the caption of the Table, Figure or Scheme.