Perceived social support among Ministry of Interior officers
Ahmed Hamza Al-Shammari

University of Baghdad/ College of Education Ibn Rushd for Human Sciences
Keywords:
officers, Ministry of Interior, social support
Abstract
   current study aims to identify the perceived social support among Ministry of Interior officers, and the differences in perceived social support among the Ministry of Interior officers depending on the variable of the military rank and the nature of work, and in order to achieve the objectives of the research, the researcher adopted the theory (House, 1981) of perceived social support. With the numbers of the Perceived Social Support Scale after reviewing the approved theory and previous studies, and its paragraphs amounted to (31) paragraphs, the psychometric properties of the scale, represented in honesty and consistency, were extracted and the scale applied to the research sample consisting of (400) officers from the Ministry of Interior in Baghdad Governorate and they were chosen by the random stratified method After collecting the data and processing it statistically by means of the Statistics Program (SPSS), the following results appeared:
That the individuals of the research sample who are Ministry of Interior officers have a high perceived social support.
There is a statistically significant difference in perceived social support according to the rank variable and in favor of a lieutenant colonel or higher, because their average is higher than lieutenant to major, and there is also a statistically significant difference according to the nature of work and for the benefit of the administrator because there is no significant interaction between the two variables (rank and work).
Downloads
Download data is not yet available.
References
Abdullah, Hisham Ibrahim (1995): Social support and its relationship to depression and despair among a sample of students and workers, The Second International Conference of the Center for Psychological Counseling, Psychological Counseling for Gifted and Disabled Children with Special Needs, Volume Two, 25-27, Ain Shams University, Cairo, Egypt.
Abu El-Nil, Mohamed El-Sayed (2001): The dynamic role of social support in the relationship between high life stress and symptoms of depression, in Mental Health Studies, first edition, Modern University Office, Alexandria, Egypt
Abu Saad, Ahmed (2011): Manual of Psychological and Educational Measurements and Tests, second edition, published by Debono Center for Teaching Thinking, Amman, Jordan.
Al-Ajam, Nadia Muhammad Razuqi (2013): Psychological Immunity and its Relationship to Social Support among University Students, Master Thesis, College of Education for Human Sciences, University of Diyala, Diyala, Iraq.
Al-Dhahabi, Hana Mazal, Al-Nasrawi, Haider Kamel (2016): Social attribution and its relationship to post-traumatic growth among women with breast cancer, published research, Psychological Research Center, Psychological Research Journal, issue (22), Baghdad, Iraq.
Al-Dosari, Khalifa bin Nasser Al-Ammari (2020): Psychosocial support and its relationship to psychological stress among policemen in the State of Qatar, Brunel University, London - United Kingdom, Academic Journal for Research and Scientific Publishing, No. (17).
Al-Gharawi, Laith Shaaban (2020): Organizational Conflict Management and a Relationship to Job Performance for Ministry of Interior Officers, unpublished MA thesis, College of Arts, University of Baghdad, Iraq.
Al-Hamlan, Amal Falah Fahd (2008): Psychological burnout and social support and their relationship towards Kuwaiti workers towards early retirement, Master's thesis, Faculty of Education, Zagazig University, Egypt.
Al-Masry, Ibrahim Suleiman Musa, Al-Waridat, Bassem Ahmed (2017): The psychological and social effects of professional pressures on workers in the investigation departments of the Hebron Governorate Police, Journal of Educational and Psychological Research, Volume 2017, No. 55, Baghdad, Iraq
Al-Mohtaseb, Aya Muhammad Nabil (2010): The relationship of social support to the degree of experience among students of the upper basic stage in Hebron, Master's thesis, Al-Quds University, Jerusalem, Palestine.
Al-Momeni, Fawaz Ayoub; And Zaghloul, Rafeh Aqeel (2009): Perceived social support among victims and families of the Amman terrorist hotel bombings, Jordan Journal of Social Sciences, Volume (2), Issue (3), College of Education, Yarmouk University, Yarmouk, Jordan.
Al-Omari, Taghreed (1994): Sources of Work Stress for Heads of Academic Departments at the University of Jordan, Journal of Psychological Sciences, Issue (H), Baghdad.
Al-Oran, Abdul-Mahdi Khalil (2005): The Impact of Social Support on the Work and Life Stresses Facing Public Security Officers in Jordan, Master Thesis, Motah University, Jordan.
Al-Shehani, Muhammad Wadi (2020): Constructive thinking and its relationship to methods of dealing with psychological stress among employees of the Ministry of Interior, unpublished master's thesis, College of Arts, University of Baghdad, Iraq.
Badarneh, Laila Khaled. (2012): Sources of social support and their relationship to bullying behavior among adolescents, unpublished master's thesis, Amman Arab University, Amman, Jordan.
Breham, S. (1984): social support processes, boundary, areasing social and developmental psychology. New York: academic press, 107-129.
Coyne, j. &Downey, G. (1991): social factors and psychology: stress, social support and coping processes. Annual review of psychology, vol. (35), 139-212
El-Shennawy, Mohamed Mahrous; Abdel Rahman, Mohamed El-Sayed (1994): Social support and mental health, a theoretical review and applied studies, Publisher: Anglo Egyptian Library, first edition, Cairo, Egypt.
Haddad, Afaf Shoukry; Al-Zitawi, Abdullah Mahmoud Muhammad (2002): The relationship between social support and depression among Yarmouk University students in the light of some variables, Al-Manara, 8(2), Jordan.
Ikhlef, Othman (2001): Psychology of Health, Psychological and Behavioral Foundations of Health, publisher, Dar Al Thaqafa for printing and publishing, first edition, Cairo, Egypt.
Kadour, Houaria Ben Abbad, (2014): Social support in the face of stressful life events as perceived by married workers, PhD thesis, Faculty of Social Sciences, Oran University, Algeria.
Karim, Ghadeer Saadi (2019): Courage and its relationship to methods of dealing with stress, unpublished master's thesis, submitted to the College of Arts, University of Baghdad, Iraq
Khamis, Bakr Muhammad Jassim (2020): Perceived social support and its relationship to enjoying life among university students, Master's Thesis, College of Education for Human Sciences, University of Diyala, Diyala, Iraq.
Khamisa, Qnoun (2015): Perceived social support and its relationship to depression in septic patients, Journal of Social and Human Sciences, No. (8), Gafni, Algeria.
Morsi, Ibrahim Kamal (2000): The Islamic Root of Counseling and Psychotherapy for PTSD, The Educational Journal, 50 (13), Cairo, Egypt.
Nunnally, J.C, (1967): Psychometric Theory New York. McGraw Hall.
Person, R.E., (1990): Counseling and Social Support: Perspectives and Practice. California: Sage Publication, Inc.
Sarason, I.G., Levine, H.M., Basham, R.B., and Sarason, B.R. (1983): Assessing social support: The social support questionnaire. Journal of Personality and Social Psychology, 44, 127-39.
Sarason،I.& Sarason،B (2009): social support، Mapping the construct Journal of social & Personal Relationships،26(1) ،113-120
Shuwaikh, Hana Ahmed Mohamed (2004) Strategies for coexistence and psychosocial support in relation to some psychological disorders among bladder cancer patients, Master's thesis, Faculty of Arts, Cairo University.
Tashtoush, Rami (2015): Life satisfaction and perceived social support and the relationship between them among a sample of breast cancer patients, The Jordanian Journal of Educational Sciences, Yarmouk University, Irbid, Jordan.
The Internal Security Forces Service and Retirement Law No. (18) of 2011, Iraqi Gazette No. 4203, Issue Date: 8-15-2011, page number -1-, pages 33.
Van, Dallen, Diebold (1985): Research Methods in Education and Psychology, translated by Muhammad Nabil Nofal and others, Anglo-Egyptian Library.
Yahyaoui, Mohamed (2003): Studies in Psychology, Western Publishing and Distribution House, Oran, Algeria.
Zimet, G.D., Dahlem, N.W., Zimet, S.G. & Farley, G.K. (1988): The Multidimensional Scale of Perceived Social Support, Journal of Personality Assessment, 52, 30-41.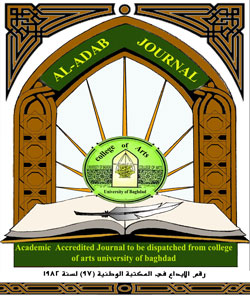 How to Cite
Al-Shammari, A. (2021). Perceived social support among Ministry of Interior officers. Al-Adab Journal, 1(138), 537-560. https://doi.org/10.31973/aj.v1i138.1793
Copyright (c) 2021 Ahmed Hamza Al-Shammari
This work is licensed under a Creative Commons Attribution 4.0 International License.
Copyright and Licensing:
For all articles published in Al-Adab journal, copyright is retained by the authors. Articles are licensed under an open access Creative Commons CC BY 4.0 license, meaning that anyone may download and read the paper for free. In addition, the article may be reused and quoted provided that the original published version is cited. These conditions allow for maximum use and exposure of the work.
Reproducing Published Material from other Publishers: It is absolutely essential that authors obtain permission to reproduce any published material (figures, schemes, tables or any extract of a text) which does not fall into the public domain, or for which they do not hold the copyright. Permission should be requested by the authors from the copyrightholder (usually the Publisher, please refer to the imprint of the individual publications to identify the copyrightholder).
Permission is required for: Your own works published by other Publishers and for which you did not retain copyright.
Substantial extracts from anyones' works or a series of works.
Use of Tables, Graphs, Charts, Schemes and Artworks if they are unaltered or slightly modified.
Photographs for which you do not hold copyright.

Permission is not required for: Reconstruction of your own table with data already published elsewhere. Please notice that in this case you must cite the source of the data in the form of either "Data from..." or "Adapted from...".
Reasonably short quotes are considered fair use and therefore do not require permission.
Graphs, Charts, Schemes and Artworks that are completely redrawn by the authors and significantly changed beyond recognition do not require permission.
Obtaining Permission
In order to avoid unnecessary delays in the publication process, you should start obtaining permissions as early as possible. If in any doubt about the copyright, apply for permission. Al-Adab Journal cannot publish material from other publications without permission.
The copyright holder may give you instructions on the form of acknowledgement to be followed; otherwise follow the style: "Reproduced with permission from [author], [book/journal title]; published by [publisher], [year].' at the end of the caption of the Table, Figure or Scheme.