Evaluating the performance of sustainable social development in Iraq From the reality of international indicators
Nowzad Abdul Rahman Al-Hiti

Senior Adviser at the Ministry of Foreign Affairs - State of Qatar/ Professor of sustainable development - The diplomatic institute
Keywords:
sustainable development, poverty, social inequality, economic growth
Abstract
       The social dimension is one of the three main elements of sustainable development that the countries of the world seek to achieve with the aim of eliminating poverty and social inequality, promoting economic growth, protecting the environment from the risks of climate change, and unsustainable production and consumption patterns, as emphasized by the United Nations 2030 Agenda for Sustainable Development, which It was approved by the United Nations in September 2015 and called on the governments of all countries to adopt the Sustainable Development Goals (17) as a guiding framework when implementing their development programs and plans to achieve sustainable development.
        The international development indicators issued by international organizations and institutes specialized in development issues are one of the most important tools and mechanisms for measuring progress or failure in achieving sustainable development in all its dimensions, including the social dimension that covers issues of security, peace, housing, health, education, combating poverty and hunger, reducing gender inequality and empowering women .
         In assessing the performance of sustainable social development in Iraq after 2003, we will rely on a selection of international indicators issued by prestigious specialized international organizations, bodies and institutes. These indicators are (Human Development Index, Sustainable Development Index, Prosperity Index, Global Peace Index, Index, Fragile State Index, and Global Terrorism Index).
        The research aims to identify the performance gap in the various aspects of sustainable development regionally and internationally. The descriptive and analytical approach will be used and the quantitative dimension will be used through which the gap will be measured by comparing the computational value of the indicator in Iraq with the mathematical value of the same indicator in the first country in the world and the first country. In the Arab world, this will help us in diagnosing the weaknesses, shortcomings, and challenges facing Iraq to rise from the low ranks in most international development indicators to higher ranks commensurate with its material and human capabilities, its cultural depth, and its glorious history.
Downloads
Download data is not yet available.
References
Emirates Diplomatic Academy, United Nations Network for Sustainable Development Solutions, Report of the Index and Movement of the Sustainable Development Goals Dashboards for the Arab Region for 2019, Abu Dhabi, 2019
Legatun Institute The Legatum Prosperity IndexTM 2018, Country Profiles, Twelfth Edition, London, 2018
Legatun Institute, The Legatum Prosperity IndexTM 2019 a tool for transformation, Thirteenth Edition, London, 2019.
Ministry of Planning and Development Cooperation, and the World Bank, National Strategy for Poverty Reduction, Baghdad, 2009
Ministry of Planning, First Voluntary Report on Sustainable Development Goals in Iraq, Baghdad, 2019
Ministry of Planning, Poverty Reduction Strategy in Iraq (2018-2022) Baghdad, January, 2018
Nawzad Abdul Rahman Al-Hiti, Qatar in International Political Indicators: An Analytical Study, Diplomatic Institute, Doha, 2020
Planning and Statistics Council, Sustainable Development Goals in Qatar 2018, Doha, 2019.
Sustainable Development Solutions Network, SDG Index and Dashboards Report 2018, Global Responsibilities, 2018
The Institute for Economic & Peace, (IEP), Global Peace Index 2020.
The Institute for Economic & Peace, (IEP), Global Terrorism Index 2018, Washington, 2018
The Institute for Economics and Peace (IEP), The Economic Cost of Violence Containment, Washington, 2014
Transparency International, Corruption Index 2018, Berlin, 2019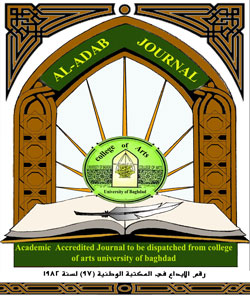 How to Cite
Al-Hiti, N. (2021). Evaluating the performance of sustainable social development in Iraq From the reality of international indicators. Al-Adab Journal, 1(138), 371-396. https://doi.org/10.31973/aj.v1i138.1652
Copyright (c) 2021 Nowzad Abdul Rahman Al-Hiti
This work is licensed under a Creative Commons Attribution 4.0 International License.
Copyright and Licensing:
For all articles published in Al-Adab journal, copyright is retained by the authors. Articles are licensed under an open access Creative Commons CC BY 4.0 license, meaning that anyone may download and read the paper for free. In addition, the article may be reused and quoted provided that the original published version is cited. These conditions allow for maximum use and exposure of the work.
Reproducing Published Material from other Publishers: It is absolutely essential that authors obtain permission to reproduce any published material (figures, schemes, tables or any extract of a text) which does not fall into the public domain, or for which they do not hold the copyright. Permission should be requested by the authors from the copyrightholder (usually the Publisher, please refer to the imprint of the individual publications to identify the copyrightholder).
Permission is required for: Your own works published by other Publishers and for which you did not retain copyright.
Substantial extracts from anyones' works or a series of works.
Use of Tables, Graphs, Charts, Schemes and Artworks if they are unaltered or slightly modified.
Photographs for which you do not hold copyright.

Permission is not required for: Reconstruction of your own table with data already published elsewhere. Please notice that in this case you must cite the source of the data in the form of either "Data from..." or "Adapted from...".
Reasonably short quotes are considered fair use and therefore do not require permission.
Graphs, Charts, Schemes and Artworks that are completely redrawn by the authors and significantly changed beyond recognition do not require permission.
Obtaining Permission
In order to avoid unnecessary delays in the publication process, you should start obtaining permissions as early as possible. If in any doubt about the copyright, apply for permission. Al-Adab Journal cannot publish material from other publications without permission.
The copyright holder may give you instructions on the form of acknowledgement to be followed; otherwise follow the style: "Reproduced with permission from [author], [book/journal title]; published by [publisher], [year].' at the end of the caption of the Table, Figure or Scheme.