Linguistic features of the semantic translation of the Holy Quran from Arabic into Russian
Azzam Ahmed AL Mogami

Department of Russian, College of Languages, University of Baghdad
Keywords:
Quran, difficulty of translation, lexical, semantic and syntactic problems, tasks of a translator
Abstract
This article discusses some linguistic problems that arise when translating the Holy Quran from Arabic to Russian. We analyze lexical, syntactic and semantic problems and support them with Examples of verses from the Qur'an, since the Qur'an is the word of Allah. It contains prayers and instructions full of both literal representations and figurative comparisons. The identification of linguistic and rhetorical features challenges translators of the Holy Qur'an, especially when translating such literary devices as metaphor, assonance, epithet, irony, repetition, polysemy, metonymy, comparisons, synonymy and homonymy. The article analyzes: metaphor, metonymy, ellipsis, polysemy.
Downloads
Download data is not yet available.
References
Кулиев Э.Р. Смысловой перевод священного Корана. – Медина, Саудовская Аравия: Комплекс имени Короля Фахда по изданию священного Корана, 2002. – 1074 с.
Ожегов С.И., Шведова Н.Ю. Толковый словарь русского языка. – М.: ИТИ Технологии, 2004. – 942 с.
Османов М.-Н. Смысловой перевод священного Корана. – М.: Ладомир. Восточная литература, 1995. – 576 с.
Ушаков Д.Н. Толковый словарь русского языка: В 4 т. / Под ред. Д.Н. Ушакова. Т. 1. – М.; 1935; Т. 2. – М.: 1938; Т. 3. – М.: 1939; Т. 4. – М.: 1940 (Переиздавался в 1947 – 1948 гг.); Репринтное издание. – М.: 1995; − М.: 2000. – 848с.
Ярцева В.Н. Лингвистический энциклопедический словарь. – М.: Советская энциклопедия, 1990. – 682 с.
Арабская литература
القرأن الكريم.سوره الاحزاب – الاية 10,سورة الحج –الاية 5,سورة يوسف –الاية 9,45,82 ,سورة الانعام –الاية 6 ,سورة الزخرف – الاية 22.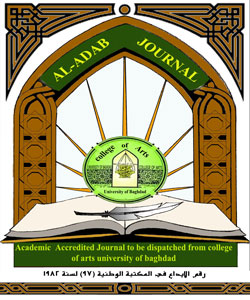 How to Cite
AL Mogami, A. (2022). Linguistic features of the semantic translation of the Holy Quran from Arabic into Russian. Al-Adab Journal, 1(141), 47-52. https://doi.org/10.31973/aj.v1i141.1426
Section
Foreign linguistics and literature
Copyright (c) 2022 Azzam Ahmed AL Mogami
This work is licensed under a Creative Commons Attribution 4.0 International License.
Copyright and Licensing:
For all articles published in Al-Adab journal, copyright is retained by the authors. Articles are licensed under an open access Creative Commons CC BY 4.0 license, meaning that anyone may download and read the paper for free. In addition, the article may be reused and quoted provided that the original published version is cited. These conditions allow for maximum use and exposure of the work.
Reproducing Published Material from other Publishers: It is absolutely essential that authors obtain permission to reproduce any published material (figures, schemes, tables or any extract of a text) which does not fall into the public domain, or for which they do not hold the copyright. Permission should be requested by the authors from the copyrightholder (usually the Publisher, please refer to the imprint of the individual publications to identify the copyrightholder).
Permission is required for: Your own works published by other Publishers and for which you did not retain copyright.
Substantial extracts from anyones' works or a series of works.
Use of Tables, Graphs, Charts, Schemes and Artworks if they are unaltered or slightly modified.
Photographs for which you do not hold copyright.

Permission is not required for: Reconstruction of your own table with data already published elsewhere. Please notice that in this case you must cite the source of the data in the form of either "Data from..." or "Adapted from...".
Reasonably short quotes are considered fair use and therefore do not require permission.
Graphs, Charts, Schemes and Artworks that are completely redrawn by the authors and significantly changed beyond recognition do not require permission.
Obtaining Permission
In order to avoid unnecessary delays in the publication process, you should start obtaining permissions as early as possible. If in any doubt about the copyright, apply for permission. Al-Adab Journal cannot publish material from other publications without permission.
The copyright holder may give you instructions on the form of acknowledgement to be followed; otherwise follow the style: "Reproduced with permission from [author], [book/journal title]; published by [publisher], [year].' at the end of the caption of the Table, Figure or Scheme.