The need for the presence, absence or alternation of the null subject in the Spanish language
Dr. Mowaffaq H. Mansi al-Shammari

Karbala University- Iraq
Keywords:
Subject, presence, absence, alternation, Spanish
Abstract
 In this study we develop a didactic unit, in which we try to determine the cases in which the presence, absence and alternation of the null subject in the Spanish language will be necessary, the purpose of the work will be to support the task of the teacher and the student in the process of teaching Spanish as a second language or as a foreign language.
Downloads
Download data is not yet available.
References
Alarcos, E. (2000). Gramática de la lengua española. Colección Nebrija y Bello. Madrid: Espasa Calpe.
Chomsky, N. (1981). Lectures on Government and Binding. Dordrecht: Foris Publications.
Devís, P. (2011). El parámetro del sujeto nulo y la enseñanza del español como lengua extranjera. Reflexión gramatical. Didáctica. Lengua y literatura, 23, 59-86.
Enríquez, E. (1984). El pronombre personal sujeto en la lengua española hablada en Madrid. Madrid: C.S.I.C.
Jaeggli, O. (1982). Topics in Romance Syntax. Dordrecht, The Netherlands: Foris.
Krashen, S. (1980). Second Language Acquisition and Second Language Learning. Oxford: Pergamon Press.
Martín, J.M. (2000). La lengua materna en el aprendizaje de una segunda lengua. Sevilla: Universidad de Sevilla.
Matte Bon, F. (2008). Gramática comunicativa del español. Madrid: Edelsa.
Perales, S. y Portillo, R. (2008). Evaluando el uso de sujetos nulos y pronominales en aprendices de ELE. En Pastor Cesteros, S. y S. Roca (ed.): XVIII Congreso Internacional de la Asociación para la Enseñanza del Español como lengua Extranjera (ASELE). La evaluación en el aprendizaje y la enseñanza del español como lengua extranjera / segunda lengua, págs. 476-481.
Real Academia Española y Asociación de Academias de la Lengua Española. (2009). Nueva Gramática de la Lengua Española (NGRAE). Madrid: Espasa.
Rizzi, L. (1982). Issues in Italian Syntax. Dordrecht, The Netherlands: Foris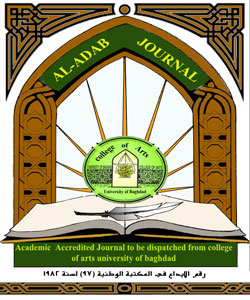 How to Cite
al-Shammari, D. M. (2021). The need for the presence, absence or alternation of the null subject in the Spanish language. Al-Adab Journal, 1(136), 1-12. https://doi.org/10.31973/aj.v1i136.1182
Section
Foreign linguistics and literature
Copyright (c) 2021 Dr. Mowaffaq H. Mansi al-Shammari
This work is licensed under a Creative Commons Attribution 4.0 International License.
Copyright and Licensing:
For all articles published in Al-Adab journal, copyright is retained by the authors. Articles are licensed under an open access Creative Commons CC BY 4.0 license, meaning that anyone may download and read the paper for free. In addition, the article may be reused and quoted provided that the original published version is cited. These conditions allow for maximum use and exposure of the work.
Reproducing Published Material from other Publishers: It is absolutely essential that authors obtain permission to reproduce any published material (figures, schemes, tables or any extract of a text) which does not fall into the public domain, or for which they do not hold the copyright. Permission should be requested by the authors from the copyrightholder (usually the Publisher, please refer to the imprint of the individual publications to identify the copyrightholder).
Permission is required for: Your own works published by other Publishers and for which you did not retain copyright.
Substantial extracts from anyones' works or a series of works.
Use of Tables, Graphs, Charts, Schemes and Artworks if they are unaltered or slightly modified.
Photographs for which you do not hold copyright.

Permission is not required for: Reconstruction of your own table with data already published elsewhere. Please notice that in this case you must cite the source of the data in the form of either "Data from..." or "Adapted from...".
Reasonably short quotes are considered fair use and therefore do not require permission.
Graphs, Charts, Schemes and Artworks that are completely redrawn by the authors and significantly changed beyond recognition do not require permission.
Obtaining Permission
In order to avoid unnecessary delays in the publication process, you should start obtaining permissions as early as possible. If in any doubt about the copyright, apply for permission. Al-Adab Journal cannot publish material from other publications without permission.
The copyright holder may give you instructions on the form of acknowledgement to be followed; otherwise follow the style: "Reproduced with permission from [author], [book/journal title]; published by [publisher], [year].' at the end of the caption of the Table, Figure or Scheme.