Measuring university students attitudes toward revenge
Haider Fadiel Hassan

University of Baghdad / Center for Educational and Psychological Research
Keywords:
Attitudes, University students, Revenge
Abstract
Revenge is an issue that occurs between individuals, caused by the difficulty of tolerating in some individuals with the abuses they encounter in all their stripes. Retaliation: It is the intention to see the aggressor suffer. This research aims to build a measure of university students 'attitudes toward revenge and measure these trends, and to identify the differences in university students' attitudes toward revenge on the gender variable and the variable of academic specialization. The research sample consisted of (100) male and female students from the human and scientific specializations. The researcher built a measure of university students' attitudes toward revenge, which consists of (20) paragraphs, and was applied to the research sample. The results of the research showed that university students have negative attitudes towards revenge, and that there are statistically significant differences in the attitudes of university students towards revenge according to the gender variable and in favor of males, and the results also showed that there are no statistically significant differences in the attitudes of university students towards revenge according to the academic specialization, In the light of its results, the research reached a set of recommendations and proposals.
Downloads
Download data is not yet available.
References
Al-Biqamiu, Nura bnt Saed, 2017. "Tolerance and Revenge and its Relationship to the Personality Traits of a Sample of University Students."IUG Journal of Education and Psychology Sciences". VOL 25, No 3. Pp 190 - 207.
Aquino. K, Robert J. B, Thomas M. TM 2006, "Getting Even or Moving on? Power, Procedural Justice, and Types of Offense as Predictors of Revenge, Forgiveness, Reconciliation, and Avoidance in Organizations" Journal of Applied Psychology, 2006, VOL. 91. NO. 3,653 – 668.
Aquino. K, Robert J.B, Thomas M.T, 2001. "How Employees Respond to Personal Offense: The Effects of Blame Attribution. Victim Status, and Offender Status on Revenge and Reconciliation in the Workplace". Journal of Applied Psychology, 2001, VOL. 86, NO. 52 – 59.
BREHM. SHARONS, Saul M. KASSIN, STEVEN FEIN, 2002, "Social Psychology Fifth Edition" Houghton Mifflin Company.
Davidoff, Lind. L, 1983, "Introduction to Psychology". McGraw-Hill Publishing Co.
Foster. Charles R, 1986, "PSYCHOLOGY FOR LFE TODAY" AMERICAN SCHOOL.
Grobbink Leonie H, Jan J. L. Derksen, Hjalmar J. C. van Marle, 2014, "Revenge: An Analysis of Its Psychological Underpinnings" International Journal of offender Therapy and Comparative Criminology. 1 – 16.
McCullough, Michael, Robert Kurzban, and Benjamin A. Taba K. 2013. "Cognitive systems for revenge and forgiveness" Behavioral and Brain sciences 36.01 (2013): 1 – 15.
Muhammad, Muhammad Jassim, 2004. "Introduction to General Psychology."House of Culture for Publishing and Distribution". Jordan.
Orth, Ulrich, 2004, "Dose Perpetrator Punishment Satisfy Victims feelings of Revenge?" AGGRESSIVE BEHAVIOR, VOL 30, PP 62 – 70.
SILLAMY, NORBERT, 2001,"Dictionnaire usual de Psychologie -1-". Publications of the Ministry of Culture in the Syrian Arab Republic - Damascus.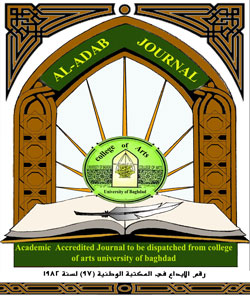 How to Cite
Fadiel Hassan, H. (2020). Measuring university students attitudes toward revenge. Al-Adab Journal, 1(135), 407-422. Retrieved from https://aladabj.uobaghdad.edu.iq/index.php/aladabjournal/article/view/1167
Section
Educational and psychological sciences
Copyright and Licensing:
For all articles published in Al-Adab journal, copyright is retained by the authors. Articles are licensed under an open access Creative Commons CC BY 4.0 license, meaning that anyone may download and read the paper for free. In addition, the article may be reused and quoted provided that the original published version is cited. These conditions allow for maximum use and exposure of the work.
Reproducing Published Material from other Publishers: It is absolutely essential that authors obtain permission to reproduce any published material (figures, schemes, tables or any extract of a text) which does not fall into the public domain, or for which they do not hold the copyright. Permission should be requested by the authors from the copyrightholder (usually the Publisher, please refer to the imprint of the individual publications to identify the copyrightholder).
Permission is required for: Your own works published by other Publishers and for which you did not retain copyright.
Substantial extracts from anyones' works or a series of works.
Use of Tables, Graphs, Charts, Schemes and Artworks if they are unaltered or slightly modified.
Photographs for which you do not hold copyright.

Permission is not required for: Reconstruction of your own table with data already published elsewhere. Please notice that in this case you must cite the source of the data in the form of either "Data from..." or "Adapted from...".
Reasonably short quotes are considered fair use and therefore do not require permission.
Graphs, Charts, Schemes and Artworks that are completely redrawn by the authors and significantly changed beyond recognition do not require permission.
Obtaining Permission
In order to avoid unnecessary delays in the publication process, you should start obtaining permissions as early as possible. If in any doubt about the copyright, apply for permission. Al-Adab Journal cannot publish material from other publications without permission.
The copyright holder may give you instructions on the form of acknowledgement to be followed; otherwise follow the style: "Reproduced with permission from [author], [book/journal title]; published by [publisher], [year].' at the end of the caption of the Table, Figure or Scheme.