Phonétique et phonétique corrective
Analyse de production orale d'apprenant de FLE et pistes de correction
Hussein Saddam Badi

Université AL-Mustansiriya- Faculté des lettres- Département du français
Keywords:
caractéristiques phonétiques de l'allemand, distorsions phonétiques, entretien, pistes de correction
Abstract
This research deals with the topic of phonology and corrective phonology in a foreign French language. This study aims at improving the pronunciation of the German student who is learning French as a foreign language with the aim of finding the suitable ways of improving his pronunciation. In this study, we have chosen a German student who is studying French in the University Center for French Studies in Grenoble in France.  We told this student to read a French text and we recorded this reading. Then we analyzed this dialogue in order to find the pronunciation mistakes and the effect of the German Language in learning French and to know the student's ability to pronounce new sounds that do not exist in the mother tongue. Finally, we proposed pronunciation corrections that were suitable to the student's case. This would help the teacher of French in Germany to manage the classroom and improve the pronunciation of his students and make them able to distinguish the sounds of both French and German languages.
Downloads
Download data is not yet available.
References
Entretien avec Régine Llorca sur le site Le France parler, consulté le 05/01/2014 : http://francparler-oif.org/FP/articles/llorca2008.htm
Site Le point du FLE, consulté le 30/12/2013 : http://www.lepointdufle.net/
Site de l'université d'Ottawa, consulté le 05/01/2014 : http://courseweb.edteched.uottawa.ca/phonetique/pages/phonetique/
Conférence nette de Régine LLorca, consulté le 05/01/2014 : http://www.youtube.com/watch?v=AI4x-7zlQkA&list=PLFBA88E580EDF24C0
ABRY D., CHALARON M. (1994) Phonétique, 350 exercices. Paris, Hachette
ABRY D., VELDEMAN-ABRY J. (2007) La phonétique. Audition, prononciation, correction. Paris, Clé International
CHABANAL, D. (2014). Variation et acquisition/apprentissage phonologique : input, fréquence, construction. Synthèse en vue de l'habilitation à diriger des recherches : Clermont-Ferrand.
FOISIL, M. (dir.) (1989). Journal de Jean Héroard. 2 volumes. Paris : Fayard.https://www.abebooks.co.uk/book-search/title/journal-heroard/author/foisil/
FRENEINT, C. (1946). L'école moderne française. Paris : Ophrys.
LAURET, B. (2007). Enseigner la prononciation du français. Questions et outils. Paris : Hachette.
SEARLE, J.R. (1972). Les actes de langage. Paris : Hermann.
SYLVAIN DETEY, I.R. (2012). Journal de Cairn.info. (Vol. XVII). Paris : https://www.cairn.info/revue-francaise-de-linguistique-appliquee-2012-1-page-81.htm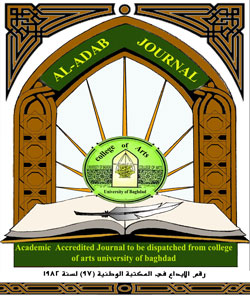 How to Cite
Badi, H. (2021). Phonétique et phonétique corrective. Al-Adab Journal, 1(138), 21-38. https://doi.org/10.31973/aj.v1i138.1093
Section
Foreign linguistics and literature
Copyright (c) 2021 Hussein Saddam Badi
This work is licensed under a Creative Commons Attribution 4.0 International License.
Copyright and Licensing:
For all articles published in Al-Adab journal, copyright is retained by the authors. Articles are licensed under an open access Creative Commons CC BY 4.0 license, meaning that anyone may download and read the paper for free. In addition, the article may be reused and quoted provided that the original published version is cited. These conditions allow for maximum use and exposure of the work.
Reproducing Published Material from other Publishers: It is absolutely essential that authors obtain permission to reproduce any published material (figures, schemes, tables or any extract of a text) which does not fall into the public domain, or for which they do not hold the copyright. Permission should be requested by the authors from the copyrightholder (usually the Publisher, please refer to the imprint of the individual publications to identify the copyrightholder).
Permission is required for: Your own works published by other Publishers and for which you did not retain copyright.
Substantial extracts from anyones' works or a series of works.
Use of Tables, Graphs, Charts, Schemes and Artworks if they are unaltered or slightly modified.
Photographs for which you do not hold copyright.

Permission is not required for: Reconstruction of your own table with data already published elsewhere. Please notice that in this case you must cite the source of the data in the form of either "Data from..." or "Adapted from...".
Reasonably short quotes are considered fair use and therefore do not require permission.
Graphs, Charts, Schemes and Artworks that are completely redrawn by the authors and significantly changed beyond recognition do not require permission.
Obtaining Permission
In order to avoid unnecessary delays in the publication process, you should start obtaining permissions as early as possible. If in any doubt about the copyright, apply for permission. Al-Adab Journal cannot publish material from other publications without permission.
The copyright holder may give you instructions on the form of acknowledgement to be followed; otherwise follow the style: "Reproduced with permission from [author], [book/journal title]; published by [publisher], [year].' at the end of the caption of the Table, Figure or Scheme.