Entertainment in the Emirati Community
Religious and Social Dimensions During the Second Half of the Twentieth Century
Mariam Ali Thani Alghawi Al-Ali

University of Sharjah - College of Arts, Humanities and Social Sciences/ United Arab Emirates

Mesut Idriz

University of Sharjah - College of Arts, Humanities and Social Sciences/ United Arab Emirates
Keywords:
social, Entertainment, Religion, 20th century, UAE Society
Abstract
The popular heritage is the main aspect of identity, besides; peoples' legacies are the basics on which the essence of human civilizations is based. The UAE was established in 1971, the history of the Emirates before its founding was not sufficient, especially in relation to the popular heritage of literature, arts, and games that represented the entertainment aspect of the Emirati society, we have only what has been memorized, what the generations have inherited that should be highlighted to demonstrate its nature, dimensions, and consequences. This will contribute, however, to opening a window to the past by researching those legacies and linking them to the transformation from the Pearl Diving Community to the United Arab Emirates. Recreation is one of the basics of life in the ancient and modern era. Human nature despite its variety shared many stable, indigenous needs as well as the close relationship between history and sciences that interacted to reflect a historical, social, humanitarian, and literature aspect of what man defines as civilization. Accordingly, the UAE community before the establishment of the Federation has enjoyed many kinds of entertainment, which has formed the main part of the UAE citizen's personality. Moreover, the society's knowledge of entertainment was not superficial as it is now due to technology, rather it was a philosophy of entertainment of different kinds that was derived from the nature of different environments in the UAE. Entertainment in UAE society was influenced by psychological, environmental, and political dimensions. The diver's trips contributed to attracting many aspects of entertainment that remained with the Emirati community even after the establishment of the union.
Downloads
Download data is not yet available.
References
Abdel Aziz, Mona Ezzat Hamed, (2011 AD) "Aesthetics of the folklore of women's clothing in the United Arab Emirates", Alam Al-Kotob, Cairo.
Abdel-Hadi, Nabil (2009 AD), Introduction to Educational Sociology, Al-Yazouri Scientific Publishing and Distribution House, Jordan, Arabic Edition.
Abdullah, Muhammad Morsi (December 2015 AD), "The United Arab Emirates and its Neighbors", Dar Al-Qalam.
Abu Arad, Saleh Bin Ali, (1429 AH / 2008 CE), Entertainment and Recreation in the Lives of Muslim Youth (Concept and Application), Beirut.
Al Sukari, Jihan. Heritage of the United Arab Emirates, 3rd Edition, House of Arab Thought, Alexandria, 2016.
Al-Abdan, Ali, (2018), "hrif waezf: Essays on Popular on Folk Music in the Emirates: History, Pioneers and Songs ", Sharjah, United Arab Emirates.
Al-Ani, Abdul-Hamid Abdul-Latif, (2001) "Social and Cultural Life in the Emirates: Emirati Customs and Traditions, Journal of Arts, University of Baghdad, No. 57.
Al-Askar, Abdullah Bin Ibrahim, (December 2007 AD) "The Importance of Writing Oral History", Ad-Diriyah, (Publisher: Sheikh Abu Abd al-Rahman bin Aqil al-Dhahiri), Volume 10, pp. 39/40.
Al-Chalabi, Iyad Bashir Abdul Qadir, (2013 AD), Study of the Effects of Economic Activities on the Ecosystem in the World (A Study of the Causes and Future Prospects), University of Mosul, College of Business and Economics, Volume 35, P111.
Al-Darwa, Ali Bin Ibrahim, (2001 AD) "Aspects of Maritime Heritage in the United Arab Emirates", Zayed Center for Heritage and History.
Al-Fayrouz, Majd Al-Din Muhammad Ibn Ya`qub, (1429 AH / 2008 AD), edited by Anas Muhammad al-Shami / Zakaria Jaber Ahmad, Al-Qamoos Al Muheet, Dar Al-Hadith, Cairo.
Al-Matroushi, Ali Muhammad, (2013 AD) "Sana is the pride of Emirati's high behavior", Ministry of Culture, Youth and Community Development.
Al-Mohaya, Musaed Bin Abdullah, (1994) values in TV Series, An Analytical and Descriptive Comparative Study of a Sample of Arab TV Series, Dar Al-Asimah Publishing and Distribution, Riyadh.
Al-Mubarak, Abd Al-Hussein Ali, (1983). Edited by Saeed Salman Abu Azra, "Popular Poetry in the United Arab Emirates," Publications of the Center for Documentation and Studies at the Ministry of Foreign Affairs, Amman - Jordan.
Al-Mustafa, Hussein Ali Obaid, (2012) "Pearls are a Source of Living in the United Arab Emirates", Arabian Gulf, Basra University - Basra and Persian Gulf Studies Center, Vol. 40, Issue No. 1, 2.
Al-Qutb, Ishaq Yaqoub, (1982 AD), "The concept of recreation and its theories in contemporary urban societies", King Abdul Aziz's House, Volume 8, p1.
Al-Sayegh, Fatima, (2007) "Challenges with historical roots facing the United Arab Emirates", Emirates Lectures Series, Emirates Center for Strategic Studies and Research.
Al-Shamsi, Badriya Muhammad Salem Al-Houla, (2019) "Marriage customs and traditions in the past (United Arab Emirates)" Variation of marriage ceremony customs and their association with folklore, Popular Culture Archive for Studies, Research and Publishing, Volume No. 12, No. 46.
Al-Sharqawi, Ahmad, (2014) "From the Emirati Heritage, Part One", Arraya Center for Publishing and Media, Abu Dhabi.
Al-Taboor, Abdullah Ali, (2002 AD) "An Introduction to Folklore in the Emirates ", Zayed Center for Heritage and History, Al Ain, United Arab Emirates.
Al-Zaidi, Moufid, (2015 AD) "Cultural History of the United Arab Emirates 1971-2004", Journal of Arts, University of Baghdad, No. 112.
Baqader, Abu Bakr Ahmad, (January 1983 AD), Recreation and Society, Al-Dara, Volume 8, Vol. 3.
Editorial Board. "Book Presentations" (2002) Social Society of Sharjah. Volume No. 19, Issue 73.
Fawzi, Osama, (1983) "The Impact of Technological Development on Folk Cultures in the United Arab Emirates", Folklore Magazine, Vol. 14, No. 4.
Fawzi, Osama, (1984) "Wedding Songs in the United Arab Emirates", Folklore Magazine, Ministry of Culture and Information - Department of Cultural Affairs and Publishing, Volume No. 15, Issue No. 3, 4.
Fayed Hassan, (2018) "The Badia of the Emirates, Traditions, and Customs," Sharjah Library, Government of Sharjah.
Gabri, Maryam Khair al-Din (2015 CE) "The Right to Play and Recreation", Journal of Childhood Papers, Ministry of Women, Family and Childhood, Higher Institute of Childhood, p. 25.
Ghobash, Moza Obaid, (2011 AD) "Folklore in the United Arab Emirates", a study of the folklore of the cultural history of the United Arab Emirates, Rawaq Ousha Bint Hussain Al Thaqafi, 3rd floor.
Handhal, Faleh, (1994 AD) "My experience in the field of collecting and writing the history and heritage of the Emirates", Social Society of Sharjah, Vol. 11, No. 41.
Kanaan, Ali Abdel-Fattah, (2014) Media and Society, Al-Yazouri Scientific Publishing and Distribution House, Amman, Arabic Edition.
Lutskevich, F.A., (1979 A.D.) Translated by: Hassan Ishaq, "The United Arab Emirates, Socio-Economic Dilemmas for Developing Countries," Maisel House, First Edition 1985, p. 8.
Muhammad Hassan Al Aidarous, (1993) "The Emirates from Colonialism to Independence", Al Aidarous Center for Studies and Consultations, Al Aidarous House for Modern Book.
Muhammad, Abdul-Qawi Fahmy, (1991 AD) "Education and Culture in the Emirates Before the Union", Society of Socialists in Sharjah, Vol. 8, No. 30.
Northfield, Wolfred, (1946), The Art of Recreation, The Psychological Series 18, House of Science for the Millions, Beirut.
Omar, Ahmad Mukhtar, (2008 AD), Dictionary of the Contemporary Arabic Language, Alam Al-Kitab, Volume 1.
Pruitt, Tawfiq, (1984 AD) "History of the Ancient Arabs", Dar Al Fikr, Damascus.
Qarout, Noor Bint Hassan Bin Abd Al-Halim, (2002 AD), Al-Tarweeh: Its Definition, Its Importance, and its Ruling. King Abdulaziz University Journal, Educational Sciences, Volume 15.
Schiller, Herbert, (1999), translated by Abd al-Salam Radwan. Manipulators of Minds, the World of Knowledge, The National Council for Culture, Arts and Letters, Kuwait.
Shaqila, Ahmed Ramadan, (1999) "The diving industry in the Arab Emirates in the Arabian Gulf," Arab Gulf, Basra University - Basra and the Arabian Gulf Studies Center, Issue No. 8.
Sultan, Hassan Farraj, (2012), The Advanced Welfare State (Challenges and Available Solutions), Journal of Economics and Political Science, University of Tripoli, Faculty of Economics and Political Science, vol.10.
Talib, Talib Ghuloom, (1998) "National culture in the Emirates before the days of the Union: the marine environment in oral folk literature, for example, Social Affairs - Social Society in Sharjah, Volume No. 15, No. 57.
The National Media Council, "The United Arab Emirates", (2016), The UAE Yearbook.
Timashev, Nicola, (1980), translated by Dr. Mahmoud Odeh, Dar Al Ma'arif, Cairo.
Yahya, Basrawi, (2016 AD), Competencies of Pedagogical Activation, Muqarabat Magazine, Muqarabat Foundation for Publishing, Cultural Industries and Communication Strategies, vol. 25, p. 119.
Youssef, Tamar, (May 2016 AD), Methodology: The Problem of Terms and Concepts, the Generation of Humanities and Social Sciences Journal, the Generation Center for Scientific Research.
Zuhri, Zainab Muhammad, (2003 AD), Entertainment and its Fields in Contemporary Human Societies, Al-Jami's Journal, p. 4.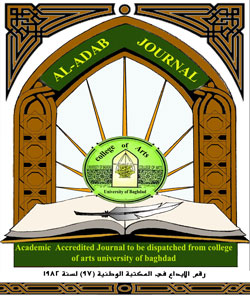 How to Cite
Al-Ali, M., & Idriz, M. (2021). Entertainment in the Emirati Community. Al-Adab Journal, 1(138), 187-210. https://doi.org/10.31973/aj.v1i138.1085
Copyright (c) 2021 Mariam Ali Thani Alghawi Al-Ali, Mesut Idriz
This work is licensed under a Creative Commons Attribution 4.0 International License.
Copyright and Licensing:
For all articles published in Al-Adab journal, copyright is retained by the authors. Articles are licensed under an open access Creative Commons CC BY 4.0 license, meaning that anyone may download and read the paper for free. In addition, the article may be reused and quoted provided that the original published version is cited. These conditions allow for maximum use and exposure of the work.
Reproducing Published Material from other Publishers: It is absolutely essential that authors obtain permission to reproduce any published material (figures, schemes, tables or any extract of a text) which does not fall into the public domain, or for which they do not hold the copyright. Permission should be requested by the authors from the copyrightholder (usually the Publisher, please refer to the imprint of the individual publications to identify the copyrightholder).
Permission is required for: Your own works published by other Publishers and for which you did not retain copyright.
Substantial extracts from anyones' works or a series of works.
Use of Tables, Graphs, Charts, Schemes and Artworks if they are unaltered or slightly modified.
Photographs for which you do not hold copyright.

Permission is not required for: Reconstruction of your own table with data already published elsewhere. Please notice that in this case you must cite the source of the data in the form of either "Data from..." or "Adapted from...".
Reasonably short quotes are considered fair use and therefore do not require permission.
Graphs, Charts, Schemes and Artworks that are completely redrawn by the authors and significantly changed beyond recognition do not require permission.
Obtaining Permission
In order to avoid unnecessary delays in the publication process, you should start obtaining permissions as early as possible. If in any doubt about the copyright, apply for permission. Al-Adab Journal cannot publish material from other publications without permission.
The copyright holder may give you instructions on the form of acknowledgement to be followed; otherwise follow the style: "Reproduced with permission from [author], [book/journal title]; published by [publisher], [year].' at the end of the caption of the Table, Figure or Scheme.