A Comparative Analysis of Traffic Nosie Levels in Basra City
during and before the Lock-down caused by Corona-virus Pandemic
Shukri I. Al-Hassen

Department of Geography, College of Arts, University of Basrah

Farhan D. Madhloom

Basrah Education Directorate
Keywords:
Noise, Noise dose, Noise pollution, Traffic noise, Corona-virus pandemic, Basra
Abstract
This study captured a rare opportunity to prove its hypothesis. This coincides with the imposition of a full ban on traffic in Basra City during March 2020 as a measure to prevent the Coronavirus pandemic that has recently spread throughout the country. Accordingly, measurements of traffic noise and noise dose during the referred period were made and the results were compared with a previous baseline study carried out in the same area in 2018. The same measurement equipment and method was used and the same measurement points were selected, in order to achieve the greatest accuracy and validity of comparison.
               The comparative analysis of the results showed that there is a significant difference in the traffic noise measurements between the baseline study and the present study, as a result of heavy traffic in the first and stopping in the second. The variance ratio was 32% in the case of noise levels and 99% in the case of noise dose. The results indicate that the spatial variation in noise pollution has decreased between the areas of the present study due to the absence of the influencing factor represented by traffic and the disruption of human activity. In addition, the noise dose is a reliable indicator for assessing the severity of susceptibility to noise, rather than the conventional noise-level scale only. It can be said, in general, that the Coronavirus pandemic sometimes has indirect positive effects on the environment despite its extreme danger to human health.
Downloads
Download data is not yet available.
References
Acoustic Glossary (2020), Noise dose, Available on: http://www.acoustic-glossary.co.uk/noise-dose.htm
Al Anbari, R.H.H. (1990), Explanation of some indicators of the ecological capacity for urban transport planning, M.A. Thesis, University of Baghdad. (in Arabic)
Al Hassen, S.I. (2011), Environmental pollution in Basra City, Ph.D. Thesis, University of Basrah. (in Arabic)
Arora, S., et.al. (2020), Coronavirus lockdown helped the environment to bounce back, Sci Total Environ., Vol. 742, Jun. 2020.
Berg, R. & Stork, D.G. (2004), The physics of sound, 3rd., Pearson, New York.
Bronzaft, A.L., (2004) "Noise pollution", in Richard M. Stapleton (Editor in Chief), Pollution A to Z, Vol. 1, Macmillan Reference, New York.
EEA (European Environmental Agency) (2020), Environmental noise in Europe 2020, EEA Report-No 22/2019.
John F. Leech, J.F. & Squires, M., (1999), "Noise", in W.H. Bassett (ed.), Clay's handbook of environmental health, 18th ed., E & FN Spon, London.
Madhloom, F.D. (2018), Traffic noise pollution and its health effects in Basra City, M.A. Thesis, University of Basrah. (in Arabic)
Mandal, I. & Pal, S. (2020), COVID-19 pandemic persuaded lockdown effects on environment over stone quarrying and crushing areas, Sci Total Environ., Vol. 732, Aug. 2020.
Ministry of Planning (2017), Basrah Statistics Directorate, Population expectations of Basra Coventrate at 2017 (Unpublished).
Musa, A.H. (2006), Environmental pollution, Dar Al Faker, Damascus.
Peris, E. (2020), Noise pollution is a major problem, both for human health and the environment, Available on: https://www.eea.europa.eu/articles/noise-pollution-is-a-major
WHO (World Health Organization) (2020), WHO Director-General's opening remarks at the media briefing on COVID-19 - 11 March 2020, Available on: https://www.who.int/dg/speeches/detail/who-director-general-s-opening-remarks-at-the-media-briefing-on-covid-19---11-march-2020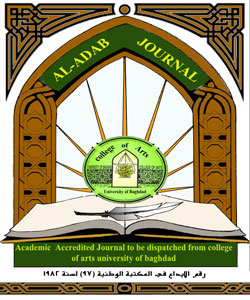 How to Cite
Al-Hassen, S., & Madhloom, F. (2021). A Comparative Analysis of Traffic Nosie Levels in Basra City. Al-Adab Journal, 1(136), 409-430. https://doi.org/10.31973/aj.v1i136.1047
Copyright (c) 2021 Shukri I. Al-Hassen, Farhan D. Madhloom
This work is licensed under a Creative Commons Attribution 4.0 International License.
Copyright and Licensing:
For all articles published in Al-Adab journal, copyright is retained by the authors. Articles are licensed under an open access Creative Commons CC BY 4.0 license, meaning that anyone may download and read the paper for free. In addition, the article may be reused and quoted provided that the original published version is cited. These conditions allow for maximum use and exposure of the work.
Reproducing Published Material from other Publishers: It is absolutely essential that authors obtain permission to reproduce any published material (figures, schemes, tables or any extract of a text) which does not fall into the public domain, or for which they do not hold the copyright. Permission should be requested by the authors from the copyrightholder (usually the Publisher, please refer to the imprint of the individual publications to identify the copyrightholder).
Permission is required for: Your own works published by other Publishers and for which you did not retain copyright.
Substantial extracts from anyones' works or a series of works.
Use of Tables, Graphs, Charts, Schemes and Artworks if they are unaltered or slightly modified.
Photographs for which you do not hold copyright.

Permission is not required for: Reconstruction of your own table with data already published elsewhere. Please notice that in this case you must cite the source of the data in the form of either "Data from..." or "Adapted from...".
Reasonably short quotes are considered fair use and therefore do not require permission.
Graphs, Charts, Schemes and Artworks that are completely redrawn by the authors and significantly changed beyond recognition do not require permission.
Obtaining Permission
In order to avoid unnecessary delays in the publication process, you should start obtaining permissions as early as possible. If in any doubt about the copyright, apply for permission. Al-Adab Journal cannot publish material from other publications without permission.
The copyright holder may give you instructions on the form of acknowledgement to be followed; otherwise follow the style: "Reproduced with permission from [author], [book/journal title]; published by [publisher], [year].' at the end of the caption of the Table, Figure or Scheme.