Spatial distribution of the ingredients of desert tourism in the western plateau region of Iraq
(Presentation of Arab experiences in the field of desert tourism)
Luay Adnan Hasson

Ministry of education (collage of Baghdad high school)
Keywords:
desert tourism, Ingredients for tourism, Spatial distribution, western plateau
Abstract
The research aimed to detection the elements of tourism attraction in the western plateau desert plateau that Located  the western and southwestern sections of Iraq, and the research has shown that the region possesses almost integral components for the tourism offer, as it witnessed a diversity in natural ingredients that were represented by the unique geographical location and diversity in geomorphological and biological diversity as well as The availability of human resources, which were represented by historical, heritage and religious sites, hospitality and complementary auxiliary  services. The research also demonstrated the possibility of establishing many forms of tourism in the study area, such as desert, environmental and adventure tourism. Conferences, scientific, religious, cultural and other forms of tourism. The research also touched on a number of countries 'experiences in this field in order to benefit from them in the process of tourism investment in the future. By investing these ingredients and supporting the process of tourism development
Downloads
Download data is not yet available.
References
Al-Ani, Bassam Abdul-Rahman Obaid, 2003, Geography of Iraq and neighboring countries, Iraqi Ministry of Education, Baghdad.
Al-Ani, Sakkar's Speech, Al-Barazi, Nuri Khalil, 1988, Geography of Iraq, Higher Education Press, University of Mosul.
Al-Baghdadi, Muhammad Abdul-Razzaq Musa, 1991, Iraq Tourism Geography, Dar Al-Kutub for Printing and Publishing, University of Mosul.
Al-Barazi, Nuri Khalil, 1969, tribes' settlement in Iraq, Institute of Arab Research and Studies, Cairo
Al-Dabbagh, Ismail Muhammad Ali, there is no year of publication, Tourism Establishments Administration, Part One, Al-Rowad Office for Printing and Publishing, Baghdad.
Al-Dahi, Harith Abdul-Jabbar Hameed, 1996, Al-Kira Low land , a Study in Earth's Surface Forms, PhD thesis (unpublished), Department of Geography, College of Arts, University of Baghdad.
Al-Dizaini, Salar Ali Khidr, 2019, Geography of the terrain regions of Iraq (a study in spatial variance), 1st edition, series of studies, House of General Cultural Affairs, Baghdad, Iraq.
Al-Khalaf, Jassim Muhammad, 1961, Lectures on the Natural, Economic and Human Geography of Iraq, League of Arab States, Institute of Higher Arab Studies, Cairo.
Al-Khalidi, Niran Mahmoud Salman, 2013, Geomorphology of Wadi Al-Kharr, PhD thesis (unpublished) Department of Geography, College of Education for Girls, University of Baghdad.
Al-Musawi, Ali Sahib Talib, 2004, The Natural Characteristics of the Low Sea of Najaf Current Situation and Its Development Prospects, Journal of Kufa Studies, University of Kufa, Volume 1, No 3.
Al-Rawi, Abdul-Jabbar, 2010, Al-Badia, Dar Al-Rafidain for Printing, Publishing and Distribution, Lebanon.
Al-Saadi, Abbas Fadel, 2017, Iraq's regional geography (its natural framework, economic activity, its human side), 1st edition, Dar Al-Waddah, for publication, Tigris Library, Baghdad .
Al-Sayed, Reza Muhammad, 2016, Basics of Tourism Geography, 1st edition , Academics for Publishing and Distribution, Amman.
Bruno Abegg, Urskonig, Rolf Buki and Hans Elsasser, Climate impact Assessment in Tourism, Department of Geography, Zurich University, Volume, 51, 1988.
Ghadban, Fouad Bin, 2014, Tourism Geography, Al-Yazouri Scientific Publishing and Distribution House, Amman, Jordan.
Gharaibeh, Khalifa Mustafa, 2008, Eco-tourism with a focus on the Arab world in general and Jordan in particular, Dar Jaffa, Amman.
Ghorabyeh, Khleif Mustafa, 2012, Desert Development in the Arab World (Desert Tourism), 1st edition, Arab Center for Research and Policy Studies, Beirut, Lebanon.
Kafi, Mostafa Youssef, 2009, Tourism Marketing (Integrated Strategic and Economic Entrance), Dar Al-Reda Publishing, Damascus
Klaus, Collinet, Steinke, Albert, 1991, The Geography of Tourism and free time, translated by . Naseem Fares Barham, University of Jordan Publications, Deanship of Scientific Research, Amman.
Makiya, Manal Abdel Moneim, 2000, Tourism Legislation and Principles, Dar Al-Safa for Publishing and Distribution, Amman.
Marwan, Abu Rahma, etc., 2001, Principles of Tourism, Dar Al-Baraka for Publishing and Distribution, First Edition, Oman.
Muhammad, Sabah Mahmoud, Azad Muhammad Amin, 1980. Tourism Geography with an applied study on the Iraqi country, National Library, Baghdad.
Saleh, Muhammad Hizam Bin, 1999, Recreation and Tourism in the Sana'a City, Master Thesis submitted to the College of Education, Ibn Rushd, Department of Geography, University of Baghdad.
Sultan, Basem Hameed, 2014, Sanam Mount, Natural Characteristics and Stages of its Development, 1st Floor, Al-Basayer Library and Library, Baghdad.
Williams, Rees, 1952, The Origin of Wadi Al-Batin in the Baddat al-Dabdabah, translated by Bashir Francis, Sumer Magazine, No 2, Volume 8 ,.
Yousry, Mr. Reham, 2020, Foundations of the Tourism Industry, 1st edition, Ghaida House for Publishing and Distribution, Amman, Jordan.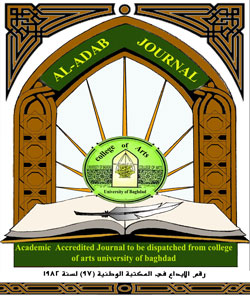 How to Cite
Adnan Hasson, L. (2020). Spatial distribution of the ingredients of desert tourism in the western plateau region of Iraq. Al-Adab Journal, 1(135), 511-542. https://doi.org/10.31973/aj.v1i135.977
Copyright (c) 2020 Luay Adnan Hasson
This work is licensed under a Creative Commons Attribution 4.0 International License.
Copyright and Licensing:
For all articles published in Al-Adab journal, copyright is retained by the authors. Articles are licensed under an open access Creative Commons CC BY 4.0 license, meaning that anyone may download and read the paper for free. In addition, the article may be reused and quoted provided that the original published version is cited. These conditions allow for maximum use and exposure of the work.
Reproducing Published Material from other Publishers: It is absolutely essential that authors obtain permission to reproduce any published material (figures, schemes, tables or any extract of a text) which does not fall into the public domain, or for which they do not hold the copyright. Permission should be requested by the authors from the copyrightholder (usually the Publisher, please refer to the imprint of the individual publications to identify the copyrightholder).
Permission is required for: Your own works published by other Publishers and for which you did not retain copyright.
Substantial extracts from anyones' works or a series of works.
Use of Tables, Graphs, Charts, Schemes and Artworks if they are unaltered or slightly modified.
Photographs for which you do not hold copyright.

Permission is not required for: Reconstruction of your own table with data already published elsewhere. Please notice that in this case you must cite the source of the data in the form of either "Data from..." or "Adapted from...".
Reasonably short quotes are considered fair use and therefore do not require permission.
Graphs, Charts, Schemes and Artworks that are completely redrawn by the authors and significantly changed beyond recognition do not require permission.
Obtaining Permission
In order to avoid unnecessary delays in the publication process, you should start obtaining permissions as early as possible. If in any doubt about the copyright, apply for permission. Al-Adab Journal cannot publish material from other publications without permission.
The copyright holder may give you instructions on the form of acknowledgement to be followed; otherwise follow the style: "Reproduced with permission from [author], [book/journal title]; published by [publisher], [year].' at the end of the caption of the Table, Figure or Scheme.