A geographical analysis of agricultural land uses for field crops in Khalis for the agricultural season (2020-2021)
Keywords:
agricultural land, crops, Khalis, field
Abstract
The topic of studying the uses of agricultural land has taken the interest of many geographers recently, as it is included in the geographical analyzes that explain the nature of the agricultural process in the area to be studied, to reach the optimal investment of agricultural land according to the existing data, whether nature or human. Through the study of field crops in the study area, it was found that the economically feasible field crops are (wheat, barley, yellow corn, rice) distributed according to administrative units with great variation in terms of production and cultivated area.
Downloads
Download data is not yet available.
References
Dr. S.M.S. AL-Saudi. (1987). in Geography . Iraq. Baghdad .
Group, H. (1986). Mandli irrigation project Surpoet Dieet general irrigation minstr of Irrigation (Vol. 1). Baghdad: Baghdad , larq.
lnch, J. (1974). Geography for professional students. London. students: the pitman publishing.
obaidi, R. . (1977). Soil of part of Al - Ishaqi project. Republic of Iraq. state organization of Soil and Land RECLAMATAION. Iraq: Soil Studies Office.
تحسين هادي رميض. (2021). التباين المكاني لزراعة إنتاج محصول الذرة الصفراء في محافظة ديالى وسبل تنميتها . ديالى.
سعدية عاكول منخي الصالحي. (1988). اثر عامل التساقط في نظار جريان المياه في حوض نهر دجلة (المجلد 1). بغداد: كلية التربية.
صبحي احمد الدليمي. (2020). جغرافية الزراعة (المجلد 1). الاردن: دار أمجد للنشر والتوزيع.
صبري فارس الهيتي، و صالح فليح حسن. (1986). جغرافية المدن. جامعة الموصل: دار الكتب للطباعة والنشر.
عباس فاضل السعدي. (2019). أحوال جغرافية الزراعة (المجلد 1). عمان: دار الوضاح للنشر.
عثمان محمد غنيم. (2008). تخطيط إستخدام الارض الريفي والحضري ( إطار جغرافي عام ) (المجلد 2). عمان، الاردن: دار صنعاء للنشر والتوزيع.
علي احمد هارون. (2000). جغرافية الزراعة. مصر: دار الفكر العربي.
كاظم شنته. (2017 ). قطاع الزراعة في العراق. بغداد: الساقي للطباعة والتوزيع .
محمد خليفة الدليمي. (1986). القوى العاملة الزراعية المنتجة في العراق وإمكانية التعويض والمناقلة. بغداد: الجمعية الجغرافية ألعراقية.
محمد خميس الزوكة. (2000). الجغرافية ألزراعية (المجلد 3). الاسكندرية: دار المعرفة الجامعية للطبع والنشر.
محمد عبد السعيدي. (1987). اساسيات انتاج المحاصيل الحقلية. بغداد: مطبعة دار الحرية.
هادي احمد مخلف. (1977). حيازة الارض الزراعية. بغداد: مطبعة الإرشاد بغداد.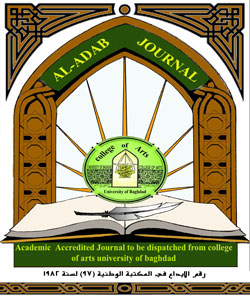 How to Cite
FALIH, O. A. (2023). A geographical analysis of agricultural land uses for field crops in Khalis for the agricultural season (2020-2021). Al-Adab Journal, 1(144), 181–198. https://doi.org/10.31973/aj.v1i144.4030
License
Copyright (c) 2023 Omer A. Falih
This work is licensed under a Creative Commons Attribution 4.0 International License.
Copyright and Licensing:
For all articles published in Al-Adab journal, copyright is retained by the authors. Articles are licensed under an open access Creative Commons CC BY 4.0 license, meaning that anyone may download and read the paper for free. In addition, the article may be reused and quoted provided that the original published version is cited. These conditions allow for maximum use and exposure of the work.
Reproducing Published Material from other Publishers: It is absolutely essential that authors obtain permission to reproduce any published material (figures, schemes, tables or any extract of a text) which does not fall into the public domain, or for which they do not hold the copyright. Permission should be requested by the authors from the copyrightholder (usually the Publisher, please refer to the imprint of the individual publications to identify the copyrightholder).
Permission is required for: Your own works published by other Publishers and for which you did not retain copyright.
Substantial extracts from anyones' works or a series of works.
Use of Tables, Graphs, Charts, Schemes and Artworks if they are unaltered or slightly modified.
Photographs for which you do not hold copyright.

Permission is not required for: Reconstruction of your own table with data already published elsewhere. Please notice that in this case you must cite the source of the data in the form of either "Data from..." or "Adapted from...".
Reasonably short quotes are considered fair use and therefore do not require permission.
Graphs, Charts, Schemes and Artworks that are completely redrawn by the authors and significantly changed beyond recognition do not require permission.
Obtaining Permission
In order to avoid unnecessary delays in the publication process, you should start obtaining permissions as early as possible. If in any doubt about the copyright, apply for permission. Al-Adab Journal cannot publish material from other publications without permission.
The copyright holder may give you instructions on the form of acknowledgement to be followed; otherwise follow the style: "Reproduced with permission from [author], [book/journal title]; published by [publisher], [year].' at the end of the caption of the Table, Figure or Scheme.